The extent of Amy Kasehagen's anger, jealousy and hatred was clear. And when the evidence was laid bare in court, it was terrifying.
There was "chilling material" which showed how the 32-year-old Adelaide woman stalked her prey, photographing and documenting her home, her car and her workplace.
It wasn't just images - police discovered video footage of her following the subject of her hatred, Bronson Hayter, the new partner of her ex-boyfriend, as she went about her day-to-day business.
She could even be heard talking to herself bitterly about wanting to punish her ex by harming Ms Hayter. "I really don't want him to have a valentine," she said in one video, reported The Advertiser.
But the most disturbing evidence tendered in the South Australian Supreme Court yesterday was the notes Kasehagen had written herself as she weighed up or not she was going to kill her.
Kasehagen, who suffers from an eating disorder, hoarding disorder and a borderline personality disorder, pleaded guilty to attempted murder and aggravated serious criminal trespass at Bronson Hayter's Glenelg home in April 2015 and was yesterday sentenced to 12 years jail.
The notes, written on white paper with black pen, talks about "killing the b***h" and lists ways she could be attacked, "tackle, shove...suffocate with a bag."
Another details in matter of fact fashion what she was going to do.
"Decide on what I want to do" it says. And then: "Remove all evidence" before talking of a stabbing and then braiding her hair.
The third note is the most brutal. In it, Kasehagen compares "Decision 1 and Decision 2". Under the first heading she writes of starting a fire and knocking out her target - the next list is headed 'knock out' as well, but contained "shatter hands and caustic soda in eyes."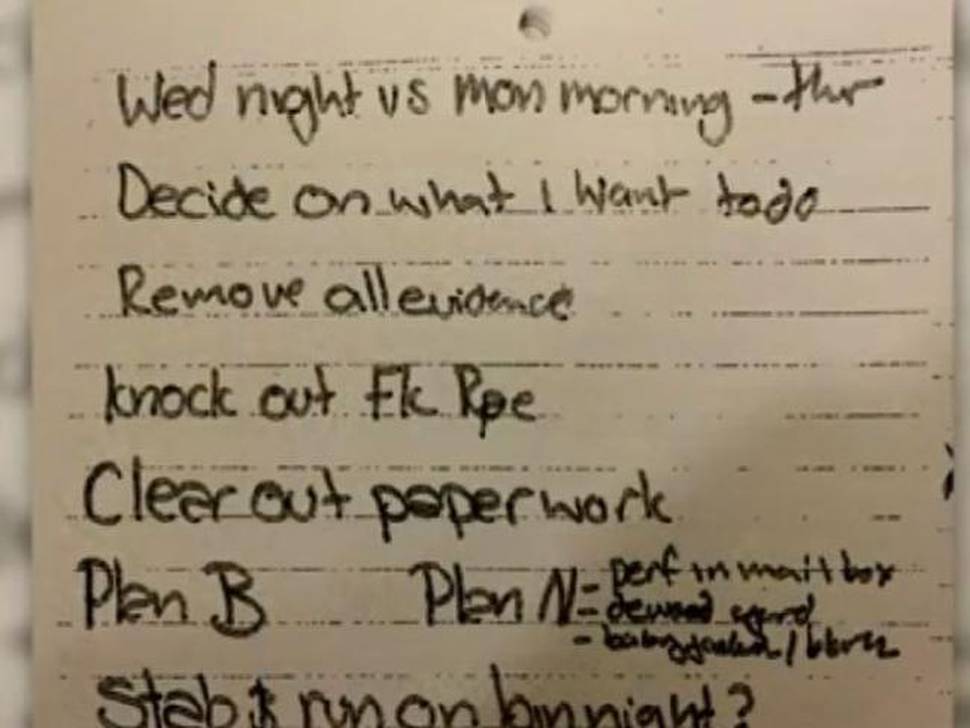 In sentencing Kasehagen, Justice David Lovell revealed the shocking facts of the day in April 2015 when Ms Hayter was attacked.
She broke inside and hid before Ms Hayter returned home. She then began her attack, smashing her in the back of head with a hammer and shoving her to the ground.
When her victim was on the ground, she continued the hammer attack - a total of 10 blows.
Ms Hayter was able to deflect some of the hammer blows. It was then Kasehagen began to strangle her with a scarf she'd brought with her, according to The Advertiser.
"You also tried to suffocate her by pushing a plastic bag into her mouth and you did this on at least four occasions," Justice Lovell said.
Ms Hayter was able to pull the bag from her mouth each time though. Eventually, a ringing telephone provided just enough distraction that Ms Hayter was able to escape to a neighbours.
Kasehagen was arrested and police found she had armed herself with a knife, hammer, set of keys and a locksmith's tool kit.
The judge summed up the attack as "brutal, premeditated, and terrifying" with Ms Hayter lucky to escape what was a "determined bid to end her life".
"What was a routine return home from work for Ms Hayter turned, in an instant, to a frightening and no doubt bewildering few minutes in a fight for her life."
Justice Lovell said friends of Kasehagen described her as friendly and helpful. This obviously jarred with her stalking and the violent attack.
"It is clear that there must be two sides to your personality and it makes your behaviour towards Ms Hayter somewhat perplexing," he said.
"There is no suggestion that you were not aware of the nature of your actions or that you were unable to control your actions at the time you attacked Ms Hayter."
Her psychological issues meant she had little remorse for her actions, Nine News reported.
He went on to say Ms Hayter had done nothing to harm her.
"Ms Hayter was not the cause of your relationship breakup with him, however you became consumed with jealousy."
"The victim, to her knowledge, had never met or had any contact with you," reported the ABC.
It was only after the attack the stalking of Ms Hayter became clear.
The court released video shot by Kasehagen showing her stalking Ms Hayter, with her ramblings about what she wanted to do
"I really don't want him to have a valentine," she said.
"That's really cruel of me I know but he's an absolute m****r f***er. I still love him which is really stupid of me."
She watched Ms Hayter intently, as she left for work, filming from outside her home.
The macabre commentary continued.
"7.28 via the iPad she's leaving for work. She's dressed really f**king weird.Thursday night I'm assuming is when I'm going to do it. No obvious break-in which means it was a really lovely, lovely accident."
The impact on Ms Hayter was devastating. The judge said Ms Hayter felt she had been "hunted down like a rabbit in the spotlight", reported Australian Associated Press.
Justice Lovell jailed Kasehagen for 12 years, with a non-parole period of seven years backdated to when she was taken into custody after the attack.