The man who massacred 84 people in Nice sent chilling text messages just minutes before the deadly attack, according to French TV reports.
Moments before Mohamed Lahouaiej-Bouhlel ploughed a truck into a crowd and killed 84 people, he sent messages detailing his plans.
One reportedly read: "Bring more weapons. Bringing in 5," according to judicial sources quoted by French TV.
An earlier text reportedly read: "It's good. I have the equipment."
Lahouaiej-Bouhlel also wrote of his "satisfaction at having obtained a 7.65mm pistol" and discussed the supply of other weapons, a police source confirmed to the news agency AFP.
A pistol, two replica assault rifles and a dummy grenade were found in the truck
They were sent from the mobile found in the truck's cabin, along with the killer's driver's licence and bank card, after police shot him dead.
The text was reportedly sent at 10.27pm to one of the men now in custody following the police swoop on the killer's friends and "entourage". It ended, "Bringing in five to C".
It now appears that at least one of his messages was sent to another also in custody.
It has also emerged that the police officers who confronted Lahouaiej-Bouhlel in Nice pumped around 20 rounds of ammunition into his truck in the shootout that ended his bloody Bastille Day rampage, it emerged overnight.
In an affidavit seen by AFP, an officer who was among three stationed at the end of the famed Promenade des Anglais described Thursday's bloody confrontation with Lahouaiej-Bouhlel.
"He was at a halt, the front of the vehicle had been completely torn off, the engine was visible," the officer said in his affidavit.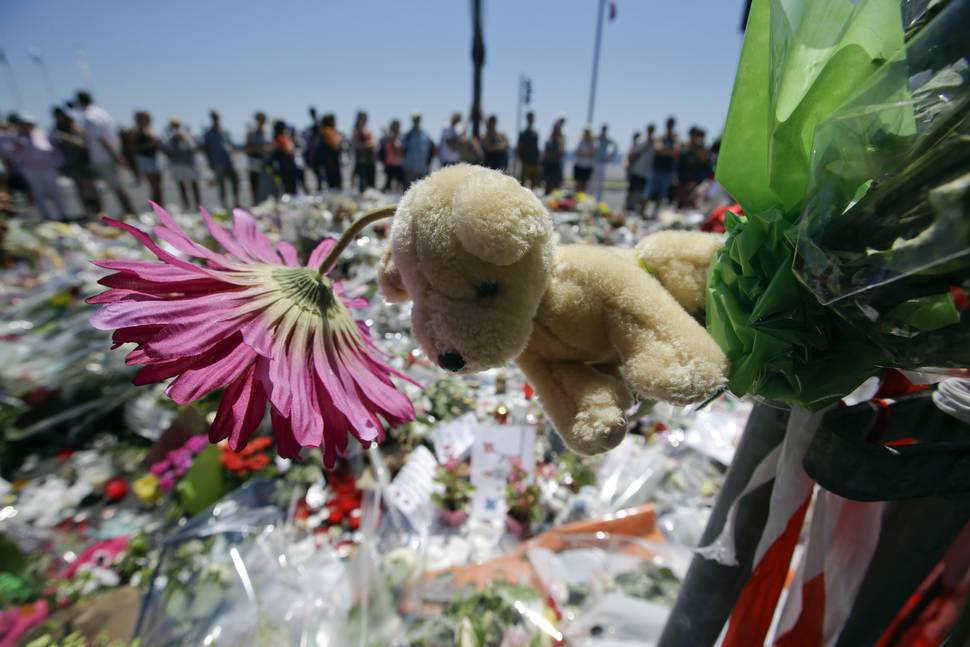 In nightmarish scenes, bodies lay crumpled behind the vehicle while others lay crushed beneath its wheels.
The police could hear people weeping and crying for help as others scrambled for safety.
"At first I didn't understand what was happening," the officer said. "People were running in every direction."
The officer then spoke about coming "almost face-to-face" with the killer, before another officer on the street then fired two more shots before seeing the driver's head "slump back onto the window, on the passenger side".