Nearly everything about the barbers at one establishment of suave Iraqi hair is at odds with the puritanical militants who overran their home towns.
Skilled in blow-drying and thickly applying gels, they transform patrons with chic looks that Isis (Islamic State) has brutally sought to eradicate.
The barbers also sport risque hairdos. They drink, chain-smoke and curse like sailors - all punishable sins, according to the group.
They have endured extraordinary suffering because of the hardline Sunni militants, who rampaged through their home towns and murdered family members and friends.
But here in central Baghdad where they found work, they're like a stylish band of anti-Islamic State brothers.
"Daesh is our enemy, Iraq's enemy. They tried to murder my entire tribe," one of the stylists, Arkan Ismael, 21, recalled on a recent day as he ran a comb through his own meticulously coiffed hair, which seemed to rise a foot.
Ismael fled his home town of Hit shortly after Isis took it over two years ago. His tribe, the Albu Nimr, resisted the militants - and paid dearly for it. The militants slaughtered hundreds, discarding dozens of the bodies in a mass grave near Hit, in Iraq's western Anbar province.
Ismael spoke about how the group gunned down an uncle and his three children in broad daylight.
"I would have been killed if I had stayed," he said, cursing the group as he described how he and his family fled for safety. Hit has since been liberated by Iraqi forces, but it's still too dangerous to return there, he said, adding that a cousin and friend were killed during a recent car-bombing. Isis claimed responsibility for the attack.
The militant onslaughts and the Government's counter-attacks have uprooted millions of Iraqis, including four of the five barbers at the shop.
The owner takes pride in employing his displaced countrymen. In fact, he said, it's a deliberate policy.
"This is my way of helping them and my country," he said, speaking on the condition of anonymity because of safety concerns.
The 2-year-old business employs both Sunni and Shia Muslims - Iraq's largest religious groups, whose disputes have helped tear apart the country.
Inside the barbershop, however, there is far more horseplay than sectarian acrimony.
The owner is adamant that sectarianism - whether it involves militant Sunni or Shia Islam - has no place in his business. That's to foster an atmosphere reminiscent of what many Iraqis consider to be a bygone era when they didn't mind working alongside and even marrying people from other religions.
"I'm from Iraq!" the owner responded when asked about his religion.
His employees certainly seem more interested in talking about the latest hair fashions than the sectarian squabbles that have bitterly divided Iraqis.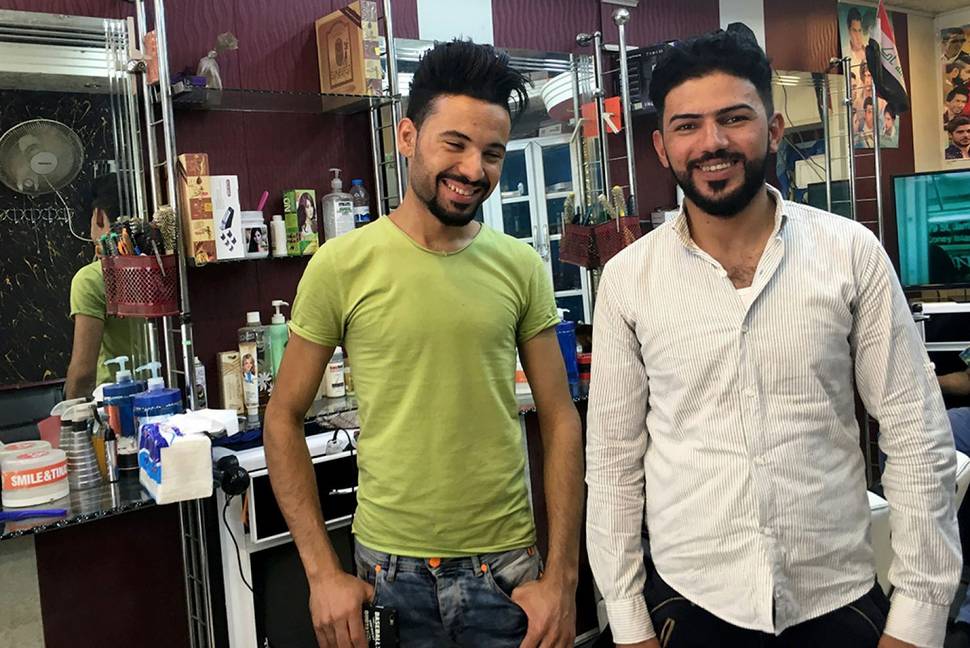 Mohammed Sultan, 29, explained the key to crafting flawless hairdos and beards. He flipped through photographs on his phone, showing off the work of the barbershop's employees, including snazzy beard designs they call "tattoo". The style involves angular facial hair shaved with symmetrical patterns, creating looks that bear striking resemblances to Vanilla Ice and Mr. T.
"Whether you are good at styling hair depends on whether you have skilled hands," said Sultan, who fled the northern city of Mosul after Isis seized it in June 2014. Shortly after the assault, the group arrested his brother, Younnes, who is still missing and presumed dead, he said.
The shop itself isn't particularly flashy. The chairs and clippers and product all seem a tad outdated. But every day dozens of customers come, many of them young men in search of the latest, probably spiky, hair trend.
The barbers described one of their colleagues, Osama Nouri, as being particularly talented.
The 27-year-old fled the city of Fallujah with his family in 2008, after enduring a brutal rebellion there by al-Qaeda-linked militants against then-occupying US troops. He described how his family decided it was time to leave after the militants, who eventually formed Isis, assassinated an uncle for joining the police force.
Nouri declined to go into detail about the traumas he experienced as a young man. However, he eagerly showed off the large tattoo on his left forearm.
Asked what it symbolised, he responded with a toothpick wedged between his teeth: "I don't know. I was drunk when I got it".
He doubts he he will ever be able to return to Fallujah. The city risks being destroyed in the ongoing fight there against Isis.
He instead seems resigned to an uncertain future, like most Iraqis. But at least he had his band of hair-stylist brothers.
"We have all suffered. We support each other," he said.