1.
Democrat presidential front-runner Hillary Clinton says Supreme Court nominee Merrick Garland has a "brilliant legal mind and a long history of bipartisan support and admiration" and it's up to the Senate to perform their Constitutional duty "they swore to undertake."
Garland, the chief judge of the US Court of Appeals for the District of Columbia was visibly emotional as he accepted President Barack Obama's nomination in the White House Rose Garden with his family watching.
Republican presidential candidate and Ohio Governor John Kasich says Obama should not rush to nominate a justice because of the "polarisation" in Congress. Senate Majority Leader Mitch McConnell says the American people must have a voice in November on filling the Supreme Court vacancy.
The Republican made it clear that the GOP-led Senate will not consider Garland, but will wait until after the next president is in place.
2. In the election race, Republican front-runner Donald Trump - fresh from victory in Florida - said he would not attend the next televised Republican presidential debate scheduled for next Tuesday and the event has been cancelled.
Kasich's spokesman then said he won't debate without Trump onstage. "I think we've had enough debates," Trump, who won three states yesterday, told Fox News. "How many times can the same people ask you the same question?" Trump asked.
Trump' s new online ad uses footage of Clinton barking like a dog to suggest she's unfit to be president. The ad begins with footage of Russian President Vladimir Putin engaged in martial arts and a man who appears to be an Isis (Islamic State) fighter pointing a gun at the camera.
Trump' s new online ad uses footage of Clinton barking like a dog to suggest she's unfit to be president.
"When it comes to facing our toughest opponents," it reads, "the Democrats have the perfect answer..." The ad then cuts to footage of Clinton in Nevada earlier this year, barking to mimic an ad she'd been describing to supporters. It ends with footage of Putin laughing and the words: "We don't need to be a punchline!"
3. French historians have unveiled secret services' archives from World War II that offer a unique insight into underground operations led by both the Nazis and the French resistance - and the individual paths taken by thousands of agents, including celebrities like French designer Coco Chanel.
Most of the letters, reports, cables and photos from the rival intelligence agencies of the French Resistance, the collaborationist Vichy regime and the German authorities remain unpublished. The documents, stored for years in the archives at the medieval castle of Vincennes, east of Paris, have not been explored by historians until recently.
They include details of operations led by German spies hunting members of the French resistance. The French secret services also had files on celebrities they deemed suspicious. Chanel's file includes a note written in Paris in November 1944. "A source in Madrid informed us that Madam Chanel was in 1942-43 the mistress and agent of Baron Guenter von Dinklage.
Dinklage used to be an attache at the German embassy in 1935. He worked as a propagandist and we suspect him of being a (German) agent," the document says. According to Frederic Queguineur, in charge of the secret services' archives, the file shows that Coco Chanel was documented as an agent by the Nazi intelligence organization, the Abwehr.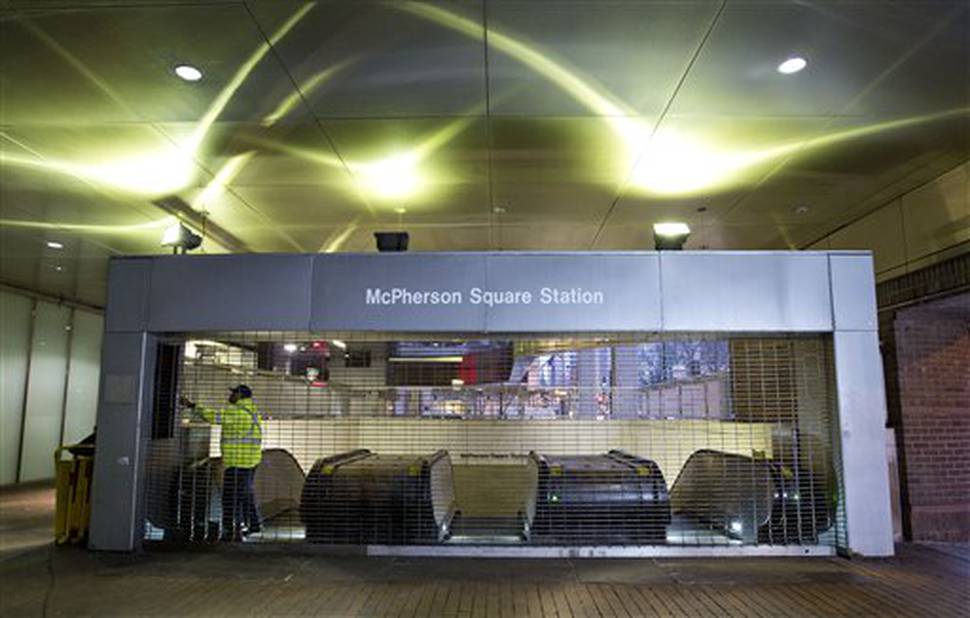 4.
An unprecedented safety shutdown of the Metro subway system inconvenienced hundreds of thousands of people in and around Washington. Federal workers telecommuted or took the day off, children missed school and countless others woke up early to take bus after bus, hail pricey taxis or slog through traffic. Many people resigned themselves to a very long day.
After a series of electrical fires, America's second-busiest transit system shut down for a system-wide safety inspection of its third-rail power cables. It will reopen tomorrow unless inspectors find an immediate threat to passenger safety, which the system's general manager said was unlikely. Without working trains in the way, 22 inspection teams were walking 160km of underground track, checking power cables for potential problems.
5.
The Duke of York is reported to have rammed closed gates with his £80,000 Range Rover to avoid a one-and-a-half-kilometre detour home. Britain's the Sun said Andrew forced the gates in Windsor Great Park open, but they swung back, scraping both sides and leaving a bill of thousands of pounds.
"He has a bit of a reputation for roaring around like Toad of Toad Hall," a park worker told the newspaper. The incident was said to have happened when the Duke was heading home to Royal Lodge on Monday NZT.
The gates, which stop deer getting in, usually open via sensor.
6. Passengers and crew of an Air India jetliner were evacuated using emergency slides at Bangkok's international airport, and authorities searched the plane for explosives after an apparent bomb hoax.
The scare was prompted by an anonymous call received by the national carrier's office in India, warning of an explosive aboard flight 332 en route from the Indian capital, New Delhi, to Bangkok, said Air India's Thailand manager Indranil Banerjee.
As soon as the Boeing 787 Dreamliner landed at Suvarnabhumi International Airport, the pilots were told to park the aircraft in an isolated spot. All 231 passengers and 10 crew members were immediately evacuated using the aircraft's inflatable slides. Security personnel searched the plane but nothing was found, Banerjee said.
7. Former President Luiz Inacio Lula da Silva was named chief of staff to current President Dilma Rousseff - a move that could help him avoid detention in expanding corruption probes that have ensnared the top of Brazil's political leadership. In a brief statement, the presidential palace announced the appointment and said the current chief of staff, Jaques Wagner, will become the head of Rousseff's office. Rousseff herself served as chief of staff under Silva from 2005-2010.
8.
Norway's worst mass killer pledged allegiance to Nazism, compared himself to Nelson Mandela and complained about being served cold coffee and microwaved food as he testified in a trial over his prison conditions.
Anders Behring Breivik, 37, accused the Government of trying to sap his will to live by isolating him from other prisoners and denying him mail correspondence with other right-wing extremists.
"This is inhuman treatment," said Breivik who killed 77 people in 2011 in a bombing in Oslo's government district and a shooting massacre on Utoya Island
agencies