Largest single donation, received yesterday, was from a couple — for $100,000, Vaimoana Tapaleao reports
The generosity of Kiwis has ensured that the plight of millions of refugees has not gone unnoticed on this side of the world - with more than $1 million raised by New Zealanders to help.
In March, the Forgotten Millions campaign, run by the Herald and World Vision, raised $436,000 for refugees.
This month, the newspaper and charity relaunched the campaign following poignant images and stories of refugees fleeing to Europe amid the Syrian refugee crisis.
The public has since donated another $645,000 - taking the combined total of donations for refugees to more than $1 million.
The New Zealand Herald and World Vision have launched The Forgotten Millions campaign to raise funds to meet an immense and urgent humanitarian need. With your help we can make a difference for the children and their families in desperate need throughout this region
World Vision chief executive Chris Clarke said the organisation was overwhelmed with the support from people who had given selflessly to the Forgotten Millions effort.
"The $1 million raised will have an incredible impact on the lives of those affected by the Syrian crisis."
Mr Clarke said the money raised in the last campaign was already providing life-saving support to more than 300,000 Syrian refugees.
"With your generous support, we are providing education for tens of thousands of kids who would otherwise be without schooling, and psychological support for more than 200,000 children who have lived through the horrors of war."
The donations have also gone towards providing clean water and safe sanitation for thousands of families currently living in camps.
"We've also been able to help provide food, hygiene and water to hundreds of refugees fleeing across Europe. With the money raised over the last two weeks, we will be able to reach even more desperate people.
"New Zealanders should be extremely proud of the lives they are changing and saving through their support of this incredible campaign."
This campaign's funds will again be used for similar projects, with the majority helping those in refugee camps in the Middle East.
Up to 13.5 million people from Lebanon, Syria, Jordan and the Kurdish region of Iraq currently live in the camps, where only a tent or sheets shelter them from the elements.
The money will also help desperate refugees seeking safety in Europe.
The latest donations came from individuals and businesses nationwide. The single largest donation was received yesterday from a couple who pledged $100,000 to the cause.
Earlier this month, the strength of people power and mounting public pressure saw Prime Minister John Key and the Government agree to allow more Syrian refugees into New Zealand.
"My brother, my brother, he has gone! The police caught my brother." Roshdi said they had tried to avoid the transit camp and the Hungarian police when they crossed the border, and had waded through a river. Like many refugees, they feared being fingerprinted in Hungary; a country that is neither welcoming to refugees, nor empathetic to their plight. They wanted their asylum application to be processed in Germany or Austria.
Many Kiwis - like so many people around the world - were touched by the story of 3-year-old Alan Kurdi, whose lifeless body was pictured swept on to a Turkish beach after a boat full of people fleeing the Syrian crisis capsized.
Journalist Rachel Smalley, who has been covering stories from refugee camps in the Middle East, said she was "enormously proud" to be a New Zealander.
"I think about all the incredibly brave people I've met this year in Lebanon, Iraq, Turkey, Serbia and Hungary. They trusted me to tell their stories and this is how New Zealand responded. It makes my heart sing.
"We're a little country on the other side of the world and look at how we've responded? Kiwis all across New Zealand have been incredibly supportive, kind and generous. It's just remarkable."
The campaign was still fundraising to help refugees, with a Forgotten Millions gala dinner planned next month.
Smalley is also taking a team of Kiwis to Beirut to run in the marathon there in November.
"So the Forgotten Millions appeal will carry on for some time yet."
Herald editor Murray Kirkness thanked the papers readers and said the campaign yet again illustrated how generous New Zealanders were.
"Kiwis are known for their generosity and helping each other. So to see just how much people are willing to help their fellow men on the other side of the world is a true sign of that giving spirit."
World Vision NZ CEO Chris Clarke visits Syrian families on the Turkish border.
Nasreen and her husband fled Mt Sinjar, on the the northwest of Iraq, when members of Isis attacked their village. They and many others trekked for four days with their 3-week-old daughter to safety.
35-year-old Lebanese refugee Patricia Mouamar (centre) works with World Vision in Beirut. She uses her experiences to help refugees deal with their own difficult lives.
Hind, a 14-year-old Lebanese refugee, fled Syria after her family's home was destroyed. "I am so lonely. If I could go back to Syria for one hour, I would. Just one hour. I miss every single grain of sand in Syria."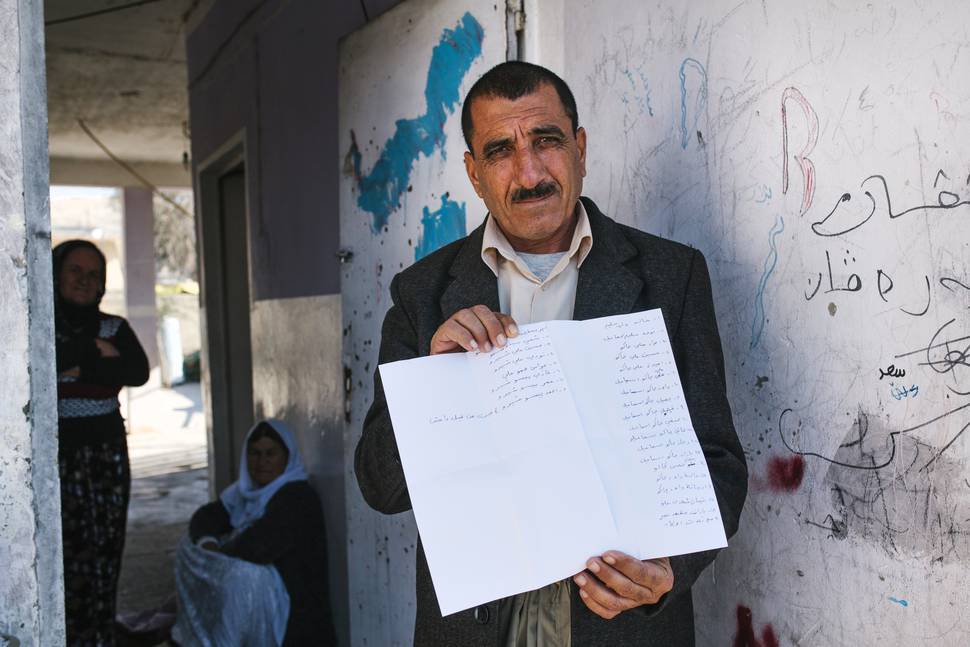 Barin, 60, carries the names of 27 members of his family he has not seen since they fled their home in Mt Sinjar when Isis attacked.
Refugee Crisis campaign: August - September
Donations $645k
Mohammed is only 18 months old but has already travelled a man's journey. The toddler and his parents trekked long distances to get to the border into Turkey after Isis attacked their home in Aleppo. Like many others, he was forced to walk in wet shoes for long periods in order to get to safety. He sits on his father's knee at the end of the railway tracks that refugees walk to reach Hungary from Serbia.
Mohammed and Ali are 6-year-old twins whose family escaped from Daraa, Syria. They both have cerebral atrophy and their mother, Khawla, acknowledges how dif?cult their journey to safety has been.
Ousama, who hopes to move to Europe for a better life, is raising his two daughters, Wafa, 7, and Seema, 6, on his own. His wife was killed during an attack by Isis.
Afghan refugees Zahra, 8, and brother Ilyas, 5, took about a month to reach Serbia. Their mother Rokiya says her children - who are Hazara - have no future in Afghanistan.