Rumours of falling out with deputy Bishop on climate talks come as PM slumps in polls.
An Australian Prime Minister at odds with his female deputy over climate change, amid slumping poll ratings. Sounds familiar?
As Foreign Minister Julie Bishop headed to UN-sponsored climate talks in Lima yesterday, speculation mounted about a rift between her and Tony Abbott.
Meanwhile, another poll - the third in less than a week - brought grim tidings for the Coalition Government and for Abbott. After barely 15 months in office, the Prime Minister is rated more incompetent than Julia Gillard, and no more trustworthy.
He lags eight points behind Opposition leader Bill Shorten as preferred prime minister, according to the Fairfax Ipsos poll.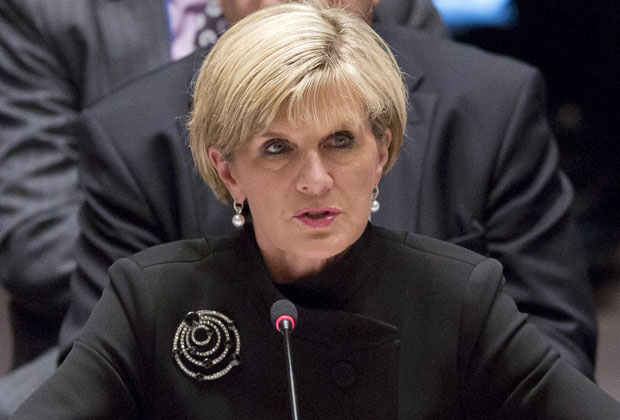 Australian Foreign Minister Julie Bishop. Photo / AP
And nearly six out of 10 Australians believe the Government is not doing enough to counter the threat of climate change.
Bishop has denied reports that she "went bananas" at Abbott last week after he insisted that she be "chaperoned" in Lima by the Trade Minister, Andrew Robb, a climate change sceptic.
According to the Australian Financial Review (AFR), Abbott feared she might otherwise commit Australia to ambitious new carbon emission cuts.
However, the AFR is standing by its story, and in an interview published yesterday the Foreign Minister revealed that when she sought permission to travel to Peru, Abbott initially said no. She then repeated the request, which was approved on condition that Robb accompany her.
Bishop told the AFR that Australia needed to be represented at a ministerial level, to show it was taking the negotiations seriously, and to protect the country's interests. She also expressed the hope that the talks - intended to lay the groundwork for a major climate summit in Paris in December 2015 - would yield "some solid outcomes".
It's all rather reminiscent of 2010, when then Labor Prime Minister Kevin Rudd was ousted by Gillard, after he abandoned plans to introduce an Emissions Trading Scheme and amid plummeting poll ratings.
Although Abbott's polling is far worse than Rudd's was, no one seriously expects a leadership challenge. But Coalition backbenchers are said to be deeply unhappy about the Government's failure to sell its message, particularly on the Budget.
Broken election promises, seesawing policies and a failure to get key Budget measures through the Senate have all contributed to the Government's unpopularity. The Fairfax Ipsos poll has the Coalition four points behind Labor, on a two-party preferred basis.
Abbott, who finally caved into pressure to water down his signature paid parental leave scheme at the weekend, yesterday dismissed talk of a rift with Bishop as "gossip".
In an interview with the Seven Network, he noted that former Prime Minister John Howard, former British Prime Minister Margaret Thatcher and former United States President Ronald Reagan had all experienced "rough patches in the polls".
However, Abbott not only laid himself open to accusations of hubris - the three were great leaders in their own way - but seemed to be tempting fate. Howard was in power for nearly 12 years, Thatcher for 11 years and Reagan for eight. And Abbott?
Fairfax/Ipsos poll
Published yesterday
Preferred Prime Minister
Bill Shorten, Labor, 47 per cent +6
Tony Abbott, Coalition, 39 per cent -2
Two-party preferred basis
Labor 52 per cent
Coalition 48 per cent.