In March 2013, Mario Longhi lobbed an unexpected question into a roomful of 150 US Steel managers: Who here would buy the company's stock, tomorrow?
He gave them three seconds, and "only a few reacted in that time frame positively," Longhi said.
Since that meeting, Longhi has been promoted to chief executive officer, and nine months into his tenure he's closed one plant permanently, two more are temporarily idled and he's planning to overhaul another. It's all part of his plan to transform the 144-year-old company into a lean, modern steel producer. Investors are taking note, with the shares up 53 per cent since he took over.
For more than a century, US Steel's strategy was based on volume - make lots of steel, maximise production to minimise costs. Now he's pushing the idea that getting smaller will help it survive.
"The magnitude of the change that needs to happen is not small," Longhi said in a June interview. "It's a lot of hard lifting."
Longhi, born and educated in Brazil, began an improvement program he's calling "The Carnegie Way," named for co-founder Andrew Carnegie. Instead of riding the peaks and troughs of global commodity markets, Longhi's goal is for US Steel to consistently turn a profit.
Expected losses
He's announced $700 million of cash savings this year, through measures including reducing working capital and another $290 million through improving manufacturing processes and supply chains, and may offer more details on July 29 when the Pittsburgh-based company reports its second-quarter results. It's expected to report a loss of $60.3 million, according to the average of five analysts' estimates compiled by
Bloomberg
.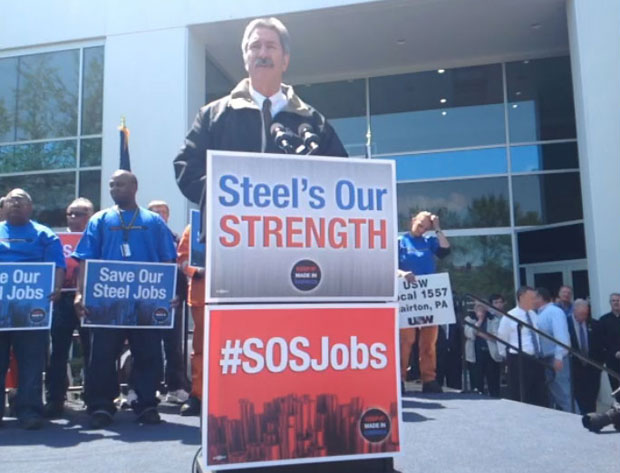 US Steel CEO Mario Longhi. Photo / Twitter @KeepitMadeinUSA
He faces a stiff challenge. The company has posted five years of losses and was ejected from the Standard & Poor's 500 Index this month after its market value shrank to 4.3 billion in 2013 from 8.4 billion in 2010. One of his favourite props to show employees the hurdles they face is a 10-year stock chart. The shares averaged about $37 in 2004 and reached a high of more than $191 in 2008, just before the financial crisis. This year it's averaged about $26.
"I took that chart everywhere," said Longhi, 60.
US Steel's problems go beyond the steel market. The company was once the world's biggest producer -- it's now ranked 13th. Slowing growth and rising steel output in China, plus a limping recovery in the US, have attracted imports, which now account for a quarter of the domestic market.
'Gradual' transformation
The company makes steel in 250-ton batches with traditional technology in a furnace design patented in 1858, and competes domestically with electric furnaces that have lower operating costs.
Those issues have no quick fix, said Andrew Lane, an analyst at Morningstar in Chicago. US Steel is saddled with outdated plants and debt, limiting the cash available to throw at the problem.
"Any transformation of their asset base would be very gradual," Lane said. "It could take decades."
Longhi agrees the turnaround plan will take years.
"We can't just expect that something interesting will happen and it will be better," he said. "People need to have a sense of urgency."
Founded as Carnegie Steel Works in 1870 and incorporated in 1901 as US Steel, the company still relies on traditional production methods, heating and refining iron ore and coke to make crude steel.
Losing share
While it's the largest US producer, competitors led by Charlotte, North Carolina-based Nucor have grabbed market share in the past four decades by remelting scrap in electric furnaces that are cheaper, smaller and more flexible. Luxembourg-based ArcelorMittal is now the world's biggest steelmaker.
Longhi says US Steel is grappling with decades of accumulated bureaucracy across 24 locations in the US, Mexico, Brazil and the Slovak Republic.
"US Steel is a big empire," said Aldo Mazzaferro, an analyst at Macquarie Group in New York. "People have accused it in the past of being kind of moribund."
Longhi joined the company as chief operating officer in 2012 from Gerdau Ameristeel, the US unit of Brazil's Gerdau SA. In September he replaced John Surma, who was CEO for nine years. Before Gerdau, Longhi spent 23 years at aluminum producer Alcoa, working in Brazil, the US and Switzerland.
Cutting capacity
Longhi was quick to make his mark at US Steel. In his first month as CEO, he announced the end of production in Hamilton, Ontario, cutting about 10 per cent of the company's North American capacity. In January, he announced plans to replace a blast furnace in Alabama with an electric furnace. Two other plants were idled pending the resolution of a trade case.
As well as looking internally for improvements, US Steel is the public face of the domestic industry's efforts to stem cheap imports. The US imported 29 million tons last year, equivalent to about third of what was produced at home.
Driving the imports is a global glut, led by a boom in Chinese output. In 1995, Chinese production matched the US at about 95 million tons. Today, China accounts for half of the 1.5 billion-ton world market. US output shrank to about 87 million tons in 2013.
That's driving down prices in the US. Hot-rolled coil, a benchmark steel product used in construction and automaking, has averaged $672 a ton in the past year, according to data from The Steel Index. The price hit $1,095 a ton in 2008.
Longhi is confident he can reinvigorate the company and its workers.
"The pride was there," he said. "The pride was consistently referred to in the past. They're going to be proud of what we're doing now and the future we're going to create."
- Bloomberg