A young Palestinian man was allegedly shot by an Israeli sniper in front of a camera crew helping him search for his family before being fatally shot again as he struggled to get up.
The footage, which has not been independently verified, was captured by an activist from the pro-Palestinian International Solidarity Movement in the Shijaiyah neighbourhood of Gaza City.
Muhammad Abdellah claimed he and other ISM volunteers made their way into Shijaiyah on Sunday after the area came under prolonged and heavy bombardment from Israel, which claims the neighbourhood is a major source for Hamas rocket fire against its civilians.
He said that the ISM team came across a young Palestinian man, who told them he was looking for his family, and that they followed him in an attempt to help him find his relatives.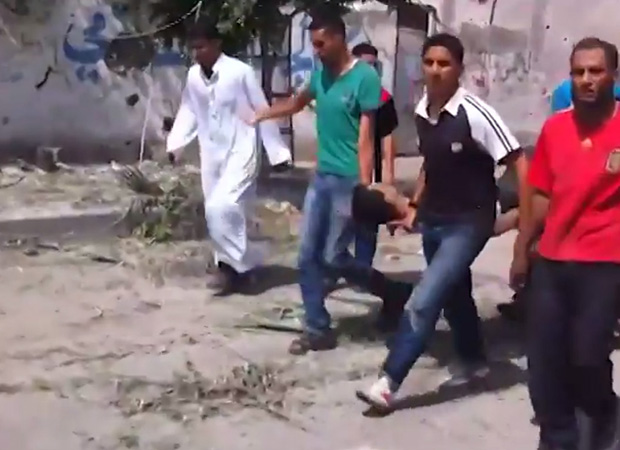 The man is shown earlier in the video apparently helping rescue an injured man. Photo / You Tube
As the group tried to make their way across a heavily damaged area, shots suddenly rang out.
The first sent the group scrambling for cover, but did not hit anyone, but the second hits the man in the green t-shirt.
''Israeli soldier sniper hit him in his hip, so he laid down. And I started to ask him 'can you move?' Because if he can move, maybe he can roll around and go to the other place, but he said 'no, I cannot move, like my blood is going everywhere.''
Abdellah explained that he and the other ISM volunteers were unable to approach the young man, amid fears they would be targeted too.
Then, the Palestinian was hit a second time as he lay on the ground.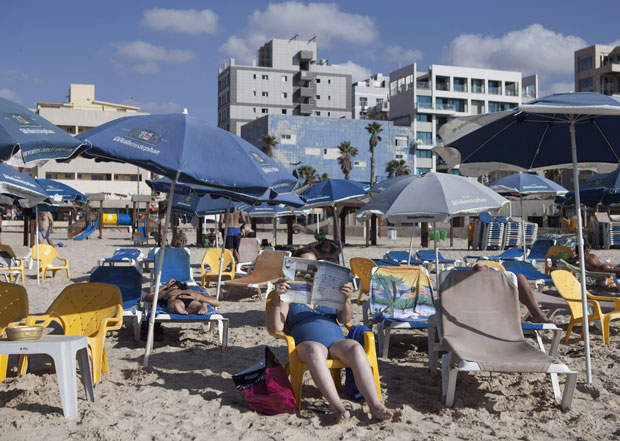 Rescue workers look on as the man lies motionless. Photo / You Tube
Meanwhile an Israeli soldier is missing following a deadly battle in the Gaza Strip, a defence official said today as Israeli airstrikes pummeled a wide range of targets in the coastal strip and diplomatic efforts intensified to end more than two weeks of fighting that has killed at least 585 Palestinians and 29 Israelis.
The defence official told The Associated Press the soldier went missing after a deadly battle in Gaza over the weekend and it was not immediately clear if he was dead or alive.
The official spoke on condition of anonymity because he was not authorised to discuss the incident with media.
The development adds a further complication to international efforts to broker a truce. UN chief Ban Ki-moon and US Secretary of State John Kerry met in Cairo late Monday to launch the highest-level push yet to end the deadly conflict. The UN has said that the majority of the Palestinians killed were civilians, among them dozens of children.
Read more:
• Airlines suspend flights into Israel amid security fears
Israel has said its campaign, launched July 8, is aimed at stopping Hamas rocket fire into Israel - some 2,000 rockets have been launched over the past two weeks, the military says - and destroying tunnels the military says Hamas has constructed from Gaza into Israel for attacks against Israelis.
"And that bullet, I guess it was in his heart or like or almost there, because he was like going and dying in front of our eyes," the activist said.
MailOnline has not been able to independently verify the exact circumstances of the shooting, or whether it was fatal.
The name or age of the man, who the ISM said died from his wounds, could not be confirmed either.
The Associated Press have asked the Israeli Defence Force for comment, but has had no response yet.
Push for cease-fire
In Cairo, UN chief Ban Ki-moon and U.S. Secretary of State John Kerry met Egyptian officials today in the highest-level push yet to end the deadly conflict.
The US is sending $47 million in aid to Gaza 'to alleviate some of the immediate humanitarian crisis,' Kerry said.
Ban then traveled to Israel.
Israeli Prime Minister Benjamin Netanyahu, meanwhile, urged the international community to hold Hamas accountable for the latest round of violence, saying its refusal to agree to a cease-fire had prevented an earlier end to the fighting.
"What we're seeing here with Hamas is another instance of Islamist extremism, violent extremism that has no resolvable grievance," Netanyahu said at a joint press conference with Ban in Tel Aviv. He compared Hamas with al-Qaida and extremist Islamic militant groups in Iraq, Syria and Africa.
"Hamas is like ISIS, Hamas is like al Qaida, Hamas is like Hezbollah, Hamas is like Boko Haram," he said.
Netanyahu was responding to a call by Ban that the sides address the root causes of the fighting and work toward bringing about a two-state solution.
"My message to Israelis and Palestinians is the same: stop fighting, start talking and take on the root causes of the conflict so we are not back to the same situation in another six months or a year," Ban said.
Netanyahu responded that Hamas, a group whose charter calls for the destruction of Israel, does not want a two-state solution.
Reports of a missing soldier invoked Hamas' claims earlier this week that it had captured an Israeli soldier. Israel's UN ambassador initially denied the claim but the military neither confirmed nor denied it.
For Israelis, a captured soldier would be a nightmare scenario and Israel has paid a heavy price to retrieve soldiers - dead or alive - captured by its enemies.
Israel feels a strong need not to leave any of its soldiers behind, including the remains of dead ones, and has engaged in lopsided prisoner swaps with its foes to bring home captured soldiers.
In 2008, Israel released five Lebanese militants in exchange for the remains of two soldiers killed in the 2006 Lebanon war.
Also in 2006, Hamas-allied militants seized an Israeli soldier in a cross-border raid and held him captive in Gaza until Israel traded more than 1,000 Palestinian prisoners, some of whom were involved in grisly killings, for his return in 2011.
Hamas had threatened in the past to kidnap more Israelis and Israel says the militant group's attacks through tunnels that stretch into Israel are for this purpose.
Egypt, Israel and the US back an unconditional cease-fire, to be followed by talks on a possible new border arrangement for Gaza. Israel and Egypt have severely restricted movement in and out of Gaza since Hamas seized the territory in 2007.
Hamas, with some support from Qatar and Turkey, wants guarantees on lifting the blockade before halting fire.
The Islamic militant group has no faith in mediation by Egypt's rulers, who deposed a Hamas-friendly government in Cairo a year ago and tightened restrictions on Gaza - to the point of driving Hamas into its worst financial crisis since its founding in 1987.
The top Hamas leader in Gaza, Ismail Haniyeh, said Monday that Gaza's 1.7 million people share Hamas' goal of forcing Israel and Egypt to lift the blockade.
"We cannot go back, we cannot go back to the silent death' of the blockade", he said. "Gaza has decided to end the blockade by its blood and by its courage."
After a meeting with Egyptian Foreign Minister Sameh Shukri, Ban said that 'violence must stop by all sides,' and that they must enter negotiations, apparently siding with Cairo's approach.
"We can't claim victory simply by returning matters to where they stood before they led to terrible bloodshed," Ban said.
After Cairo, Ban was set to meet with Israeli and Palestinian officials Tuesday.
- Daily Mail