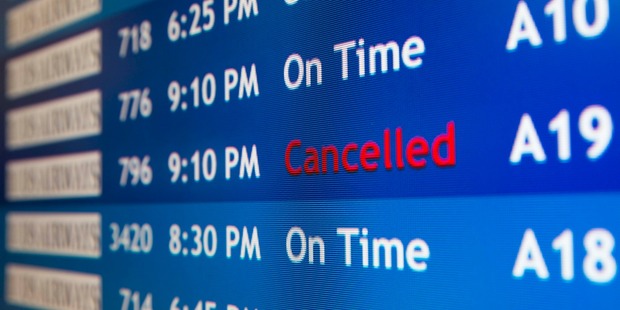 Major European carriers have followed their US counterparts and suspended flights to Israel over security concerns amid the raging Gaza conflict.
One rocket that crashed just north of Tel Aviv's Ben Gurion international airport prompted the US Federal Aviation Authority to ban airlines from flying to and from Israel for at least 24 hours.
The European Aviation Safety Agency advised all carriers to avoid Tel Aviv "until further notice".
Air France said it was suspending service to Ben Gurion International Airport until further notice while Germany's Lufthansa said it was halting flights for 36 hours.
Lufthansa said the step, which also affects its subsidiaries Austrian Airlines, Germanwings and Swiss, was being taken "for the security of passengers and crew" amid the "unstable situation".
The German carrier said it operated up to 10 daily flights to Tel Aviv from Berlin, Frankfurt, Munich, Vienna and Zurich.
Affected passengers could choose to either be reimbursed or could exchange their tickets, it said.
Air France said the move would affect its three daily flights to Tel Aviv from Paris's Charles de Gaulle airport, as well as the three flights per week from the southern port city of Marseille and four flights per week from Nice.
Brussels Airlines cancelled one flight late on Tuesday and three flights on Wednesday.
Earlier Delta announced that it had diverted a flight bound for Tel Aviv to Paris after "reports of a rocket or associated debris near the airport in Tel Aviv".
Other major US carriers US Airways and United Airlines said they were also cancelling service to Ben Gurion.
Meanwhile, as the violence entered its third week, the United States and Egypt discussed ceasefire proposals in Cairo, and the Palestinian leadership sought to coax Hamas to end hostilities.
UN Secretary-General Ban Ki-moon, on a visit to Tel Aviv, appealed to Israel and the Islamist movement to "stop fighting" and "start talking", but neither side appeared willing to do so.
Israel insisted it would press on with its punishing aerial and ground assault until it destroys cross-border tunnels used by Gaza militants to launch attacks on the Jewish state, while Hamas continued to fire rockets and inflicted more casualties on the army.
Following top-level talks in Cairo, Ban headed to Israel to deliver his message in person as the 15-day conflict showed no sign of easing.
"My message to Israelis and Palestinians is the same: Stop fighting, start talking and take on the root causes of the conflict so that we are not at the same situation in the next six months or a year," he said.
In Cairo, US Secretary of State John Kerry discussed ceasefire proposals with Egypt's President Abdel Fattah al-Sisi with both voicing guarded hopes of an end to the violence. And a senior Palestinian official said talks were ongoing between Palestinian president Mahmud Abbas and Hamas for a ceasefire.
Israel initially refused to halt its fire without finishing a ground operation to destroy tunnels used by Hamas for attacks inside Israeli territory, and Hamas has rejected ceasefire proposals presented by Egypt, saying its own demands must first be met.
Despite the flurry of diplomatic activity, the death toll on the ground in Gaza rose to more than 620 Palestinians, medics said.
Israel pummelled targets throughout the besieged coastal enclave, with its tanks even hitting a UN school sheltering the displaced.
Since the offensive, more than 100,000 Gazans have fled their homes, seeking shelter in 69 schools. Israel's overall death toll sits at 29, among them 27 soldiers who died in the past four days.
- AFP