A large area of scrubland in Portugal was a hive of activity overnight (NZ time) as police carried out fingertip searches in the undergrowth, scouring for clues as to what happened to Madeleine McCann.

The officers, who were in Metropolitan Police uniform, searched the long grass on their hands and knees, accompanied by a sniffer dog as they scanned the rubbish-strewn ground.
Read more:
* Madeleine McCann hunt: Scrubland search to begin
* Madeleine McCann hunt: Detectives banned from digs

British sniffer dogs used by police hunting for murdered schoolgirl April Jones have been flown to Praia da Luz on the Algarve to scour the wasteland, 1000ft from where Madeleine was last seen alive.

Seven-year-old English Springer Spaniels, Tito and Muzzy, are experts in locating concealed bodies, and are now in Praia da Luz with their South Wales Police handlers.

MailOnline can also reveal Sussex Police has sent an 'experienced search adviser' who also worked on the April Jones probe, which led to the conviction of Mark Bridger, who was jailed for life last year.
McCann parents expecting significant news
Kate and Gerry McCann are said to be expecting 'significant news' on the fate of their daughter, who disappeared in 2007.

Scotland Yard is leading a team of 30 detectives and officers have identified at least 12 'key areas' they will scan with radar capable of penetrating the ground by up to 13ft, looking in particular for suspicious objects or voids.
Officers have started digging scrubland with shovels and collecting samples in buckets. They were seen searching the rugged piece of land overlooking the Atlantic while officers dug holes and carried out finger tip searches.
Mrs McCann, 46, and Mr McCann, 45, have not travelled to Portugal but are being kept informed by Scotland Yard during a 'stressful time for them'.
'They understandably have to remain positive and assume Madeleine is alive, but the dig raises the possibility of finding evidence that she is not', a source close to the couple said.
The wasteland, about the size of three football pitches, has reportedly been chosen because it is close to where a suspect was seen with a little girl in his arms on the night three-year-old Madeleine vanished seven years ago.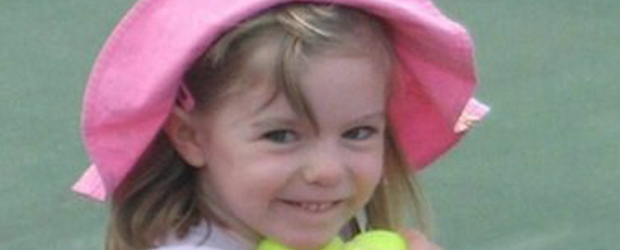 Madeleine McCann. Photo / AP

The family's Portuguese lawyer has said the family know police would not be digging there unless they 'have some very good information'.

Isabel Duarte said: 'Kate and Gerry have not been given any information that Madeleine is dead, and until this happens they have to believe she is still alive.
'But they think police will come up with some significant news.

'It is such a stressful time for them and my heart goes out to them. It has been so long, and the investigating officers now have new information and there may finally be some answers.
'I don't need to ask them how they are feeling. It is very clear. But it is not for me to say if they fear the worst.'
The large section of land is being guarded day and night by armed local police with dogs, and a large yellow-and-white cordon was put in place ahead of the search for clues about Madeleine, who disappeared in May 2007 aged three.

Around six Portuguese police vans could be seen on top of a large mound in the middle of the scrubland, which overlooks the sea.

The cordon was lowered down for two hired vans to drive in and they then reversed along a track before stopping near two blue tents.
TV crews and journalists from around the world were gathered at the cordon as the search - seen as one of the biggest developments in the investigation in recent years - takes place.

A British officer in plain clothes spent time studying a flat area which had been marked with tape. He put gloves on before using a tool to make holes in the ground. A small yellow flag could already be seen poking out of the ground within the taped section.
Drone, plane, satellite images used
Local police officers on horseback patrolled the area while others had German shepherd dogs.

Officers in Welsh police uniform carried out a fingertip search of one area of long grass on their hands and knees.
They were accompanied by one of the sniffer dogs as they scanned the rubbish-strewn ground.

Workers in orange hard hats began using strimmers to clear away swathes of undergrowth from one area of the scrubland.
Police spent all day at the site on Monday, and returned again on Tuesday with work likely to continue for the rest of the week.

Geologists and archaeologists have been consulted, and it is thought officers will use ground-penetrating radar before bringing in mechanical diggers.
A military plane flew overhead yesterday and a remote-control drone was used to assess the four-acre search site as Portuguese officers searched with dogs.
After years of negotiations with Portuguese authorities, Metropolitan Police were given permission to start groundwork last month as part of their re-investigation of the case, instigated by David Cameron in 2011.
The land close to the beach was sealed off early on Monday morning by Portuguese police.

British officers could be seen removing spades and picks from the back of one of five vans before hammering posts into sections of the scrubland.
Three large white tents were set up on the site overlooking the Atlantic.
Sources said police would dig inside the tents to prevent the public being able to see any items that may be unearthed before they are forensically tested.
The initial groundwork was overseen by Detective Chief Inspector Andy Redwood, who is liaising with Faro Policia Judiciaria chief Luis Mota Carmo.
As part of Operation Grange, Scotland Yard has submitted three so-called letters of requests to Portuguese legal authorities, which identify 41 priority areas of work and include 287 requests.
Police have compared satellite images taken round the time Madeleine disappeared with up-to-date pictures to analyse whether there have been any significant changes to the ground.

The wasteland, which was once used to grow cabbages, is said to be owned by a company run by Belmiro de Azevedo, a Portuguese entrepreneur ranked the 605th richest person in the world and the 2nd in Portugal.

After work is completed, officers will move on to two other sites in the resort, including another area of scrubland nearby and roads close to Our Lady Of The Light church where Madeleine's parents prayed after she vanished.
Hot, dry climate aids radar search
Radar scanners that can penetrate to depths of up to 13ft (four metres) are to be used across the Praia da Luz scrubland.

Experts say that the dry and hot climate will help them search deeper than usual for evidence in the hunt for missing Madeleine McCann.

The scanners can easily identify unusual objects or voids under the ground.

Police are currently marking out areas of interest on the wasteland - a few minutes' walk from where the British girl was last seen in 2007.

The site is also being scoured by officers with specialist sniffer dogs.

Any areas 'of interest' will be then scanned by the radar equipment, hidden inside tents in case anything is found.

Mechanical diggers will then be used if police need to take evidence from under the ground.

Expert Rom Gostomski, who runs the ground penetrating radar department for Sandberg in London, says that dry ground and temperatures in Portugal will help them look significantly deeper thanpossible in the UK.
He told Sky News: 'The radar uses electro-magnetic waves that are fired into the sub-surface at a pretty rapid rate and we measure what comes back from those signals.

'GPR works best in dry conditions - it doesn't like wet saturated ground because of the high dissolved mineral content.

'In a dry country like Portugal you'll generally get much, much better data and penetrate much deeper.'

'If you have got a buried object that is sufficiently different, with different properties from the surrounding area, it will show up very, very clearly'.
- Daily Mail