The world community heaped pressure on Moscow today as evidence mounted that pro-Russian separatists were responsible for shooting down Malaysia Airlines Flight MH17 over Ukraine.
There were global calls for a full independent inquiry into the downing of the Boeing 777 amid concerns that the crash site in eastern Ukraine remained in the control of rebels who could limit access to investigators.
As the US and Britain said initial investigations suggested the plane was shot down by rebels backed and armed by Russia, the UN Security Council in New York passed a resolution calling for a "full, thorough and independent international investigation".
Read also:
• Thugs knew jet wasn't military: expert
• Black humour turns chillingly accurate
• Malaysia PM says route was deemed safe
• US, West leaders delve for facts

Specialists firmly believe such an investigation will find that those backed by the Kremlin were responsible for the disaster, which claimed the lives of 298 passengers, and crew, including more than 80 children.
Watch: Challenges ahead for Ukraine crash investigation
Writing in The Independent, Justin Bronk, a research analyst at the Royal United Services Institute in London, dismissed any notion that anyone could have fired the missile that downed the airliner.
"Given that there seems to be little doubt that an SA-11 system was used to shoot down MH17, the question must now be who is responsible. Russian and separatist claims that the Ukrainian military is responsible are absurd," Mr Bronk says.
Watch: Ukraine leader says 'terrorist act'
"The Ukrainian military has absolutely no reason to have deployed their SA-11s anywhere near Donetsk, as the separatists do not use aircraft and shooting down a Russian aircraft violating its airspace is the last thing Kiev wants."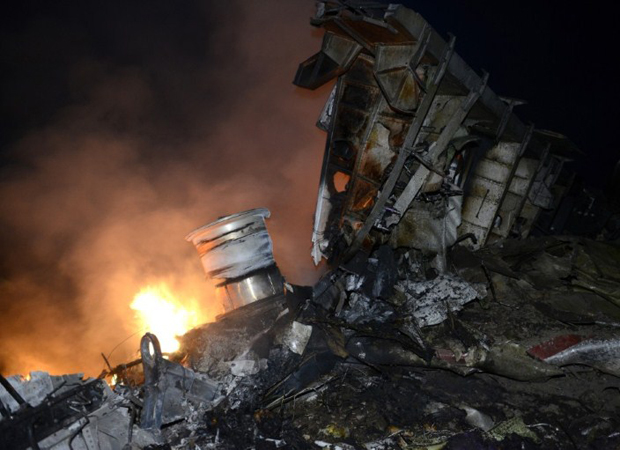 Flames and smoke amongst the wreckage of the jet. Photo / AFP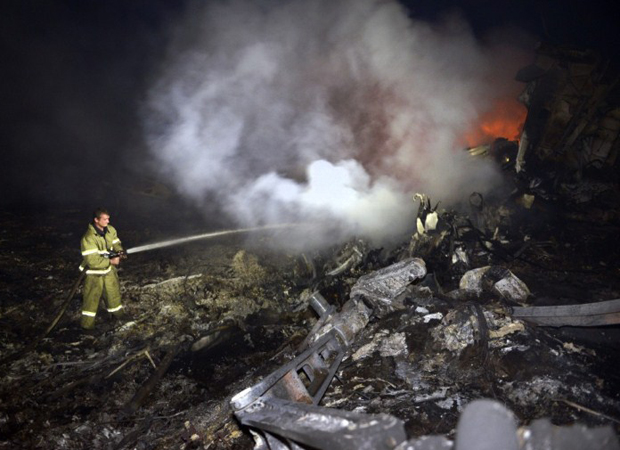 A firefighter sprays water to extinguish a fire amongst the wreckage. Photo / AFP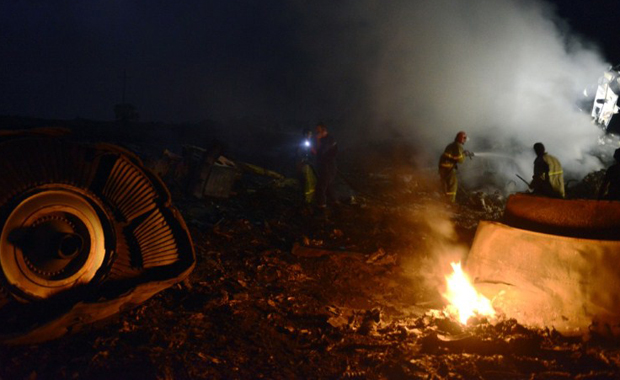 A firefighter sprays water to extinguish a fire amongst the wreckage. Photo / AFP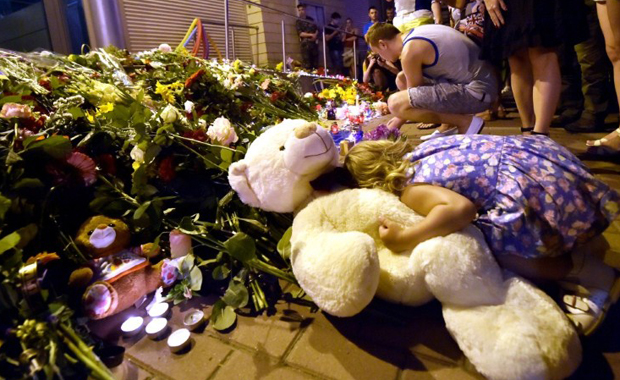 A young girl places her head on a teddy bear in front of the Embassy of the Netherlands in Kiev. Photo / AFP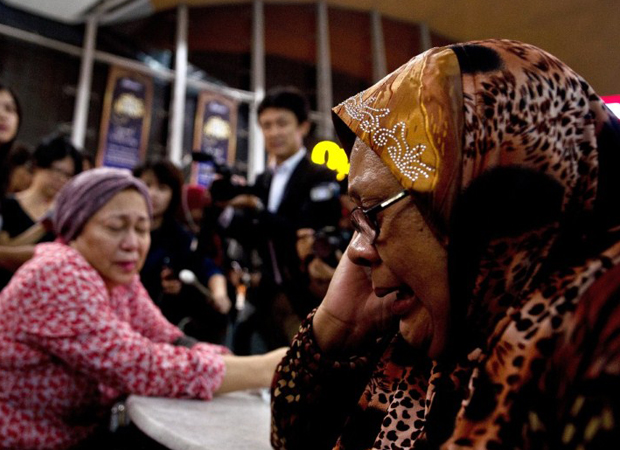 Relatives of people onboard Malaysia Airlines flight MH17 react outside the family holding area at the Kuala Lumpur International Airport. Photo / AFP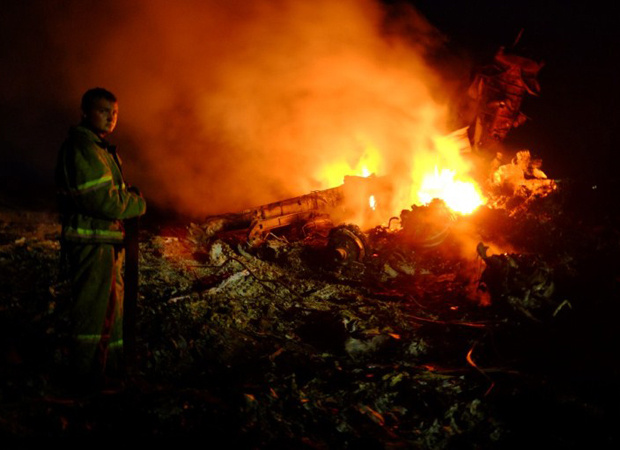 A firefighter stands as flames burst amongst the wreckage of the jet. Photo / AFP
Najib Razak, the Prime Minister of Malaysia, a country suffering its second major air tragedy in four months, spoke with Russia's President Vladimir Putin. They issued a statement saying a ceasefire in eastern Ukraine could help investigators and said they supported a full probe. It was later reported that Mr Putin had told the Malaysian leader that the Russian military would help any inquiry.
Tonight it was reported that a delegation from the Organisation for Security and Co-operation in Europe (OSCE) had arrived at the crash site close to the city of Donetsk, but had been given only limited access and that shots were fired during a stand-off with rebels. Amid concerns that the crash site has already been badly disturbed and that items may have been removed, the OSCE said its so-called Special Monitoring Mission would assess "the situation at the scene and report accordingly".
Their visit followed a video conference call on Friday evening before involving OSCE officials, Russia, Ukraine and the rebels, during which the fighters said they would assist.
Fast on the heels of the OSCE team are US investigators, the FBI and the US National Transportation Safety Board, who were preparing to make their way to Ukraine in an advisory role. Ukraine's leader, President Petro Poroshenko, spoke to David Cameron and Germany's Chancellor Angela Merkel and invited both to send experts.
"The president stressed that the black boxes from the aircraft should remain with international experts and not be passed to a third country by terrorists," a statement from Mr Poroshenko's office declared.
Earlier it was reported the two flight recorders had been found. The governor of eastern Ukraine's Donetsk region, Kostyantyn Batovsky, told the Interfax news agency: "Two black boxes were found by our emergency services. I have no information on where these boxes are at the moment."
Watch:Videographic: Malaysia Airlines MH17 crash
There were concerns the boxes, which could provide crucial information, could even be spirited away to Moscow. But Russia's Foreign Minister, Sergei Lavrov, insisted there was no plan to do so and that that would break international law.
He told the Rossiya 24 channel that analysis of the flight recorders was the job of the International Civil Aviation Organisation and added: "It's the responsibility of those states which have the most direct connection to this tragedy - the Netherlands, Malaysia and the states whose citizens were on board, and, of course, Ukraine."
Ukraine and the West continued to insist the evidence pointed to Russian-backed rebels using ground-to-air missiles to attack MH17 as it flew from Amsterdam to Kuala Lumpur, albeit in the belief it was a military plane.
But the rebels denied involvement and Reuters said the leadership of the self-proclaimed Donetsk People's Republic said that a Ukrainian air force jet had brought down the Malaysian Airlines flight.
Ukrainian intelligence released a transcript of a conversation it claimed it had recorded of pro-Russian rebels discussing the attack. The state security service, known as SBU, released an edited recording which it said was between separatists and Russian military intelligence.
It claimed that in one part of the conversation rebel commander Igor Bezler told Russian intelligence official Vasili Geranin: "Just now, just now, a plane has been shot down."
In another part of the recording, apparently after the crash site has been inspected, the men appear to acknowledge that MH17 is a civilian aircraft. "Are there any weapons," asks one. The other man responds: "Nothing at all."
Reports out of Kiev said officials had claimed a Buk battery radar, allegedly used to bring down the plane, had been carried across the Ukrainian border to Russia at some point today. Russia denied this.
As accusations and counter accusations continue, there has been speculation that the scale of this incident could create enough international pressure to resolve the Ukraine crisis, which has killed hundreds since pro-Western protests toppled the Moscow-backed president in Kiev in February and Russia annexed the Crimea.
Neal Ascherson, an author and veteran watcher of eastern Europe, believes the role of Mr Putin would prove crucial and acceptance that the attack was carried out by accident could ease tension.
"There could be a lot more of bad temper but I don't think this will, or ought to, lead to more a major confrontation," he said.
The crash was 25 miles from the border with Russia near the regional capital of Donetsk, an area that is a stronghold of rebels who have been fighting Kiev's armed forces and have been accused of bringing down a number of military aircraft in recent days.
-The Independent