While cruising the Baltic, David Smith, experiences the best of the port visits.
In Bruges, we used our ship's Celebrity shuttle ($35 return) to take us just outside the town centre. From there we walked through cobbled streets and over canals lapping up to the old stone buildings.
The cathedral was well worth a look. As you would expect with a stop in Belgium, chocolate shops abounded and there were lots of outlets selling beers and souvenirs.
There were horse and buggy rides on offer which looked fun ... specially as the horses and buggies were all well-presented.
We had an early sailing time of 3pm so our visit only lasted about three hours, but it was an enjoyable outing.
In Copenhagen, we took advantage of local (well, sort of) knowledge. A family friend spent six months living there last year and emailed us a suggested walking tour, which worked out perfectly. We took the ship-organised shuttle to the centre of the city, which took about 15 minutes. From there we walked to Tivoli Gardens, one of the most well-known attractions in Copenhagen. The gardens are actually a 175-year-old theme park.
It is a beautiful place to wander around, with a number of water features. We passed on the rides — probably just as well as some looked a little stomach-testing. From Tivoli we headed to Copenhagen's food markets, which featured a number of health food stalls. (We had icecream.) Then it was on to the Round Tower. For about $5 you can wind your way up the to the tower top where you enjoy 360-degree views of the city.
The tower is adjoined to the cathedral and has a viewing window into the cathedral hall in the early part of the climb.
Next it was into the credit card danger zone, Stroeget, the longest pedetrian shopping street in Europe. There were a vast array of shops, with many high-end brands including Mulberry and Benetton.
Our final stop was the one I had been most excited about — Nyhavn St's coloured terrace houses, a stretch of homes adjacent to the canal which have an equally colourful history.
This was once Copenhagen's red-light area and the houses adopted distinctive colours so the customers, mostly sailors from the canal boats, would remember which to return to.
This is the picture postcard area of the city.
It was a five-minute walk back to the shuttle bus and our DIY tour was complete in just under six hours, having covered a hugely enjoyable 11km.
In Stockholm (an overnight stop) we took the Celebrity shuttle in to the centre of the city both days. It would have been about 40 minutes to walk in but the 15-minute shuttle saved us time and energy for walking in the city.
On the first day we made the most of one of Europe's increasingly popular free guided walking tours. Our guide, Connie from California, took our group of about 25 through Stockholm's Old Town. We found Connie funny, informative and happy to answer any questions. The tour took about one-and-a-half hours, included many of the city's oldest buildings, and was well worth the $35 tip we gave her.
These tours are a bargain compared to ones bought through agencies or from cruise line excursion desks but they rely on the guides receiving gratuities.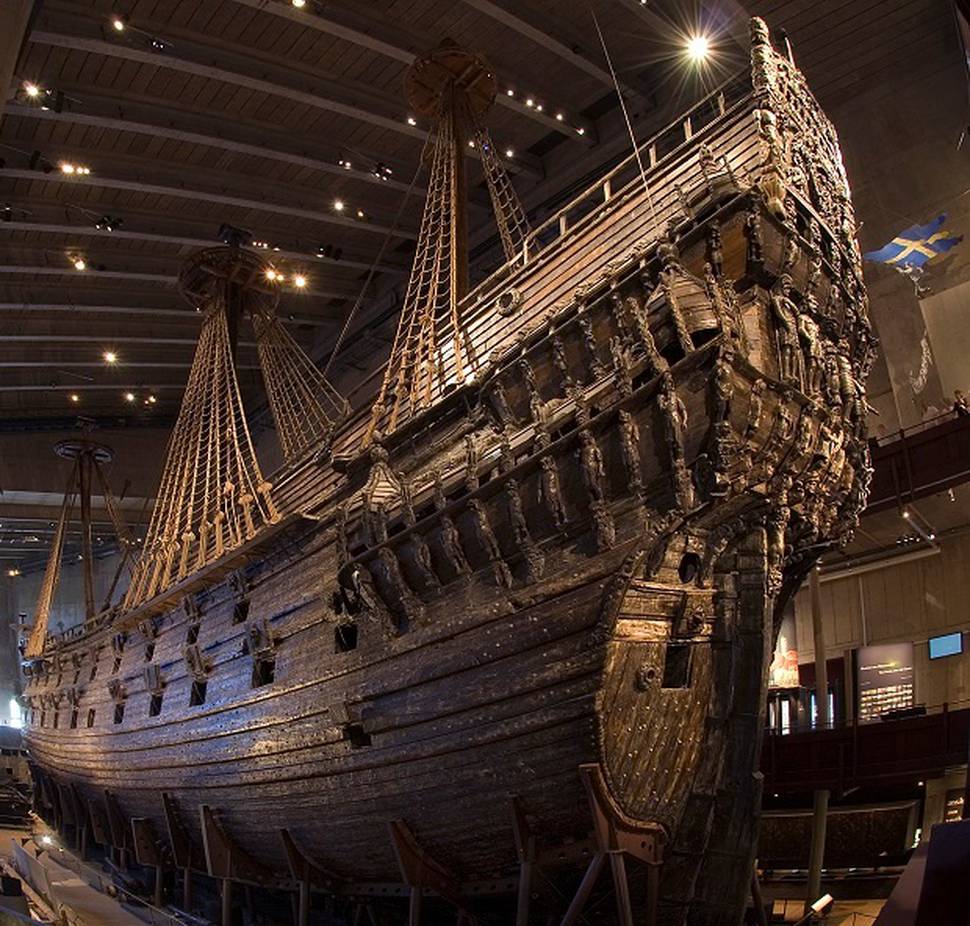 It was disappointing to see a few people in a free tour skulk off before the end without showing their appreciation.
Thankfully they were the exception, with most tourists seeming to settle on about $9 each. For day two in Stockholm we were on a mission to get to the Vasa Museum soon after it opened in the morning.
The museum is dedicated to a beautiful 17th century sailing ship which was meant to be a crowning glory but ended up being a monumental disaster.
The Vasa was commissioned by King Gustav II Adolf. He wanted to have the most impressive sea-going symbol of power possible. Unfortunately the focus on guns and appearance outweighed seaworthiness, and the Vasa sank 20 minutes into its maiden voyage.
The ship spent 333 years at the bottom of the sea before being salvaged almost perfectly preserved in 1961. In 1988, the ship was moved to its site in Stockholm and a building was built around it to form the Vasa Museum.
It's a must-see, with restoration work and displays making it very easy to visualise the Vasa on the water.
In the Estonian capital, Tallin, we again made the most of a free foot tour, with Kadria our knowledgeable guide. It was an easy 10-minute walk into the Old Town where we met Kadria at the information centre.
Our two-hour tour — enjoyed by all 30 in our group — took us through the gorgeous Old Town, a tapestry of the political changes in Estonia since the 13th Century. The Russian Orthodox Church in the upper part was a highlight.
This little country has enjoyed independence since 1991 but has had to endure the rule of foreigners for too many of its years. It originally gained independence in 1918 but in World War II was invaded by Nazi Germany. It was "freed" by Russia in 1943 then had to endure nearly 50 years of Soviet rule.
Kadria did a wonderful job of relaying all the important points of Estonian history and how the Estonians and Russians now live peacefully together, though quite independent of each other for the most part, with only a minority able to speak both languages.
Checklist
DETAILS
A 12-night 'Scandinavia & Russia Cruise' sailing aboard Celebrity reflection departs July 20 and August 25, with Oceanview Staterooms starting from $3869pp, twin share, available through helloworld.