As a strike of Hawaiian hotel workers continues to disrupt guests in popular tourism spots, another Kiwi traveller has told of how the protests have escalated during his stay.
Adam Borich booked a trip to Hawaii a couple of weeks ago and arrived on Sunday to stay at the Westin Moana Surfrider.
The hotel is one of five Marriott-operated properties caught up in industrial action since October 8, when 2700 workers went on strike.
Despite paying $600 a night for his room, he said there had been no communication from Marriott prior to his arrival – even when he added an extra night onto his stay on Friday, when the strike was already underway.
"Even at the time of booking the additional night, nothing was stated on their website at all regarding industrial action," he told the Herald. "The first we knew was when pulled up at the hotel to see a small number of picketers outside."
On check in, he was given a sheet of paper informing him of the strike and was informed there would be no housekeeping at all – and all towels, sheets and rubbish would need to be thrown out the door of the room. Guests were asked to collect fresh towels and toiletries from a communal area, where they could take what they needed.
A Facebook post from a guest at the Westin Moana Surfrider shows towels outside rooms, boxes of toileteries and a filthy bathtub.
Since his arrival on Sunday, Borich said the number of protested had increased dramatically from an initial 20 to 30 people yelling on megaphones and banging on drums.
"Each day they have become bigger and more aggressive to the point where this morning they have hundreds of people blocking access to the hotel.
"Simply trying to walk through them into the hotel, I was shoulder charged by three of them and yelled at to 'go home…we have the power'."
He described his stay as "an utterly awful experience".
"The worst part is that there are so many weddings taking place and the aggressive protestors are yelling and intimidating the brides and grooms having photos taken just as much as they are the regular guests."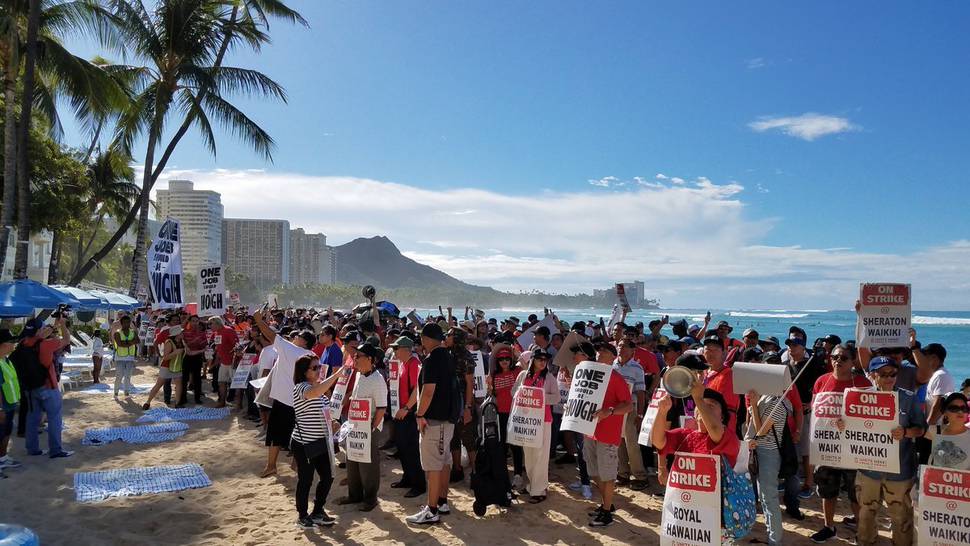 He said staff had been as helpful as they could be with limited resources and as a Marriott platinum elite member, he had been offered two nights of Marriott points as compensation.
"In the lift this morning I spoke with a Aussie guy who had just checked in – shell shocked at the situation also – and he said the hotel offered him a 10 per cent refund only, or a total refund to leave and find accommodation elsewhere."
Yesterday, another Kiwi traveller spoke out about the situation at the Westin Moana Surfrider and said the hotel had offered noise cancelling headphones for guests to wear at the pool.
The hotel is located right on Waikiki Beach, one of the most popular tourist destinations in Hawaii.
There is no mention of the industrial action on the hotel's website or social media accounts.
The other affected hotels include the Sheraton Maui, Sheraton Waikiki, the Sheraton Princess Kaiulani and The Royal Hawaiian, all owned by Kyo-ya Hotels and Resorts and operated by Marriott.
Unite Here Local 5 union leaders say management hasn't agreed to a demand that workers to be paid enough so they only need one job to support themselves.
Workers at the Sheraton Kauai Resort and the Marriott Waikiki Beach Resort & Spa, which are operated by Marriott, not Kyo-ya, also voted to authorise a strike. The 640-plus union workers at these properties "could walk out at any time," Local 5 spokeswoman Paola Rodelas told AP.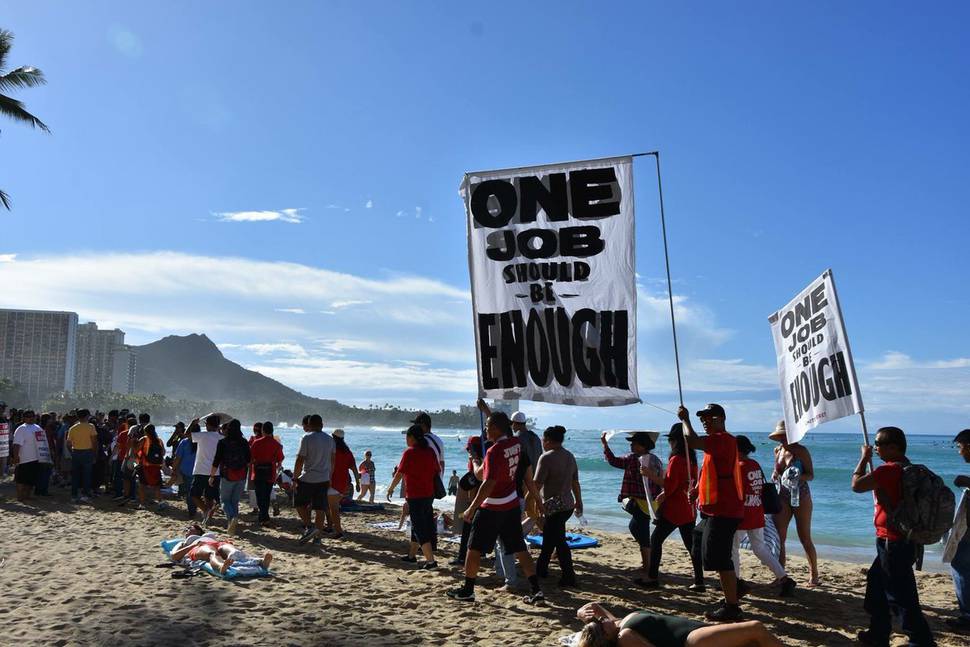 The strike is nationwide, affecting eight US cities and 7700 workers from 23 hotels.
AP reported that officials were worried the industrial action in Hawaii could continue into next year, affecting hotel bookings.