New Zealand is gifted with some of the most awe inspiring and trampable scenery in the world.
However, it's still a couple of months before New Zealand's Great Walks open in earnest.
When the hiking season begins and brings with it the inevitable tailback of trampers from base to tip of the Tongariro crossing, you might find your mind wandering in search of new routes to conquer.
If you're a hiker, looking to step out into new territory, you're in luck.
Writers for The Lonely Planet have compiled a list of their 50 favourite routes less travelled.
Chosen for their character and unique settings, the tracks are a collection of inspiring hikes from around the world.
The Epic Hikes of the World is a book that encompasses routes for both weekend wanderers, such as Scotland's 10 mile Ring of Steall, and hardened pilgrims, such as California's 215-mile John Muir trail.
While New Zealand's great nine are not overlooked, the Lonely Planet skips Milford and heads straight to Stewart Island's Rakiura Track. For their guides the stunning scenery is only heightened by the chance of seeing the elusive Stewart Island's kiwis.
If you're looking for the nocturnal birds, the guide recommends joining an over-night tour "wait until dusk then head for Ocean Beach in the Glory Cove Scenic Reserve."
Here's a sneak peak of the books most jaw-dropping routes:
Mount Toubkal, Morocco
45 mile hike into Africa's Atlas mountains, this ancient track provides a unique "insight into local Berber culture." Two day hike will take you to the top and back of Mt Toubkal's 14000 ft peak.
The Great South West Walk, Australia
155 miles circular track from Portland, this fourteen-day hike shows Australia at its most diverse. Walking through Victoria's "lush landscapes of forest, river, beach and bush," hikers will be spoiled for choice. Highlights include Swan Lake's giant dunes and the Petrified Forest of rock trees.
The Choquequirao trail, Peru
This 28 mile hike is the romantic's ultimate South American adventure. Cutting through a lost landscape of jungle and mountainous rope bridges, you discover your own lost city - a "citadel so far up in the Andes of Peru that archaeologists have only freed about 30 per cent of it from the jungle."
It's not far - but worlds apart - from the nearby Inca Trail to Machu Picchu.
Angel's Landing, Utah
From Zion's red rock gorge "views are spectacular, with rust-red mesas and buttes towering above a stippling of cottonwood trees, junipers and pinyon pines below that seem almost thirst quenchingly green in the arid surroundings." The Landing's exposed rock ridge is a must for thrill seekers. All within two hour's drive of Las Vegas and the other red stone national parks.
Kalinga villages, Philippines
Walking along Kalinga's terraced rice fields and its "villages of rickety wooden homes, wandering pot-bellied pigs, chickens and laughing children," you'll become part of the Philippian' landscape. These remote villages can be reached by a two-day trek from Tinglayan. Hopefully you will not encounter any headhunters, who were in the area as recently as the 1960s.
Mt Kinabalu, Borneo
Scaling one of the highest mountains in Southeast Asia, the Lonely Planet includes Mt Kinabalu as one of its epic walks. "Incorporating tangled jungle, granite ridges and barren plateaux, traversing Borneo's highest and holiest mountain is a task that requires nerves - and legs - of steel."
Though a relatively short climb covers only five miles as the Indonesian crow flies, it's an extremely steep ascent. Best attempted between February and April, the book recommends packing many base layers for cold weather on top.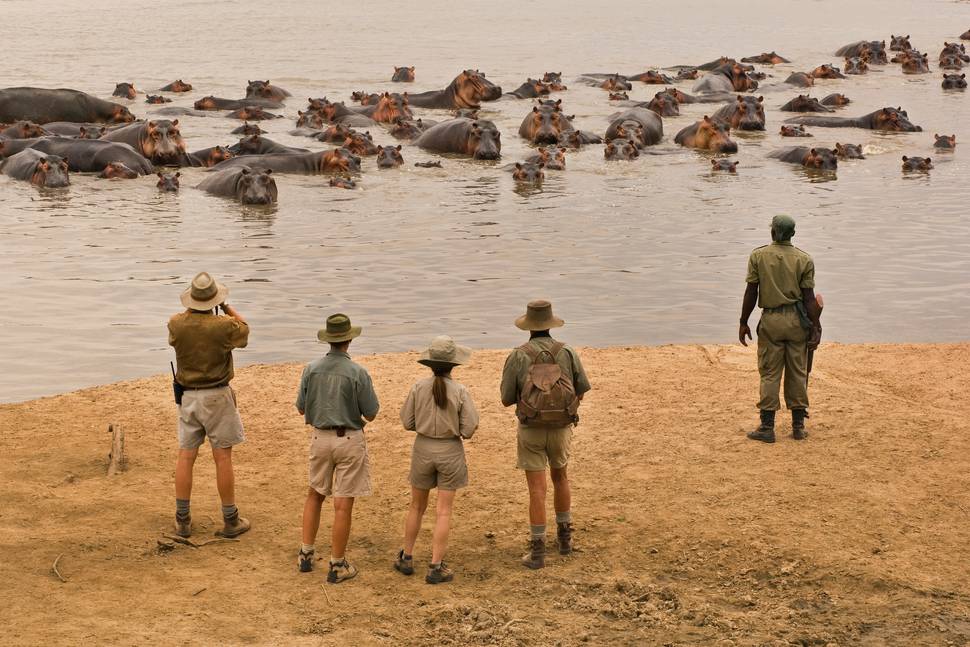 Zambian walking safari
Walking with the great beasts of Africa promises "electrifying encounters with elephants, lions and buffalo - and facetime with countless smaller species." With treks of under eight miles a day through the Zambian savanna is sure to be as close to nature as you'll ever want to get.
The Gold Coast Hinterland Great Walk, Australia
Linking two of Australia's national parks, the 34-mile walk links "dense rainforest, airy eucalyptus and even grasslands." You're sure to get your fill of waterfalls and ancient rainforests on this three-day hike. On your journey between Lamington National Park and Springbrook National Park, the Lonely Planet expects you'll encounter over 1260 species of plants and animals.
Mt Kilimanjaro, Tanzania
Mount Kilimanjaro is one of Africa's great trophies, "rising isolated and enormous from the Tanzanian plains" the snow-capped giant is the continent's tallest mountain. From the Machame Gate to the Mweka Gate is a journey of 37 miles. It takes about a week to complete and the Lonely Planet advises is best tackled from June through October.