Initial nerves are soon calmed, writes Siena Yates.
The moment I landed in Mexico City I knew I was in over my head.
I couldn't find my bag or figure out a way to ask anyone for help. It was overwhelming; I was a woman travelling solo in a strange country and didn't know any of the local language past essential words and phrases like hello, toilet, wine and — weirdly — "where is the library?"
In the lead up to my trip there were horror stories in the news about missing tourists and cartel shootings, and those were on top of the years I'd spent having the same message drilled into me: Mexico is not safe.
And at first, Mexico City did little to assuage that fear — talk about jumping in at the deep end. It is a city packed with people, its streets bustling with vendors, beggars, performers and terrifyingly chaotic traffic (it took four hours just to get out of the capital the day I left).
But once you survive that initial culture shock and get down to exploring, Mexico is vibrant and welcoming and will surprise you with its hospitality.
In reality, the Mexican people are incredibly warm and welcoming and the most trouble I got was from street merchants pushing an admirably hard sale.
Of course, just like any time you travel, you're a target for criminals — but use your common sense, keep your head down and don't go flashing your money and valuables around, and you should be okay.
For the most part, people simply want to learn about you, where you're from and why you travelled across the world to their little corner of it.
The answer to that is simple: I've yet to travel anywhere quite as culture-soaked, vibrant and diverse. I can't imagine why you wouldn't go there.
You get big cities, resort towns, villages, jungles, beaches, wildlife, history, ruins, the magical cenotes, or underground reservoirs, and more.
Getting around is easier than you'd think too. The buses are better than most of ours here. They're spacious, modern and comfortable, complete with reclining seats, TVs, power outlets and often, snacks. Taxis and Uber are also very cheap — the average taxi ride cost me about $4-$10.
The biggest thing you have to get used to is the currency and tipping. One New Zealand dollar is equivalent to 12.5 Mexican pesos, so expect to see a lot of extra zeros on your bills. And be prepared to never get used to that small heart attack you have when you think dinner is suddenly costing you $175. Minimum wage in Mexico is about NZ$7 a day, which is less than $3000 a year, so don't skimp on the tip.
If you're still unsure and not too confident in your ability to get around, do what I did and join a tour group. Not only does it take care of your travel and accommodation without any hassle on your part, it gives you a guide full of tips and translation help, and people with whom to explore.
I went with Gecko Adventures — a subsite of Intrepid Travel specifically for 18- to 29-year-olds — and would do it again in a heartbeat. The beauty of it is that you have the group if you want it, but you can ditch said group if you don't. The tour gets you from town to town, gives you an overview and gets you oriented and then you have a couple of days to explore when and how you want, as long as you're back, packed and ready to go when the next bus pulls out.
My tour started in Mexico City, which is packed with museums, galleries and theatres as well as shopping areas and markets, and beautiful public parks.
Our next stop, Puebla, was our introduction to the Mexico most people envisage. It has rows and rows of brightly coloured little buildings in the traditional architectural style, with bunting decorating the streets and a gorgeous square with a massive fountain popular with families.
That remained the vibe during our travels through the smaller towns of Oaxaca, San Cristobal de las Casas, Palenque and Merida where we were greeted with great food,
bustling markets and some interesting characters. Palenque was a hot, humid, jungle town where we enjoyed the most beautiful ruins in Mexico and swam in picturesque waterfalls.
Merida was home to Mexico's famed cenotes and underground swimming holes that feel as magical as they look. The plus side of this trip was we got to ride bikes around the area of the cenotes, going from swimming hole to swimming hole in the morning heat.
Many tours use horse-drawn carts that are a walking case of animal cruelty, with undernourished, worn-out horses making non-stop trips in the heat. Intrepid, fortunately, has a strict policy against animal attractions and we were blissfully spared that aspect.
Cycling was fun and easy and if nothing else, made us feel that we'd earned each swim.
Our tour ended in the popular tourist areas of Playa del Carmen and Cancun, which honestly, I'd have happily avoided. After being immersed in small-town Mexican life for so much of our trip, the gaudy resorts, influx of American tourists and exorbitant prices were just too much. It suddenly stopped feeling like Mexico and started feeling a bit too much like spring break.
Many of my tour-mates were, however, much happier there because of easier access to home comforts and more English being spoken, so to each their own.
That's the beauty of a tour like this; our group was split for most of the trip — some preferring history, ruins and a wander about, while others opted for shopping, beaches and nightlife. The great thing is, we could have both, and while we all had vastly different experiences, we had an equally great time.
The only thing that is an absolute must is to try the food — as much of it as humanly possible. It is inarguably an integral part of travelling in Mexico. So much of the culture is in food, and every region has its own specialty, from pork tacos to grasshoppers to rich, chocolatey mole.
I managed to spend a good 20 days in Mexico and only repeated the same meal once — because mole is too delicious to refuse.
Eating as the locals eat is also an easy way to meet said locals, practise your Spanish (or charades skills) and experience the culture.
The restaurants and bars are fun enough but once you get off the beaten track the food is not only more authentic, but also a fraction of the price. Some of the best places we ate were run-down, family-owned stores with someone's abuelo (grandfather) asleep in the corner and kids running around making fun of my poor Spanish.
Incidentally, it was through these experiences that my Spanish quickly improved. I soon picked up many of the day-to-day pleasantries and phrases to a point where I could have a friendly, passing chat without too much bother.
This is very much the trick to Mexico: You get out what you put in.
You can dive as deep as you want or just dip a toe, and no matter what you want out of your trip, you can have it.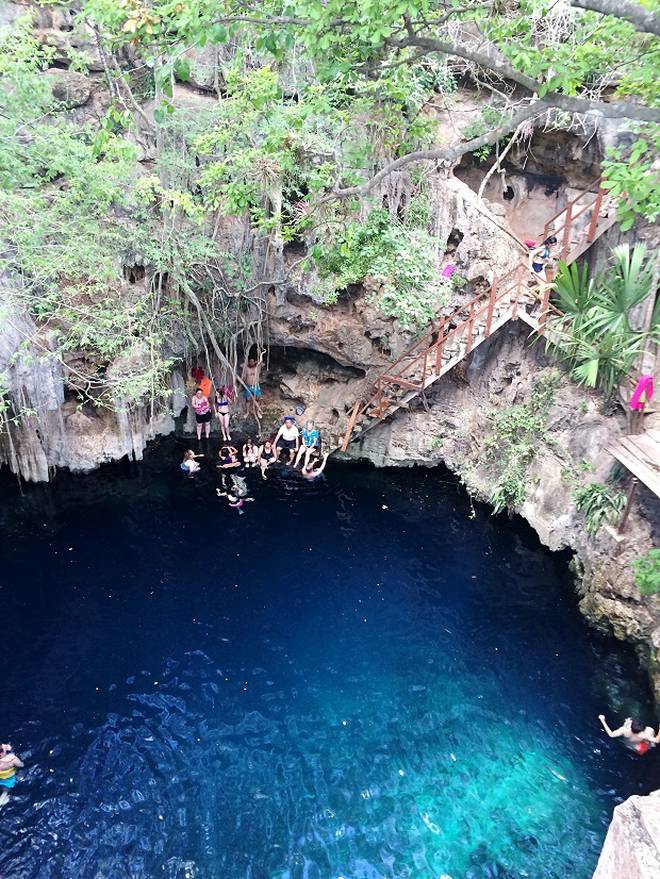 Must-try Mexican food
Mole:
A rich, spicy, chocolate-based gravy served over a sizeable portion of chicken, with rice and tortillas. If you try nothing else in Mexico, try this. But beware, it's a heavy meal so it's best enjoyed as lunch, with just a light snack (at most) for dinner.
● Tip: The locals told me dinner wasn't really a thing in Mexico. They have a decent breakfast, a big lunch and then something small like a sandwich — if anything at all — for dinner.
Guacamole: Have the real thing done right, because when in Rome, right? Besides, you get a massive portion for a couple of dollars and we all know there's no such thing as too much guac.
Tamales: A somewhat polarising food, tamales are a soft, corn-based dough known as masa with fillings that can be savoury or sweet. They come wrapped in banana leaf or corn husk so you'll have to unwrap them before eating.
Oaxacan cheese: Doesn't matter what it's with, or if it's with anything, just eat this delicious, amazing cheese.
Chilaquiles: AKA breakfast nachos. Served with eggs.
Tlayudas: A massive tortilla covered in cheese and toppings, like a big ol' Mexican pizza.
Elotes: Corn on the cob, chargrilled and smothered with mayonnaise, chilli powder, cheese and lime for a delicious street snack.
Pan Dulces: Translation — sweet breads, but not the offal variety.
These things are everywhere in Mexico — some are literally just that "sweet breads", others are tarts, slices, croissants and the like — shop around for your favourites at any market or bakery. Just grab one of the giant silver platters and a pair of tongs, load it up and take it to the counter.
Churros: Just like you get 'em here only bigger, better and infinitely cheaper.
And of course tacos: Pork tacos, fish tacos, any type of taco you see, get it. These babies are super cheap yet taste the same as — and often better than — what you'd get in a restaurant at home.
Fact box
GETTING THERE
flies direct from Auckland to LA, San Francisco and Houston, with connections to Mexico City on partner airlines. Economy fares start from $1219.
Intrepid Travel's Real Mexico trip goes for 15 days and is priced from $1530 per person twin share. The trip is available for travellers aged 18-29. Other itineraries are available for all ages.