Amanda Linnell eats and drinks her way around Seattle.
Seattle is eternally cool. This weekend the city's most famous record label, Sub Pop — who launched Soundgarden, Mudhoney, Nirvana, The Shins, Father John Misty, Shabazz, Fleet Foxes and, yes, Flight of the Conchords — marks its 30th anniversary with a vast free festival in their laidback Washington hometown. Because that's the kind of city Seattle is.
It hits you the moment you touch down at the domestic airport, which has a relaxed and easy air, with buskers singing, a stall selling handmade glassware and a couple of nonchalant cowboys — and all this before you've reached the baggage carousel.
Of course, it's been a long time since the days of grunge and the streets of Seattle are no longer lined with long-haired Nirvana fans in checked shirts and ripped jeans — although the dress code is still casual thanks to the likes of Microsoft and Amazon having their head offices here and being some of the city's biggest employers. As much as I love music, I also love to eat and drink and my visit is timed to coincide with the annual Taste Washington food and wine festival. I am here, quite literally, to get a taste of what this city is all about.
High time
There's nothing like a roof-top bar to toast your arrival to a new city and take in the lay of the land. And so it is, on our first night, we find ourselves sinking back into the leather couches at Nest — the bar at the top of the stylish Thompson Hotel on Stewart St — and tucking into a round or two of cocktails created by the hipster team of mixologists. The fact that there are more locals in this bar than tourists, is a good sign. The industrial design softened by velvet furnishings and warm kilims on the floor, work to compliment the view out across inner-city apartments to the waterfront, where the eye-catching 53m-high ferris wheel towers from Pier 57 over Elliot Bay. In summer, the roof rolls back and Nest is a hot spot for Friday night drinks and seafood barbecues.
Chocolate heaven
The next morning, even before breakfast, we find ourselves heading to the headquarters of Fran's Chocolates in Georgetown — an area where old brick buildings have been turned into cool apartments, eateries and business spaces. For those with a sweet tooth, Fran's is a brand you should know about. Indeed, it was a favourite of the Obamas when they were in office. Fran Bigelow is like a smiling Mother Christmas. Her passion for chocolate started after a visit to France in the 80s, and she is credited for sparking the artisan chocolate renaissance in the US. Bite into a square of her smoked salt caramels (the sea salt is sourced from Wales) or the light ganache of a truffle, and you'll see why. If you can't get to a tasting or a fascinating class on what makes great chocolate over good chocolate, be sure to take some of Fran's chocolate home with you.
Market eat fest
What you won't be able to miss — and shouldn't — is the Pike Place Market, back on the waterfront of central Seattle. Here you'll find farmers, producers, craftspeople and artisans selling their wares. The market is a food-lover's dream so set a side plenty of time to explore and eat or take a Savor Seattle Signature Food Tour. This is highly recommended, as the passionate guides are a source of fascinating facts (more than 10 million people visit the market a year, making it the 33rd most visited tourist attraction in the world), about the history (it is more than 110 years old), how it serves the community (the tradition of the market is to support society's most vulnerable and money goes to the low-income senior housing and a preschool for the community) and, best of all, the guides will lead you directly to the tastiest stalls.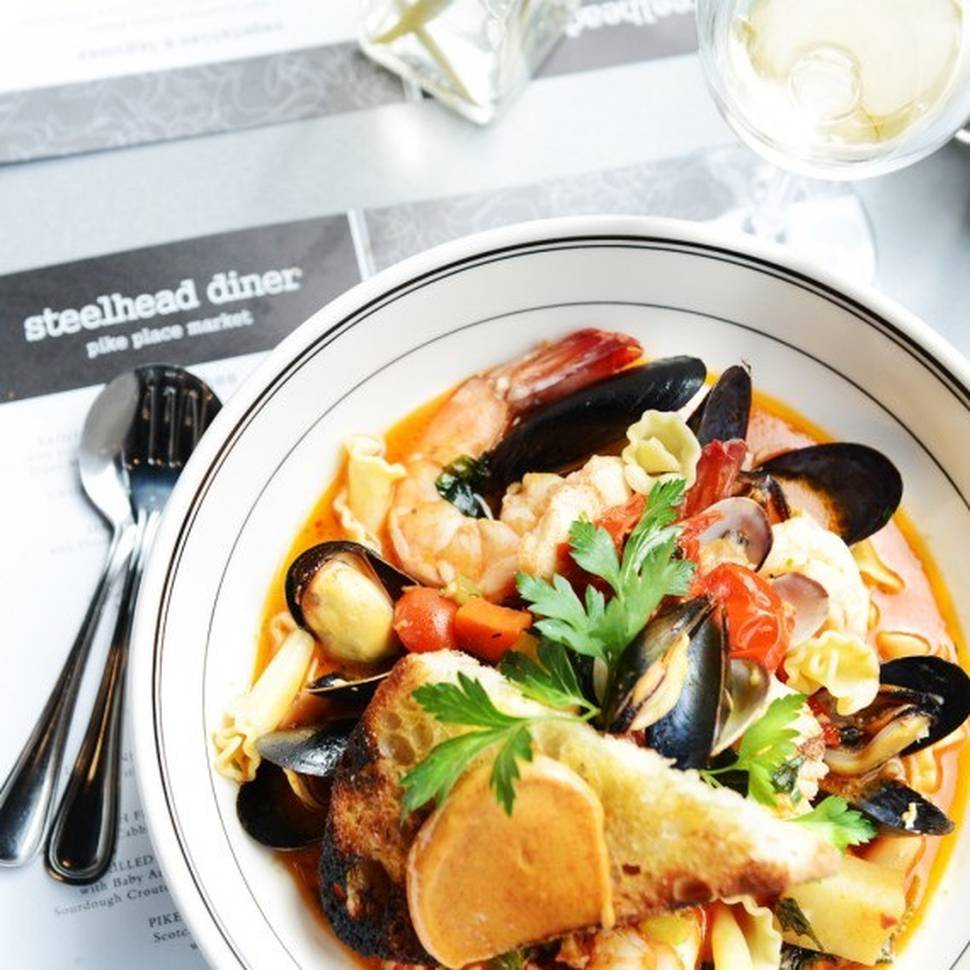 We start our tour a colourful alleyway where the walls are covered in what appears to be abstract art but is, in fact, thousands of pieces of chewed gum stuck to the walls (not that appetising). Our first official stop is for mini maple bacon doughnuts — the most popular flavour created by the Daily Dozen Doughnut Company. And from here on it's a non-stop feast that includes Beecher's Handmade Cheese Cafe, where we tuck into the deliciously creamy macaroni and cheese, and scrummy Breadzel rolls made of heirloom grain flour, Beecher's cheese, garlic and herbs.
Next stop is Pike Place Chowder. Its world-famous-in-Seattle signature dish is made with seafood sourced from the market. It's thick, creamy and you can see why people queue to get their fix. From here it's a short walk to the Tom Douglas Rub With Love Shack, where the menu includes clam chowder (what Seattle eatery doesn't?), smokey barbecue chicken and wild salmon burgers. Tom Douglas is a local food hero and the force behind 13 estaurants and a multitude of cookbooks. Before our tour comes to an end we squeeze in a visit to Piroshky, Piroshky — where there is another queue out the door to try their Russian pastries. Sweet or savoury? I'll take both, thank you very much.
Brunch or die
Okay, so if you're in Seattle and worrying that you're not getting enough to eat (unlikely), Saltys is the place to go. This award-winning (year after year, apparently) seaside restaurant is particularly famous for its killer weekend buffet brunches. You name it, they've got it: Pacific Northwest Dungeness crab, Alaskan snow crab legs, peel-and-eat Gulf white prawns, Puget Sound clam and mussels, seafood chowder, Steelhead lox, salt-crusted salmon . . . and that's just the seafood section.
There's also the salad section and then bread, hot meat dishes, cold meat dishes, pastries, pasta, cookies, cakes, waffles, pancakes . . . And that's not the half of it. With big booths and views of the harbour, this place is a must.
Capital of cool
No visit to Seattle is complete without spending some time hanging out
around hipster Capitol Hill. Here the streets are lined with boutiques. Totokaelo is a must with its curated mix of designer fashion and ceramics; indie stores, record shops (Everyday Music is excellent for old vinyl), book stores (the brilliant Elliot Bay Book Co. with creaky floorboards, and comfy leather armchairs), gay bars, karaoke bars, cat cafes, fancy restaurants, the list goes on. Posters advertising up-coming gigs are splashed on street corners, you'll find a statue of Jimi Hendrix (Seattle's electric guitar god), while kids shoot hoops and skateboard in the parks.
Our barcrawl started at The Redhook brewlab housed in the old brick Pike Motorworks Building. Every punter here is key to the development of the brewery's beer as the bar serves as a testing ground. There are 16 taps of rotating small-batch beers, all brewed on site. If something's a success it will go into wider production. We're given a tour by head brewer Nick Crandall — who talks us through the rotating array of house IPAs — before we get to work tasting. This is accompanied by a steady flow of impressive bar food, including fried chicken, tacos and burgers.
The night rolls on and it is appropriate that we find ourselves in the garden bar
of Linda's Tavern where, apparently, a certain Seattle rock star was last seen in public before he died, and one of the few remaining bars in the area from the grunge era of the early 1990s. There's not a checked shirt in sight but the music is good and the company even better.
Wine & dine
For a slightly less hectic and more refined way to experience the food of the region, the Steelhead Diner situated up the hill from the Pike Place Market, is definitely worth a visit. Owned by Australian Terrasa Davis and her husband and chef Kevin, this elegant and popular eatery serves everything from an Alasakan razor clam chowder (yep, even here) to grilled Idaho stream-raised trout, to local raised pork and beef. Provenance and sustainability are key to the menu here, which changes almost daily. That's also why you won't find them serving steelhead here — this fish is in rapid decline. What there is plenty of is wine thanks to an extensive list that captures the best from the region.
Caffeine fix
As all Kiwi travellers know, finding a good coffee when abroad can be a challenge. But Seattle, the home of cafe culture takes its coffee drinking as seriously as we do. It is, after all (for better or, more lately worse) where Starbucks began. You can visit its original coffee shop at Pike Place Market or step into the mega Starbucks Reserve Roastery & Tasting Room on Capitol Hill where everyone's-been-drinking-the-coffee-aid and you'll find anything and everything related to coffee. Hot damn, there's even a bakery and a bar serving espresso drinks and mixology-inspired cocktails.
Being Seattle, of course, the cooler and more hip way to get your caffeine fix is to check out one of the many small independent and quirky coffee shops. (The city claims to have the greatest concentration of coffee shops of anywhere in the US). True fans should take a Road Dog Tour of the Seattle coffee scene. It's a great way to explore the suburbs you wouldn't necessarily get to and to hang with the locals in their favourite cafes. Our guide was wonderfully laidback and when we wanted to detour to check out record stores and book shops that weren't on the itinerary, he was more than happy to go with the flow. By the end of the trip we were all buzzing, totally stoked with our stash of coffee beans plus we had our been-there-done-that T-shirt.