The capital lights up at Christmas and becomes a city of markets, writes Alkimos Sartoros.
It's almost as if the Austrian Empire were still alive and well — everywhere in old Vienna, majestic buildings from the 19th century attest to erstwhile imperial glory.
That feeling is especially intense in the pre-Christmas season.
A tour of Vienna at Christmas logically starts at the town hall, where the tallest Christmas tree of the city always stands, lit up by thousands of bulbs.
Then, proceeding from the Albertina Museum through the old streets, a visitor will be walking through a sea of light provided by more than two-and-a-half million tiny bulbs that provide a glittering answer to the darkest time of the year.
People usually gravitate to the Kaernternstrasse, Vienna's prime pedestrian and retail shopping zone.
Suspended overhead are garlands of stars, and residents, from students to pensioners, head to the old-style Viennese coffee houses to take refuge from the icy December wind over a steaming cup of coffee.
Viennese women often refer to their "storm hairdos" because of the tricks the wind plays on their hairstyles, according to city tour guide Beatrice Aumayr.
Taking visitors on a tour of the festive highlights, she points out the various Christmas markets which each has its own different styles and features.
There are 25 Christmas markets spread throughout Vienna. In the old city centre area there are many that one can easily stroll from one to the next.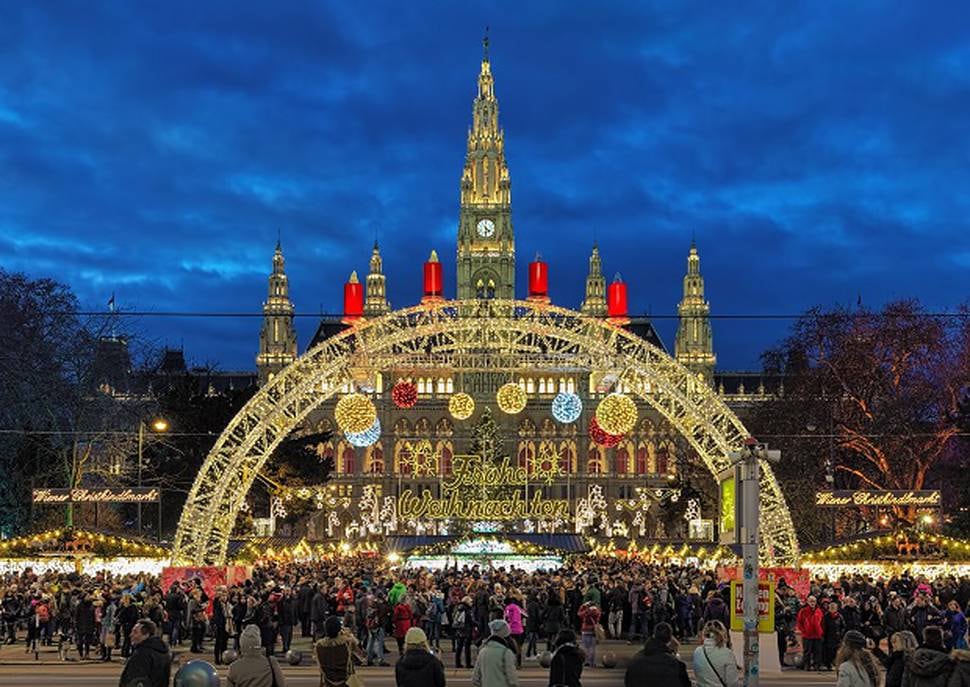 Those seeking old-style traditional Christmas themes will go to the Altwiener Market, which rates as the oldest in the city. The small square is filled with old, modest-looking wooden stands offering traditional handcrafted items and tempting sweets.
The air is filled with the scent of roasted chestnuts, mulled wine and a tempting, mouth-watering pastry confection called "punschkrapferl".
One of the more recent additions to the range of Christmas markets is at the towering St Stephen's Cathedral. The colourfully painted market stands nestled against the base of the Gothic-style 15th-century edifice which rises 135m above the city skyline.
After 4pm, when it starts to get dark, those who climb 343 steps to a viewing platform will be rewarded by the unforgettable panorama of Old Vienna bathed in a sea of Christmas lights.
Aumayr advises visitors seeking a snowy Christmas landscape to perhaps head out towards Vienna's western outskirts to find the imperial summer residence, the Versailles-style Schloss Schoenbrunn palace with its spacious park.
When it snows, the palace and park are like the "magic of icing", she promises.