Happiness is north in the Bay, writes Miriyana Alexander.
Boats, boats, all different sorts. Out at sea and in the port . . .
The opening lines of one of our 5-year-old's favourite books come to mind as we hit the water in the magnificent Bay of Islands.
On the short ferry ride from Paihia to Russell we spot kayaks, dinghies, row boats, fishing vessels of varying shapes and sizes, jet skis (do they count?), ferries, catamarans, luxury cruisers, yachts, houseboats — and even a lone paddleboarder, complete with bandana-wearing dog. Oh, and a monster cruise ship anchored out at sea, far too large to get anywhere near the small but super-busy jetties of New Zealand's most picturesque tourist towns. This sunny spring weekend they are so chocka I can imagine the marine equivalent of one of those flight path maps that startle you when you realise just how many aircraft are crossing the globe at any time.
And the next day, setting sail for the glorious Urupukapuka Island, I count 75 boats on a small piece of the horizon as keen fishers create a whole new set of the-one-that-got-away stories.
It's probably no surprise that with 140-odd islands and more than 350,000 annual visitors, there are so many boats. I figure thousands of vessels must make millions of trips every year, but maths has never been my strong suit, so who knows.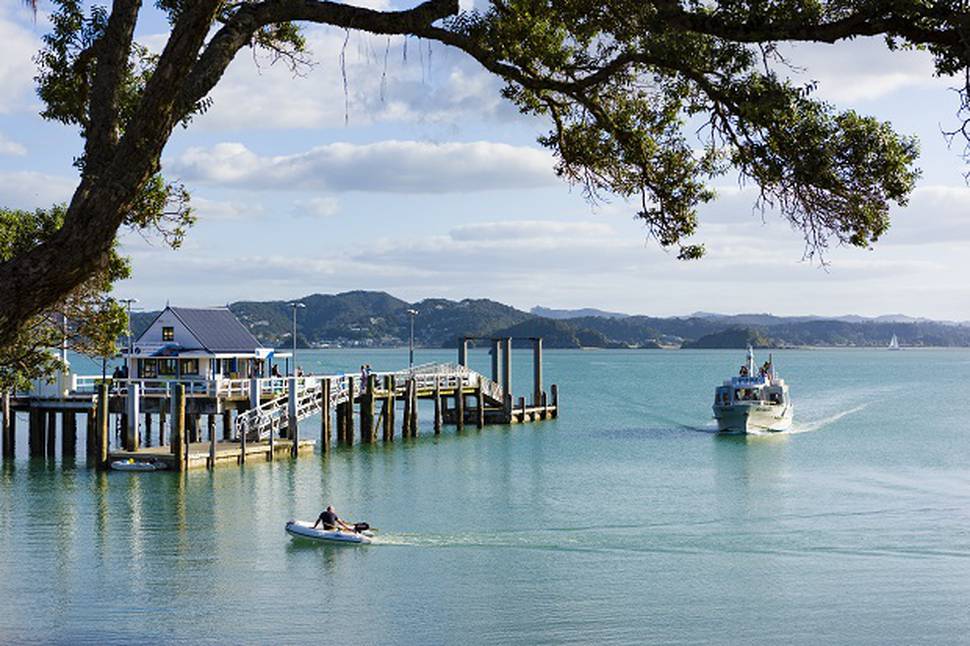 I do know it's divine to be on the water up north. Yes, there are many amazing on-land attractions and so much history, but for me the Bay of Islands is all about the sea. There's something relaxing yet utterly energising about it, and all weekend we were either on it, swimming in it or staring at it, thanks to our prime seafront Paihia base, the Heritage Collection Waterfront Suites, and the restaurants where we ate.
It went missing only when we closed our eyes. But even then the gentle sound of the waves lapping the wharf meant it wasn't really gone.
We were three on a rare weekend away. I have a different weekend to the hubby and the 5-year-old, meaning family outings are precious and take a fair bit of planning. The end of another mad year was fast approaching and it was our last chance to relax before the silly season hit.
There's nowhere nicer to do it and, almost overwhelmed by choice, we decided to spend the one full day we had up north at Otehei Bay, on Urupukapuka, the largest island in the Bay of Islands. Historically significant, with many archaeological sites of early Maori settlement, it was wealthy American author and big game fisherman Zane Grey's base in the 1920s.
We packed a picnic, the cricket set and our togs. We disembarked, dropped the chilly bin on the grass and had a stretch of beach almost to ourselves for the next five hours.
In typical townie fashion, it took me a good hour to stop checking my watch and emails. And before I knew it we were hurriedly packing our gear for the return ferry.
In between there was cricket, a swim, lunch, icecreams and more cricket. And after a walk up the hill to discover sheep with the best view in New Zealand, there was cricket practice — catching, batting, throwing at the wickets.
We took turns fetching the ball from the sea, and marvelled when the many tui dipped and dived around the wickets in what looked very much like a bid to join the fun. But I drew the line at climbing a tree to dislodge the ball, so hubby was dispatched to shake it loose and return the smile to the small person's face.
It really was the 5-year-old's idea of heaven. He was tired but happy on the trip back to Paihia, comparing the ferry's wake to a Humpback's sneeze when suddenly we were in the middle of a real animal encounter.
The ferry came to an abrupt halt as the skipper announced the presence of dolphins. And then there they were. I was beside myself as the big daddy swam right alongside for an age, and several youngsters crested the waves in a flashy display that had us all ooh-ing and aah-ing. It still gives me the warm fuzzies.
We'd never been so up close and I was glad Harry was as thrilled as us: "Wow mum, I've only ever seen this on Blue Planet." Magic.
FACT BOX
Stay
I'll have to declare this from the outset. If memory serves me right this was my seventh stay at the marvellous
Heritage Collection Waterfront Suites
, Bay of Islands, so yes, I'm a fan. There had been a date weekend, family visits, a special birthday celebration and girls' trips, and each time I can't wait to get back. Superbly located across from the Paihia wharf, you can lose yourself in the view, or close your suite door and
be on a boat in minutes. The suites have fully equipped kitchens, making it a great spot for families. And the lap pool went down a
treat with us too.

Eat
Next time you're in Paihia, you must try one particular dish. Actually, go there just for this dish. The pork hock at Charlotte's Kitchen is cooked for hours and arrives with roasted fennel, apple and mash. It is divine, and at $40 to share, a bargain. I'm drooling. A killer location, too, at the end of the Paihia wharf.
And a trip to the Bay of Islands is never complete without pulling up a pew on the deck at The Duke in Russell. We had a tasty family feast for three, and could barely tear ourselves away. As the sun went down and a muso strummed some tunes on his guitar, it got even harder. Heaven.
Do
You name it, you can catch a boat and do it. Fishing, the Hole in the Rock, swimming with dolphins. But our pick is a day trip to Urupukapuka Island, for a picnic, great walks and beach cricket. Ferry tickets are $45 return for adults and $25 for kids. Explore Group, which runs the local on-site restaurant and the ferries between the island and Paihia and Russell, has just signed a 40-year lease with DoC. It is promising a new wharf, a restaurant upgrade and possibly even eco-accommodation. The island is fast becoming a top spot, with 45,000 visitors last year — and 65,000 expected this summer. Book in advance so you won't miss out. It's even open on Christmas Day. Now there's a thought.