Uncovering forebears dashes dreams of nobility but enforces a personal connection, writes Simon Dallow.
Nobody expects the Spanish Inquisition. I certainly didn't.
The chance to find out where I came from, who I came from, was too good to miss. Six months earlier, I'd summoned enough saliva to fill a test tube, sent it away, and as I waited in ignorance, the producers of DNA Detectives sent it away to find out whom on Earth I was related to (from others who'd done the same). Answers back, they set about digging up historical records to paint a picture of my ancestors' lives. Was I the descendant of kings and conquerors, painters and poets, or serfs and slaves?
I've loved travel and its mind-opening experiences as long as I can remember.
Throughout my childhood I spent countless hours poring through the family atlas, the greatest treasure of my book collection, and dream of visiting the great sights of the world. With the unbridled imagination of youth I planned trips through Europe, Asia and the Americas that I might one day experience. It was my gateway to another world.
And then, as it so often does, life got in the way. I needed to get an education, and then I needed to get established. But the urge to travel never changed and I finally found a way to marry my career and my dreams. I'd turn myself from a Queen St lawyer into a London lawyer, and use it as a springboard for jaunts around the Continent. References and a job offer in hand, I set out for the big smoke of the UK.
Trouble is, I've always had bad timing. Share markets soaring? Wait till I dabble. Property prices rising? Not after I buy. And so, two weeks after leaving Auckland, the biggest stock market crash since the Great Depression changed the global economic landscape and my immediate job prospects. That exciting and challenging litigation work turned overnight into "bankruptcy and insolvency" — essentially bankrupting people and winding up their companies and dreams. I'd had a taste of that in Auckland and I didn't want another.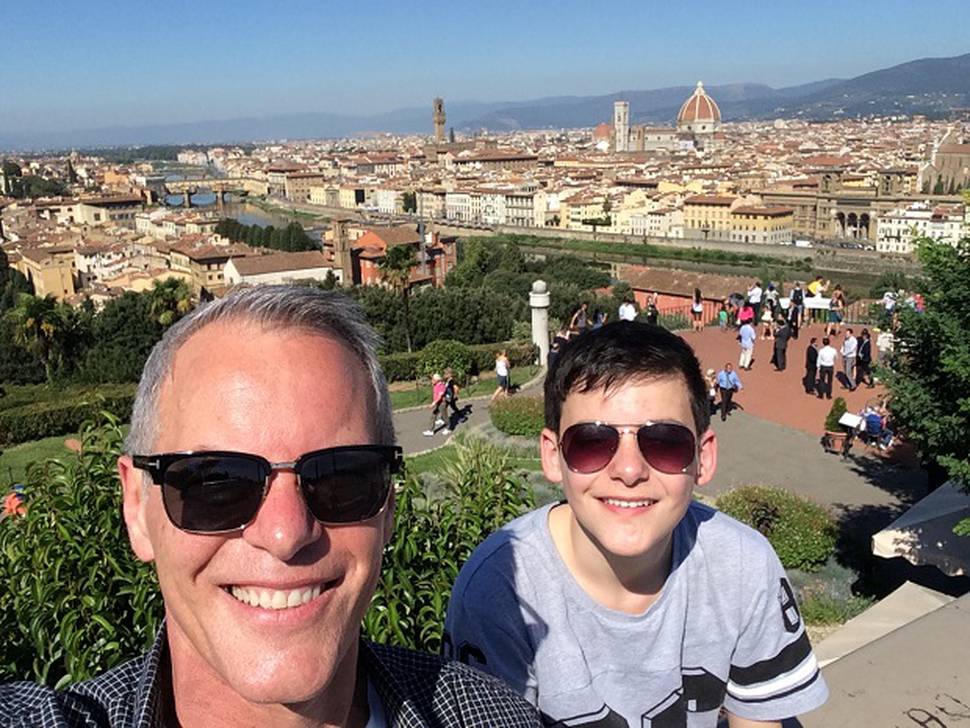 So, I went travelling, wandering through Europe and North Africa until a chance encounter changed my life forever.
A baggage mix-up on an immigration carousel reunited me with an old workmate from my university days. He'd been working as a Tour Manager for Contiki Holidays, and over a couple of beers painted a picture of fun times and satisfaction from helping others realise their travel dreams. Would I like to give it a go? Hell yeah! After a rigorous application process and an intensive couple of months training, away I went.
Six years, 50 trips, 2000 passengers and a million memorable moments later,
it was time to face up to reality, return home and get a "real" job.
Europe stole my heart; its history, culture, architecture — oh the architecture — and sheer variety still fascinate and enthral me. I dream constantly of going back to the places I love.
And so the opportunity to trace my DNA was too good to miss. Surely I'd be headed to Europe. The thing is, however, that the producers don't tell you where you're going and every day is full of surprises. Tingling with excitement on departure day, I couldn't wait to head overseas even if a first-night stop on Waiheke Island wasn't quite what I'd anticipated. First revelation: my ancestors included one of the earliest marriages between a Maori princess and a Pakeha trader.
Then the next day, to the airport, and finally, Europe!
Unfortunately, wild dreams of nobility and wealth were quickly dashed, as a scrambling jaunt around the Continent unravelled a jumble of ancestors and a rollercoaster of emotions. Archives revealing links to a famous comedian and a heavyweight boxing champion were pleasant surprises amidst a bleak trail of Jewish ancestors enduring centuries of oppression. Suffering at the hands of the Spanish Inquisition forced them to flee — straight into the unwelcoming arms of the Portugese Inquisition (surprised? I didn't know they'd also had one). Fast forward a few centuries, and no relief in Northern Europe either. I'll never forget the cold sense of horror as I worked through a sheaf of documents that showed so many of my forebears had died in the Holocaust's gas chambers.
My love of Europe's history would go unrequited. The Continent hadn't been kind to my ancestors. But the cities and streets I knew and loved had also been walked by so many of them, and it made me wonder if my sense of connection with Europe was more than a personal fascination . . . or was it somehow in my DNA?
5 tips for group travel
With experience as a Contiki Tour Manager, Simon Dallow knows what makes a good — and a bad — group traveller. He shares his advice for making the most of a European coach holiday.
1.Take an open mind and it'll be rewarded. Forget your preconceptions and expectations, live in the moment and just soak up the experiences for what they are.
2.Lose yourself on the streets. Some of the greatest memories are found down the back streets and off the beaten track.
3.Empathise with your fellow travellers and locals. Be sensitive to
their lives. Try things their way.
4.Experience as much as you can. You probably won't be back this way for some time.
5.Learn to say please and thank you in the local language. It doesn't matter how it sounds. Just trying shows respect and often opens doors. Then expand your vocab by learning to say "two beers, please" and even more new experiences will begin.
Watch Simon Dallow's episode of DNA Detectives. The series continues Tuesdays at 8.30pm on TVNZ 1.