A cruise in the revamped Queen Mary 2 is luxury and nostalgia combined, writes Eli Orzessek
"The next generation has arrived," an elderly man mutters to his wife as I pass him in the board games area of the Queen Mary.
Old at heart myself, I was in search of a Scrabble partner and hoped I might find someone else in my predicament there. But I can't deny I stuck out like a sore thumb - the next youngest person was a 14-year-old with a rat's tail.
The clientele of the QM2 tends to skew to the older side of the age spectrum - but for me, that's part of the appeal. Compared to some of the tackier cruise ships, this is a classy joint. There are proper wooden decks to play shuffleboard on, a distinct lack of water slides - and screaming kids - and nights full of dancing to top it off. Life on this classic ocean liner takes you back to the golden age of cruising.
In fact, my grandmother - God rest her soul - had a cruise booked on sister ship Queen Elizabeth II, but passed away before she could enjoy it. So I feel she'd appreciate me undertaking this voyage.
When I'm offered my first drink in the Commodore's Club, which overlooks the ship's bow, it makes sense to go for the Punch Romaine a la Carpathia. It's one of several drinks named for famous captains and is believed to be the last libation served on the Titanic.
When you're on a cruise, you'd think the last thing you'd want to invoke would be that fateful journey - but at the same time, you can't stop thinking about it. I don't think there'd be a cruiser alive who hasn't recreated that famous "I'm flying" shot at the bow. I'm not ashamed to say I did it too.
The drink arrives with much flair, the marshmallow topping set on fire in front of my eyes. Beneath this thick, sweet coating lies a full-on mixture of advocaat, limoncello, cream, sherry and lime juice. Perhaps it wasn't the wisest choice for a pre-dinner drop, but who could resist this oddity?
My friend and I are lucky enough to check in to a Princess Grill stateroom - one of the nicer suites on offer - which gave us an incredible view of the rugged Australian coastline on our journey from Melbourne to Sydney. It also turned out to be a prime viewing spot for the dolphins that often danced along the side of the ship.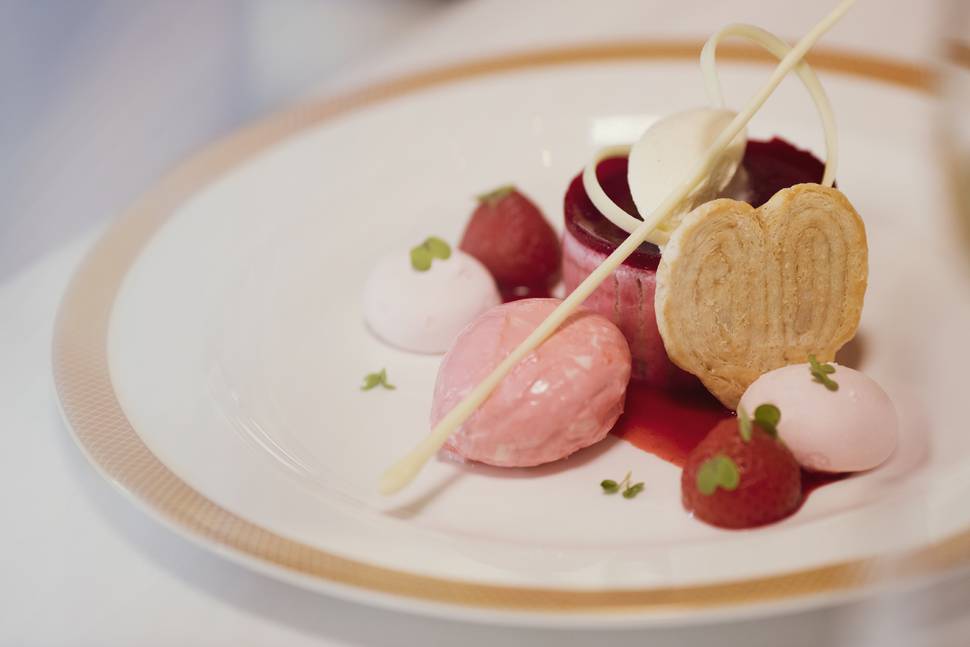 As people held their iPads precariously over the side with shaky hands to get pictures, I couldn't help but wonder how many went overboard in a typical journey.
This was the Queen's first appearance in Australia since her renovation last year, in which 50 new staterooms were added, including the first rooms catering to solo travellers.
These cabins are for the American singles, Cunard Vice President International Development David Rousham tells us, who "avidly chase our male dancers".
Walking around the ship for the first time leaves you staggered by the scale of everything, with stunning art deco carpets and winding corridors (the biggest at sea!) that you can happily get lost in. Even when it's at 99 per cent occupancy, as it was for our journey, it doesn't feel particularly full.
I later see the singles in action at the Big Band Night in the Carpathia Lounge - I was feeling tired at 10.30pm, but women well into their 80s were literally having a ball, spinning around the floor in the arms of these professional dance partners. And it wasn't just solo travellers making use of their services - it seems some husbands appreciated a break as well.
One of my favourite additions to the top deck was sadly only available on Atlantic crossings - there are kennels for dogs and cats with proper pampering, as well as a walking track complete with a real New York fire hydrant and Liverpool lamp post, so British and American dogs feel at home.
Ihad some concerns about becoming bored at sea, but I quickly discovered this was nothing to worry about. On the daily schedule, all the activities seemed appealing. A morning pub quiz? Yes, please. Crafting a nautical phone case? Sign me up.
What's more, you could easily spend a good portion of your time relaxing in the hydrotherapy pool in the Canyon Spa. Access is complimentary with any spa treatment - I had a vitamin-infused facial - or you can purchase a pass. The giant spa has all sorts of jets and waterfalls to soothe your aches and pains, as well as three different types of sauna.
And all that relaxing makes you hungry, of course - luckily there's everything from burgers on the top deck to fine French food at the Verandah restaurant and ribs and chicken at the Smokehouse.
The Queen Mary 2 also boasts a fantastic wine collection - apparently wine ages better at sea - and if you're keen to boost your knowledge, you can sign up for The Cunard Wine Academy. We're shown some of the stars of the collection, including the California Screaming Eagle at US$4500 (NZ$6200) a bottle, and a rare selection of vintage ports, each produced in a pivotal year for Cunard.
By the end of our tasting, we've had a sensory journey around the world - when you're accustomed to wine from New Zealand and Australia, a drop from Lebanon feels pretty exotic.
After trying six wines, I'm slightly tipsy and manage to get myself lost in the twists and turns of the ship yet again. But really, that's just another wonderful way to waste time at sea.
Checklist: Queen Mary 2
Offering 14 decks of facilities including sports, entertainment, lounges, bars, shops, five pools and more than 10 dining options, the 345m Queen Mary 2 is home to the only planetarium at sea, as well as the largest library and ballroom afloat. Almost 75 per cent of her 1360 staterooms have private balconies.
Remastered in 2016, the liner's refit featured the addition of 50 new staterooms, including the liner's first single staterooms, as well as a stylish new space - the Carinthia Lounge - and the line's first wine cellar at sea.
Queen Mary 2's 120-night 2018 world voyage features another extended season Down Under, with the liner set to spend more than a month in local waters. Fares on a 13-night return Sydney cruise, departing February 24 and visiting Fiordland National Park, Dunedin, Akaroa, Wellington and Tauranga start from $5833 pp, double occupancy.
cunard.com
Clockwise from bottom left, the ballroom - where young and old can dance the night away; the liner's gracious atrium; Queen Mary 2's relaunch in 2016; unparalleled views and relaxation from the deck.
Pictures / Greywolf Studios; Christopher Ison; Cunard
Romaine a la Carpathia.