These European festivals are hot property, writes Eveline Harvey
Chienbaese, Liestal, Switzerland
On the Sunday after Ash Wednesday, thousands of spectators pack into the narrow streets of this town's centre to witness a fabulously fiery procession. Drummers and pipers lead the way, before people carrying flaming broom-like torches made from pine enter the medieval town centre through the city gate to the south. Iron carts loaded with scrap pieces of wood are also set alight and pulled through the streets, sending flames leaping high into the air.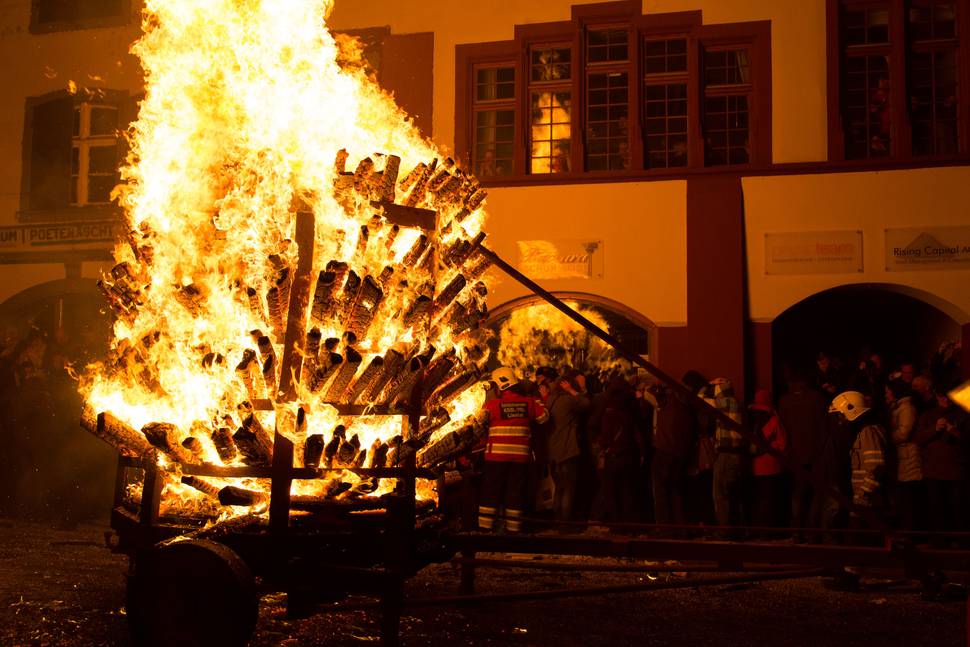 Festa del Falò, Rocca San Casciano, Italy
Once a year, residents of two districts in the Emilia-Romagna region compete by building two enormous bonfires in the town of Rocca San Casciano — one on either side of the Montone River. Originally though to have been linked to the March feast day of St Joseph, the festival now takes place in April. As night falls, festive bells accompany the arrival of two young torch-bearers who are tasked with setting the huge constructions alight. Although no "winner" is officially named, the residents will discuss which bonfire ignited fastest and which had the higher flames for months on end.
Focul lui Sumedru, Bran and Moieciu, Romania
If you find yourself in Romania's Brașov County at the beginning of winter, look out for bonfires blazing on the hilltops and children dressed in traditional costume as they celebrate the end of the harvest season and prepare for winter.
Focul lui Sumedru, which translates as 'the fire of Sumedru (a pre-Christian god)', has been celebrated in the area for thousands of years. A number of villages in the Bran and Moieciu communes light huge fires on the day of the festival, which falls in late October each year.
Singing, dancing and feasting are also part of the festivities. Once the fires have burnt out, the ashes are collected by locals for use as garden fertiliser.
Rouketopolemos, Vrontados, Greece
This festival, whose name literally translates as "rocket war" takes place on the Greek island of Chios. Two hilltop parishes in the town of Vrontados fire tens of thousands of homemade fireworks at each other's churches on the eve of Easter Sunday.
The spectacle isn't popular with all those who live in the town — it didn't take place in 2016 due to lawsuits from homeowners who claimed the festivities had damaged their houses — but perhaps they should be grateful it's only fireworks they have to deal with ... local lore has it that real cannons were used until authorities banned them in 1889.
Up Helly Aa, Lerwick, Scotland
This superb festival of fire is celebrated in a number of Shetland Island villages, but the most famous is the one which takes place on the last Tuesday of January in the town of Lerwick.
If mythology, flaming torches, a procession of people dressed in battle garb and a grand finale featuring a replica Viking galley being set alight tickles your fancy, head to this remote Scottish outpost and prepare to party like a Norse god.