Gia Garrick walks part of the 160km pilgrimage inspired by the life of St Francis of Assisi
Italy is known for its food, its wine and its olives. But for me, it was walking the way of the pilgrims, in following St Francis, that Italy truly came alive.
You couldn't make this up. Our Italian guides for the first part of our pilgrimage from Ascoli Piceno to Assisi were named Luciano and Maurizio. One tall, dark and passionate, the other with long blond hair and an Italian swagger. The pair greeted our motley crew of journalists, bloggers, freelancers and photographers with such enthusiasm for our journey ahead — we all agreed they had made our trip already.
Our pilgrimage began with a blessing at the holy house of Loreto; the Basilica Della Santa Casa, where it's believed the Virgin Mary lived, and prayed with the Apostles.
It's been a Catholic pilgrimage destination since the early 14th century. But it was in Ascoli Piceno, a city built a century before Rome, that our pilgrims' walk began. The city holds the cathedral and crypt of the patron saint Emidio, known as "protector of the earthquakes". The locals believe it was he who stopped last year's earthquakes from damaging the town — despite a village just 20km away being destroyed. Ascoli was beauty and history at every turn, boasting colourful local markets, a stunning piazza and endless churches, cathedrals and holy buildings.
Hiking through the Italian countryside at the tail end of summer, it's still warm, and symmetrical green paddocks and plough-lined fields line the rolling hills below the Sibillini Mountains of Marche. We pass tiny villages, greeting locals who've never left the comforts of their homeland, or experienced foreigners butchering the beautiful Italian language with a buongiorno — or good day.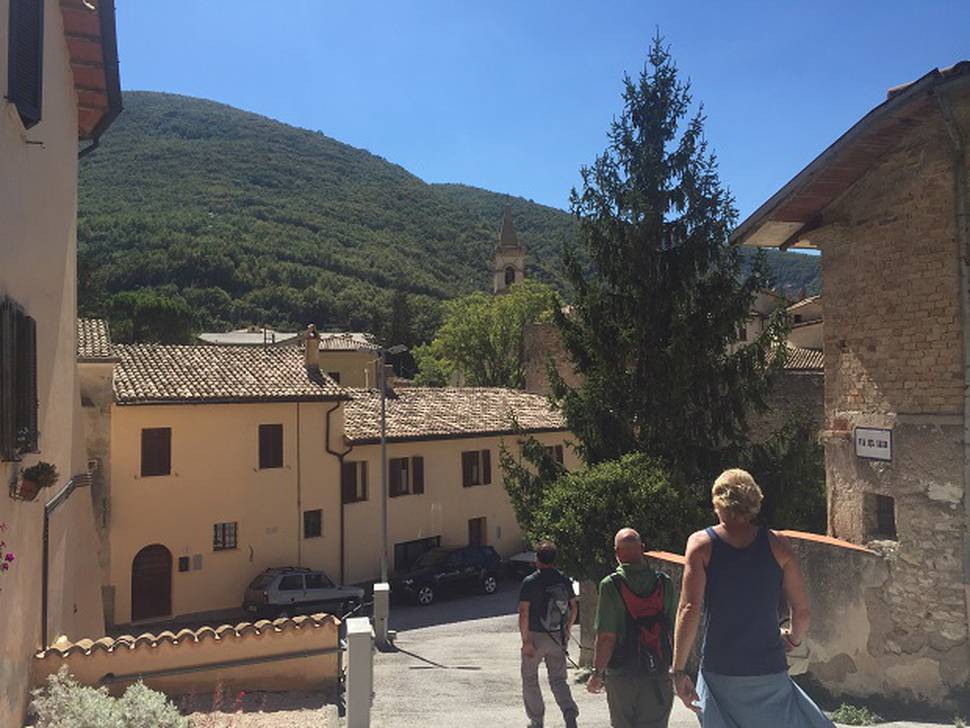 We have lunch in Amandola, and although the town survived the August 2016 earthquakes, many buildings are still cordoned off for inspection. At the Beato Antonio convent, we're greeted by artisan beer-maker Mauro, whose craft beer is infused with the sweet apples that grow on the surrounding mountains. We drown our bread in local olive oil and salt and eat local cheeses, cured meats, and truffle lasagne, congratulating ourselves on making it halfway through the first day of our pilgrimage.
Our day ends in the city of Sarnano at dusk, where we are given a twilight tour, led by the mayor. Here, we learn the story of the Sibillini fairy, a symbol that represents the city, and can be found in much of the Marche region nearer the mountains. The warm brick buildings of Sarnano date back to the 13th century. St Francis journeyed here in 1215. Some of the city's streets are named after the man whose path we're following, so many centuries later.
In subsequent days we walk through endlessly varying countryside. Through hillside olive groves next to the Lago di Caccamo, past a tiny town of just one person atop a tall hill ahead of Colfiorito. The place is called Fiungo, and I am greeted at the gates by Franca with a 'ciao bella' — and a tirade of quick Italian. We sit in a shady garden and are given water by the keeper of the town-of-one, before being sent off with handfuls of fresh cherries.
We tour the Castello Pallotta, a landmark of the Marche region. It's the military castle-turned holiday residence of a wealthy cardinal from 500 years ago. Although the 15th-century artefacts are worthy of a museum, it feels like a home — I run my hand down a well-used cast-iron stove and marvel at kitchen contraptions invented, and unsurprisingly forgotten. For what we all agree is the most delicious meal of the trip, we're led to the Chiostro di San Francesco. It's a monastery nestled in the countryside of the Macerata province, in Pievebovigliana. This place was founded by St Francis, whose journey we're coming to know so well. Full on local wines and olive oil, rabbit with lemon and wild fennel, and potato and pork-filled cannelloni, we rest in the space where prayers have been shared for centuries.
In Colfiorito, we learn about the area's National Park, which used to be a lake. The Romans built huge aqueducts, some up to a kilometre long, to drain the water off the plains. We don hard hats and explore the stony, partially lit tunnels. Above, much of the plains were converted to farmland, but a 338ha portion is now protected, and home to 150 species of bird and 39 kinds of native butterfly.
Colfiorito is the home town of one of our guides, and we dine that night with his friends and their families on fresh ricotta, mushrooms, olive oil, spinach and truffle-topped pappardelle, all washed down with locally made wine and coffee. We fall even more in love with our guides — as we find out they're in a three-man Italian-Irish Celtic band. The trio play for us into the early hours, and share tears of laughter as the German member of our group picks up an electric guitar and the Brit decides he'll take to vocals.
Having crossed the border from Marche, into the central Italian region of Umbria, we are joined by locals Claudia, Franco and two men named Paolo on our 10km trek to Pale. One of the Paolos makes olive oil, and explains the process to us as we walk. He picks wild herbs, flowers and plants, talking us through the scents and aesthetics of the area. The land smells of elicriso — a plant with a fragrance that is a mix of liquorice and frankincense — and occasionally also mint or thyme. In Pale, we sit under the shade of olive trees with a spectacular view over the Umbrian hillside. We're served slow-roasted beef, ricotta mixed with truffle oil, prosciutto and a wider selection of cheeses than in most New Zealand supermarkets.
We wander through underground caves, past waterfalls known as Cascate del Menotre and under branches and branches of ripening olives.
Another day ends in Foligno, home to a beautiful, bustling piazza and the Palazzo Trinci. We're shown around the palace by an actress in medieval dress, and played medieval tunes by the palace's faux handmaid. With feet sore from a long day's walking, we sit down to big glasses of bubbles before dinner. Pink roses are placed in our hands, a gift from the other Paolo. He's from Foligno, and talks passionately about his city as we watch the sun fall.
Our cammino, or pilgrims' walk, is one of six being walked simultaneously by writers and photographers from all over the world.
Our walk ends in Assisi, the birthplace of St Francis, but others have begun there, or passed through the city on their journeys. It's a city in which you can physically feel Italy. In the countryside we've experienced doses of Italian culture, landscape, food, history and entertainment — but here the buildings and narrow paved streets, corners adorned with pizza ristorante and pasta shops, lead you to huge historical churches and the Basilica of St Francis. It's like you're wandering through the pages of a romance novel — or playing an extra in a classic film. We enter the basilica, and take in the vast, yet intricate space that's never been photographed. It's kept in such tradition that we are given scarfs to cover our walking shorts and speak only in hushed tones as we soak in the incredible painting, stained glass and sculpture that adorns the church.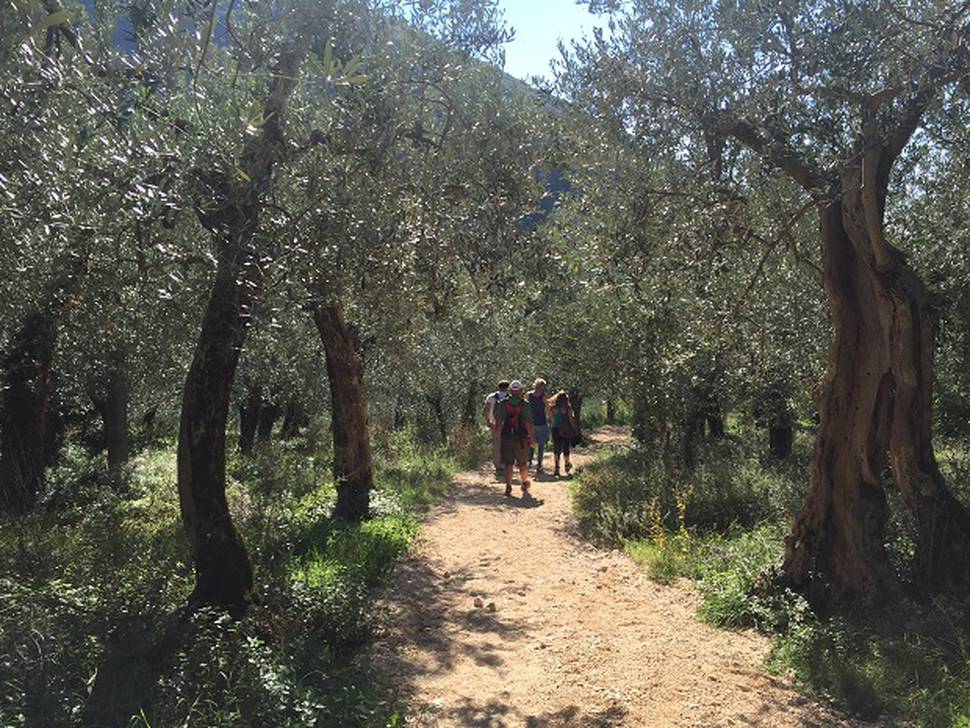 The path we've followed to Assisi is the passion project of our original guides. The 160km Il Cammino Francescano della Marca has been walked, cleared and signposted by Luciano and Maurizio themselves, with help from the communities they've met along the way. The eight-day pathway, a replica of the historic pilgrim's walk of St Francis, crosses two regions and passes through 18 municipalities. The walk funds itself and the pair don't make money from it. It's with a real sadness we say goodbye to these two, despite our excitement for our final days ahead in Rome.
Arriving in La Storta, on the outskirts of the Eternal City, our pilgrimage of nine becomes a community of 63. We walk the last 14km into Rome as a group, and while everyone is visibly exhausted, the chatter of those who are paid to talk, write and broadcast is quite unforgettable. It's our own international community.
In Rome, the Pope is awaiting our arrival. Ours, and the arrival of thousands more to St Peter's Square. Under unbroken blue skies, we study the work that turned stone into the Vatican, giant Roman archways and sky-scraping pillars topped with intricate sculpture. We hear the Pope talk of the pilgrims' walks. He speaks of St Francis, and we feel a deep connection of place and journey, despite being surrounded by thousands of strangers in a place we've only been a short time.
Entrenched in our minds is the trail we've walked and the lessons we've learned from a man who lived 800 years ago. St Francis, a man so beyond his time, taught people to respect nature, live in equality with all creatures and enjoy life without material. He believed absolute poverty was the model lifestyle — so much so that his followers venerated and celebrated the poor.
His walk left us physically drained, but spiritually and emotionally full. For somebody who's never practised religion, I couldn't believe how close the Catholic pilgrimage I'd just completed had brought me to this country and its people.
CHECKLIST
Getting there:
Further information: See italianwonderways.com