(Go south) where the skies are blue, markets authentic, food fantastic, locals friendly and Buddha is bigger, writes Andy Welch.
The cloud of smog that engulfs most of China is visible to astronauts orbiting the Earth, which hardly makes it the most appealing destination in the world.
But instead of giving the entire country a wide berth, you simply need to modify your choice of location.
Ignore the obvious choices of Shanghai and Beijing, and instead look further south, and to places of high altitude, such as Emei.
It's a village in Chinese terms, but with a population of about 425,000, it's anything but.
There's much to see and do, but the jewel in the region's crown is undoubtedly Mt Emei.
It's the tallest of Buddhism's Four Sacred Mountains in China, about an hour's drive from the centre of Emei. Dozens of coaches travel up there each day.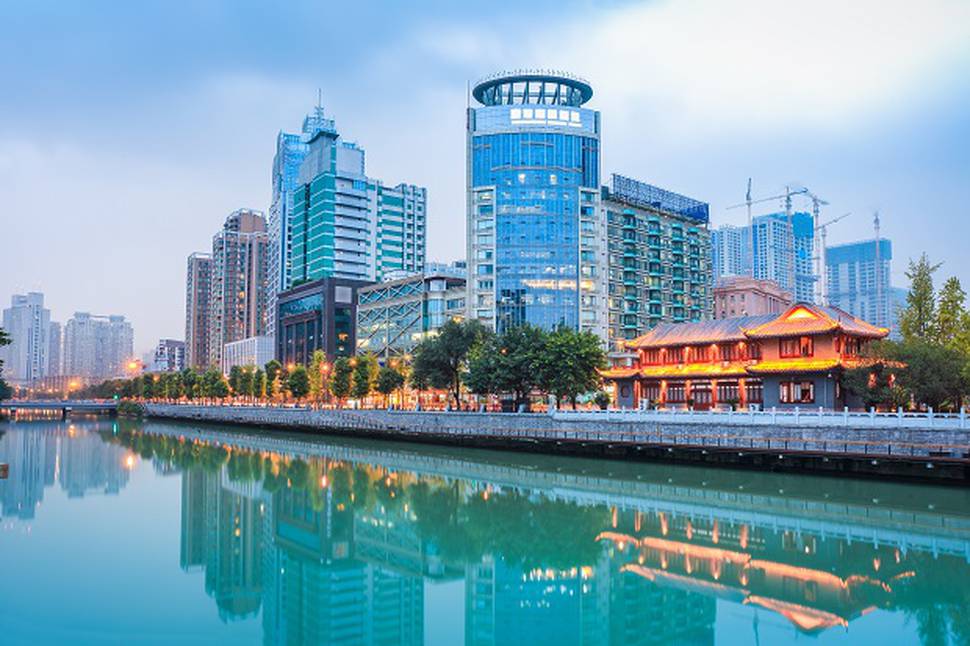 The bus will take you only so far, however, so you'll have to walk to Jinding - the top of the mountain - which takes about four hours up the stepped path, or you can walk for an hour and get a cable car up the rest of the way.
It's not too strenuous, especially as you'll be stopping to admire the scenery. But with the high altitude and thin air, it's breathtaking in more ways than one.
As you go, you'll meet a number of golden Tibetan macaques. It's their habitat and they're known to get a bit hands-on with tourists and their backpacks, but guards armed with catapults line most of the path to keep them at bay, and sticks are available at the base, in case you want a bit of extra protection.
When you reach the top, your effort will be rewarded with some of the best views you'll ever come across. As you've climbed above the clouds and pollution, you'll feel the sun on your face for the first time. The effect adds to the zen-like calm at the summit, looking across the so-called Clouds Carpet with the wind whipping around your ears.
Time seems to stand still up here, and it would be easy to spend a couple of hours just gazing. There are two Buddhist temples, one of which dates from the first century and was the first built in China.
A giant gold statue of Buddha stands 48m tall - symbolic of the 48 wishes of the Amitabha Buddha - weighs 660 tonnes and faces in 10 directions: north, northeast, east, southeast, south, southwest, west, northwest, up and down.
After you've made your way back down the mountain, you might want to visit another giant Buddha, this time at Leshan.
You can reach it on foot, although if you want to fully appreciate how big it is - 73m - you should go past on a boat.
The Buddha is the tallest in the world, and by far the tallest pre-modern-era stone statue.

Next on your itinerary should be Emei's market. Traditional in every sense, Chinese delicacies, such as pickled chicken's feet, yards and yards of intestines, pork bellies and all sorts of weird and wonderful herbs and spices line the market stalls, while buyers barter and haggle with the traders.
Emei is a tourist hot spot, but a lot of that is internal tourism, meaning Westerners will stand out and attract (friendly) stares from the locals. The market also has a live area, which you should probably only venture into if you have a strong stomach and don't mind the sight of hundreds of eels being masterfully filleted in front of you.
There are a number of great places to eat around the market. Look for the chicken noodle broth served in piping-hot stone bowls, and the roadside barbecue joint has one of the best meals you'll ever have for less than $10.
Here at the One Arm BBQ - so called because the owner has, well, you've guessed it - plates and plates of grilled meat and veg on skewers keep on coming, although the skewers of chickens' feet leave a little to be desired.

The asparagus and the new potatoes though, crispy and salty, are fantastic.
The nearest good hotel to all this is the JZ Hotel (formerly the Anantara Emei Resort). It's set in a sprawling compound and features 90 rooms, 40 pavilions and 20 villas, varying wildly in price.
It's likely you wouldn't just go to Emei if you were visiting China, and it's probable you would get there via Chengdu. It's about two-and-a-half hours away by road, although a high-speed rail line can also take you to to Shanghai in 15 hours, via Wuhan and Chongqing.
Chengdu might have a bad human rights record and allegations of an oppressive authoritarian regime, but with a population of about 14 million, it feels like a modern, relaxed European city. Much of it is built around the two tree-lined rivers. Eating out and socialising are hugely popular, but shopping, particularly in high-end boutiques and expensive designers, is seemingly the no1 pastime.
Food in Chengdu is excellent - this is Sichuan, after all, the capital of hot and spicy food in China. They will, of course, serve a milder version of whatever you choose.
The Giant Panda Breeding Research Base is a must-visit, as are the bustling food markets of Jinli St and Wuhou Memorial Temple. But best of all is the People's Park. Locals gather to put on mock fashion parades, take part in dance classes, play mahjong and, if they have single children over 25, post notices to marry them off.
With Sichuan women known as the most beautiful in China, and the men of Chengdu priding themselves on how subservient they are to their wives, there's lots of competition.
CHECKLIST
Getting there
Cathay Pacific and Cathay Dragon offer daily connections to Chengdu via Hong Kong with return Economy Class fares starting from $848, with 45kg luggage allowance. These fares are on sale until March 13 and are available for departures between now and October 31.
- AAP