The farmed pearls develop slowly, but Sue Baxalle finds bliss comes fast in Tonga.
Pre-visit research shows me the name Nuku'alofa means "abode of love" and Tonga's main island, Tongatapu, means "Sacred South". So it sounds like the perfect place for a mid-winter break.
Approaching Fua'amotu, Tonga's international airport, the signs are positive - the little airport is surrounded by coconut palms waving up at us in the sun.
On the ground, we are immediately struck by the time warp. Okay, other Pacific Island airports are small too, but this really takes us back 30-plus years.
The baggage claim area is not so much an automated carousel as a dump-all-the-bags on-the floor scramble.
Finally through Customs, we are picked up by the driver arranged to take us to the wharf at Nuku'alofa (we automatically move to attach seatbelts and are told there's no need in Tonga - time warp No. 2).
There, the boat is waiting to take us and another Kiwi couple to Atata Island and the Royal Sunset Island Resort.
Atata is a speedy 30-minute boat ride away. At the helm is Fonua, who amazes us with his expertise in weaving around the craggy coral mounds and rocks to arrive safely at the resort's wharf.
"The friendly island" sounds like a PR tag, but we soon discover it is true for Atata. On arrival guests are ushered into the main bar and presented with a coconut adorned with a tropical flower welcoming guests to RSIR and the laid-back vibe sets the tone for our stay. Welcome to holiday mode.
The island is owned by the King's brother, Crown Prince Tupouto'a 'Ulukalala. The village (population about 150) occupies one end of the isle and the other is leased to the resort, owned by a Frenchman who lives in Melbourne. All the 25-strong staff are village locals, some filling a variety of roles.
We are guided to our fale, where a fruit basket awaits on the coffee table. In fact it is a large clam shell, full of bananas, pawpaws, apples, oranges and starfruit.
With no air conditioning, the fale is designed to allow a breeze through. The four-poster bed looks like something out of a fairy tale, with a large mosquito net.
In front of the fale is a deck with a hammock and two lovely big chaise longues - perfect for relaxing. The accommodation is not luxury, but comfortable.
The chalet-style fales line the two sides of the island, all with sea views.
Our side of the island is peaceful, the other constantly buffeted by wind - that's the spot to go for windsurfing.
Taniela the barman-cum-waiter-cum fisherman delights in teaching dinner guests a new word each time he attends tables at the resort's restaurant, starting with "malo" (thank you) and "malo aupito" (thank you very much). In his barman's guise, he teaches us "ofa atu" - cheers.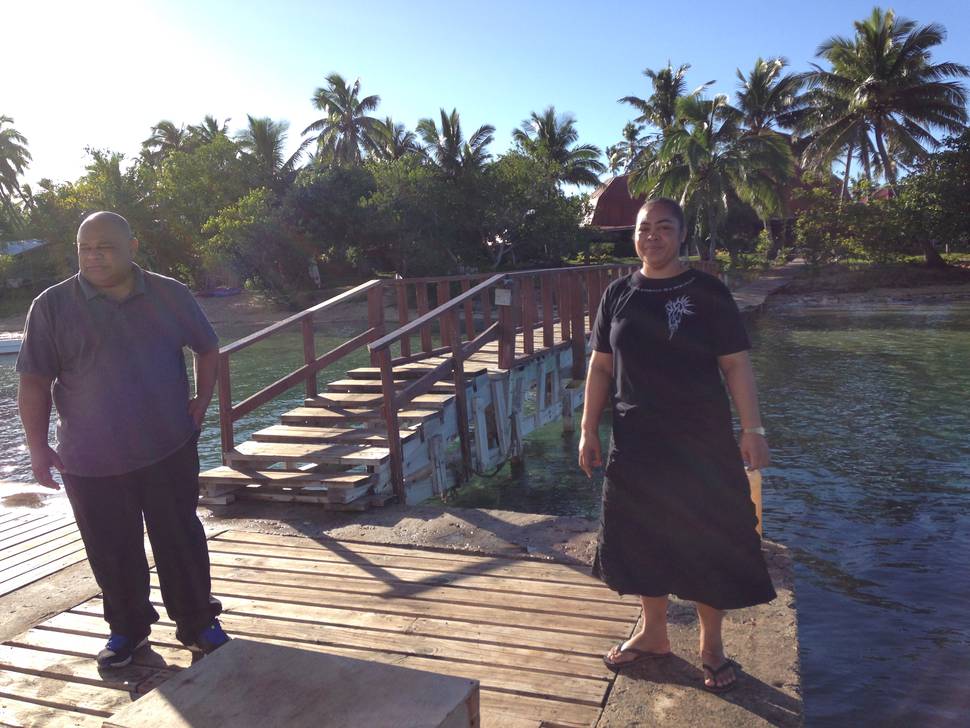 On the menu for both lunch and dinner daily is fresh fish - often caught by Taniela himself - and prepared to perfection by Fijian chef Inoke.
The following day Fonua, in his role as tour guide, takes us to the village. Unfortunately it is almost deserted this day, due to a major church conference and school anniversary celebrations on the mainland, but we get an idea of the simplicity of life on Atata.
The village fales are very basic - family life being more important than material things, we are told.
Pigs and dogs wander freely - all Tongan families in the kingdom seem to have them, we discover.
Fonua takes us to the pride of the village: the plantation, a large area of land where each family cultivates their own crops - from taro and cassava to bananas, yams and sugar cane.
While some is grown for sale, most is for self-sufficiency. Mangoes grown on Atata, for example, are deemed sweeter than those from Tongatapu, so are good earners at Nuku'alofa's markets.
Back at the resort in the afternoon, Taniela takes us by boat to some prime snorkelling spots.
The beach itself is not great for swimming, being very shallow for a long way, with the coral reef starting some distance further out. Kayaks are available for guests.
From Taniela's boat, however, we are able to enjoy the living aquarium, and a new thing for us, giant clams. As we return to the resort, we are overtaken by three flying fish skimming over the sea, not far from the boat.
Back on the beach, we meet Australian volunteer marine biologist Sophie Gordon and scientist Max Wingfield, who are training Tongans to farm pearl oysters as a new way of helping the community.
They implant a plastic nucleus (a seed) in the oysters that will eventually be covered in mother of pearl, creating a half pearl.
Sophie says while the outer island group of Vava'u has been farming pearls since the 1960s with Japanese help, it is a relatively new venture in other parts of Tonga.
The oysters Sophie, Max and their Tongan team seed on this visit will take nine months to mature and become the half pearls known as "mabe pearls".
Royal Sunset Island Resort lives up to its name as the day draws to a close, producing a pearl of a sunset.
Malo aupito.
MOSQUITO REPELLENT
I donated a fair amount of blood to the mosquito population of Tonga, despite covering myself with repellent. All three hotels we stayed in during our 10 days in the kingdom provided mosquito coils in the rooms, and some have sprays available.
SNORKELLING GEAR
Most hotels will have masks, fins and snorkels available for guests, but supplies can run short, so it's a good idea to take your own. A shortie wetsuit can be useful on cooler days to allow longer immersion, but in general the water was warm enough (in late June) without.
CHECKLIST
Getting there
flies direct to Tonga from Auckland, with connections available from all Air New Zealand serviced domestic airports. One-way Seat fares start from $197 ex-Auckland, including tax.
Online
royalsunset.biz