Andrew Louis meets some fair dinkum Aussie locals in their natural habitat ... and not a XXXX in sight.
Australia is home to many strange and mystical creatures. Anyone can see most, if not all, easily at the zoo, but I want to put my Steve Irwin boots on and see some in their natural habitat.
My campsite at Inskip Peninsula, Sunshine Coast, provided my first encounter with fauna. Curious small brown skinks skittle under tables and chairs. They look similar to those we have in New Zealand and are just as hard to catch.
Cheeky bush turkeys also roam the tents looking for an easy meal. Rachel from Rainbow Beach Ultimate Camping says anything not packed away is fair game for these birds.
In the search for sea turtles, a stand-up paddleboard is required for silently searching in mangroves at Pelican Bay.
The boards are wide and fat, giving lots of stability. Standing up gives me a better chance of spotting one than sitting in a kayak but I find it's harder to control.
Bob from Epic Ocean Adventures takes us to some known turtle spots but we luck out and don't see any today. Like all wild animals, the chances of seeing a turtle is totally unpredictable.
Travelling to Amamoor State Forest for bush walking, my luck changes and I discover a couple of goannas wandering around the campgrounds.
These monitor lizards resemble miniature komodo dragons. With large sharp claws, long whip-like tails and flickering tongues, they also have the same menacing strut.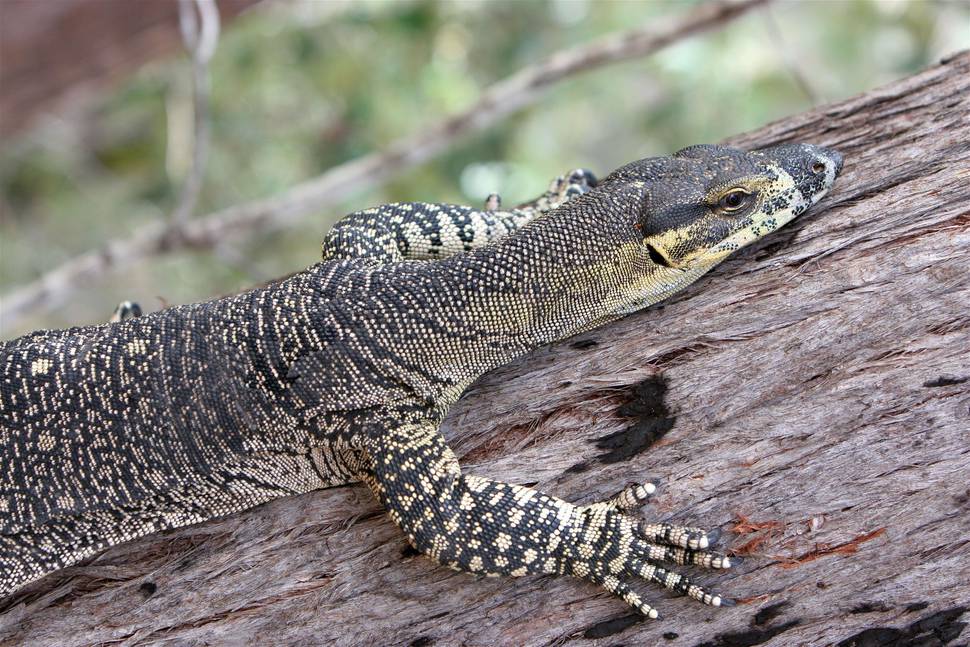 Fortunately, unlike the komodo, these lizards are more afraid of me and run away as soon as I get close to one.
I discover they are really good tree climbers too, so if one does decide to chase me, I don't think the trees will provide a safe haven.
I leave the forest and check in at Melawondi Springs Retreat where I see roaming kangaroos bouncing across the large property. These roos can grow bigger than a man.
I also spot and hear birdlife among the treeline and tiny croaking frogs that come out at dusk to sit on lilypads.
It's an early before-dawn kayak the next morning to look for the strange and elusive platypus. I meet Ian from Ride on Mary, at Yabba Creek which feeds into the Mary River. The water is murky from recent heavy rain. It gets very shallow in parts and varies in width from narrow rapids to wide open pools of calm water.
Slowly paddling upstream I try to make minimal splashes with my paddle.
Suddenly something appears from below and breaks the surface right next to my kayak. I hear it gasp for air before diving back down. It's not a platypus but an equally rare lungfish.
The golden light of the sunrise illuminates the overhanging trees and creates picturesque reflections on the water.
It also reveals that I over-applied sunscreen to my face. Note to self: don't put sunblock on in the dark.
At the next stretch of water, Ian signals me to stop and points at something 50m ahead. It's a small group of platypus feeding. I can see their ripples as they swim through the glassy calm water.
We edge up closer, to about 30m away and I count around five or six. They are very shy and it's hard get any closer without scaring them off. In the end we see two or three groups of platypus before turning around for the gentle return paddle.
These creatures only live in clean waterways so it good to know this creek is healthy and supports these rare animals.
It's best to look for them early morning when there is no wind - then you can spot their ripples in the water.
The Sunshine Coast is home to some extraordinary animals and meeting them in the wild is memorable and hugely rewarding, more so than visiting them at the zoo.
Detour off the main highway and safety of the tarmac and make your way down to the beach. I am on the Sunshine Coast, about to tackle Queensland's Great Beach Drive.
CHECKLIST
Getting there:
flies from Auckland to Sunshine Coast via Sydney.
Further information: See queensland.com.