Find a fisherman to drop you off at a secluded beach and savour its white sand and coral reefs in solitude, writes Mauricio Olmedo-Perez
You start seeing glimpses of postcards about an hour out of El Nido, a region at the top of Palawan Island in the Philippines.
Chances are you'll be crammed in a minivan and coming from Puerto Princesa, the island's main city and airport, four hours south.
The vans are pretty modern and decent, but every possible space is used - be it to pack in cargo or humans — so it's nice to finally arrive and stretch out in the area's main town, Poblacion.
El Nido is Spanish for "The Nest" and though it's named after a pricey local delicacy, bird's nest soup, you'd be forgiven for thinking it is named after the accommodation that makes up this tourist mecca.
It's a hotchpotch of intertwined buildings, all vying for space, and it seems half the main stretch is in construction mode as even more accommodation is being built.
It's not idyllic and — like me — you may be a little worried that you've come a long way to a paradise that's been lost in the chaos; but persevere, good times are ahead. It's low season so there's plenty of choice and do check and compare rooms before committing, don't go by the photos outside as they are about as accurate as a takeaway burger photo.
Once settled, grab a trike, Palawan's tuk-tuk, and head into the town proper. It only costs two or three dollars to get to anywhere close by and tuk-tuks are an icon of the area.
Contraptions that somehow morphed from a motorbike and are pimped up to an owner's personality, they bring much needed colour to the dreary main road into town.
Poblacion's beach is the highlight and it's stunning, with limestone strutting up from the sea and all around covered in lush jungle. Along the beach there are bars and restaurants displaying exotic fish ready to be chucked on the barbecue and washed down with a dollar pint of the local brew.
The food preparation is basic, compared with the well-known dishes we've come to love from the rest of Southeast Asia, but it's all about fresh seafood here and you can't really go wrong.
The locals are lovely, warm and friendly.
As good as it looks, I'd be dubious about swimming in or near Poblacion, especially after seeing the pollution from the main street.
Save yourself for the island-hopping ahead which is what really brings people here. There are dozens of islands peppering these parts and you can book day tours from your accommodation or there are plenty of places in town. I'd suggest going for a smaller boat unless you want to party. They all go to the same places; there are four main circuits but they're all much of a muchness.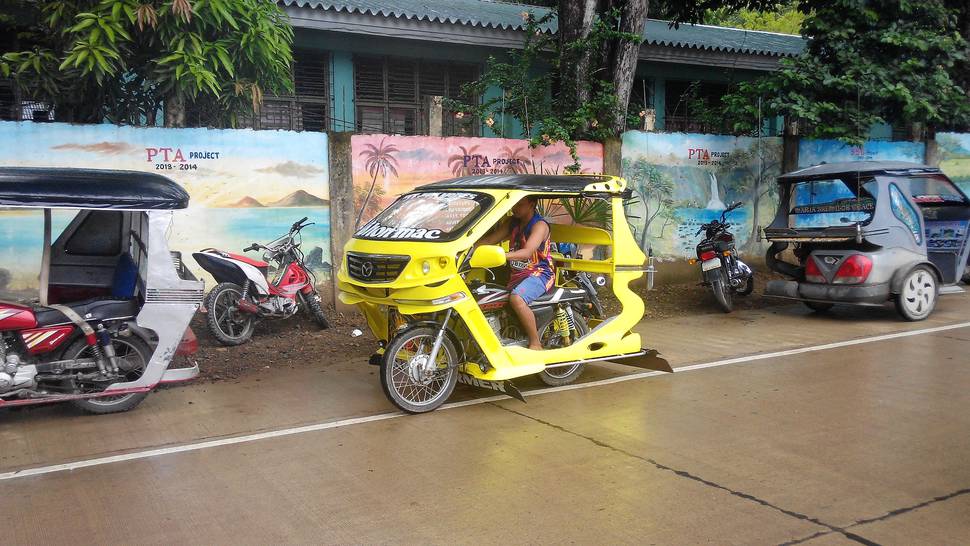 You'll get picked up at a respectable post-breakfast time (sometimes it's included in the price, lunch is also included) in one of the distinctive outrigger boats called bangka, which look like water spiders, resting all along the bay.
It only takes about 20 minutes before you start beach hopping and the beaches are about as perfect as you can get. White sand, crystal-clear water, colourful coral reefs, steep limestone cliffs, all the boxes are ticked. Snorkelling gear is provided and within my first two-minute dive I am swimming alongside a massive turtle, just one of many aquarium type views you'll see.
This is a tour so it doesn't take long before you're moving on to the next spot — Big Lagoon, Little Lagoon, Secret Lagoon, not original names but all of them stunning.
Because our bangka is competing with all the other tour boats for the same spots it does feel like we're on an assembly line sometimes as our boat waits in a queue to get to the next hot spot. In the end, the best part of our day is when we are taken to one of the countless secluded beaches away from the loud crowds and left to bask in relative peace and quiet for an hour or so.
If you're here for a few days I'd recommend doing at least one tour, but it's worth finding a fisherman to drop you off at a secluded beach and pick you up later.
This is the low season so I'd hate to see the masses in high season.
It rains a lot at this time of year (I'd recommend you bring mosquito repellent) but it's warm and we were treated to an electrical storm one night.
I saw only a handful of the more than 7000 islands that the Philippines is made up of, so this is a country definitely worth visiting again.
CHECKLIST
Getting there:
flies daily from Auckland to Manila (via Sydney).