Leila George looks at the best places for a short-haul sunshine break this winter.
We don't need to tell you that July in New Zealand is a weather bomb.
The coldest month (we're lucky to get 14C in Auckland). The wettest month (60mm rain). The darkest month (five hours of sunshine a day). There's only one answer: get out of town. Here are eight places you can fly to in less than four hours, packing not much more than your togs. Where the temperature's guaranteed to be in the 20s. Where you can Snapchat your friends from the beach or the swim-up bar while they're shivering back home.
SAMOA
Why go?
For the sun, stupid. For the beaches. For the jungle. Yes, for all those tourist-brochure reasons but also to experience Fa'a Samoa - the Samoan Way. These famously humble people have much to be proud of. Despite centuries of Palagi influence they have maintained their language, culture and customs, subtly interwoven inside Christianity. Small wonder the nation is considered the heart of Polynesia, even as more luxury resorts (though nowhere near as many as Fiji) are built next to fale, traditional houses with no walls. Safe, sweet and soulful, easy to get around.
Herald tip
"Saying you have explored Samoa without visiting Savai'i's northern coast is just
plain wrong. It is like saying you have eaten pavlova when you have never had it
with fresh berries and lashings of cream. I stayed in a homely facility with rustic
beachfront fales two steps from the white sand and blue waters of a lagoon teeming
with tropical fish and the occasional green sea turtle. My daily routine included
floating face-down in warm waters, watching the brightly coloured inhabitants of this
underwater kingdom going about their business."
- BruceMunro
Number one for
Polynesian culture.
Next month's weather:
22-29.5C, SEA 27-29
Flight time: 3h 55m
Air fare: $277*
Package: 5 NIGHTS
$1493+
FIJI
Why go?
Bula! Fijians are famous for their hospitality, even though everyday life is less sunny than the skies following Cyclone Winston. These folk need your dollars right now, and where better to spend them than in a country called "a poster-child for paradise" - eye-burning white sands; Disney-perfect palm trees; sky-blue seas straight from your kid's, or your niece's, colouring book. Underwater, the reefs are even more intensely coloured, 1500 species of day-glo fish, manta rays and sharks gambolling amid coral. In resorts and ever-welcoming towns, the welcome's pretty damn good too.
Herald tip
"I have found my paradise: a floating two-storey bar, in the cleanest, most translucent blue water you can imagine, miles from land and even further from reality. We banged our way out there bar in a thrilling 25-minute boat ride from the Mamanucas. Cloud 9 appeared before us like a mirage: a pontoon with daybeds, couches, deckchairs, barstools and plenty of shade. Don can make almost any drink you desire, as long as they have the ingredients - it's not exactly easy to pop out to the shops if they run out of limes."
- Shandelle Battersby
Number one for
Families, snorkelling.
Next month's weather:
20-27C, SEA 27
Flight time: 3h 20m
Air fare: $189
Package: 5 NIGHTS
$1395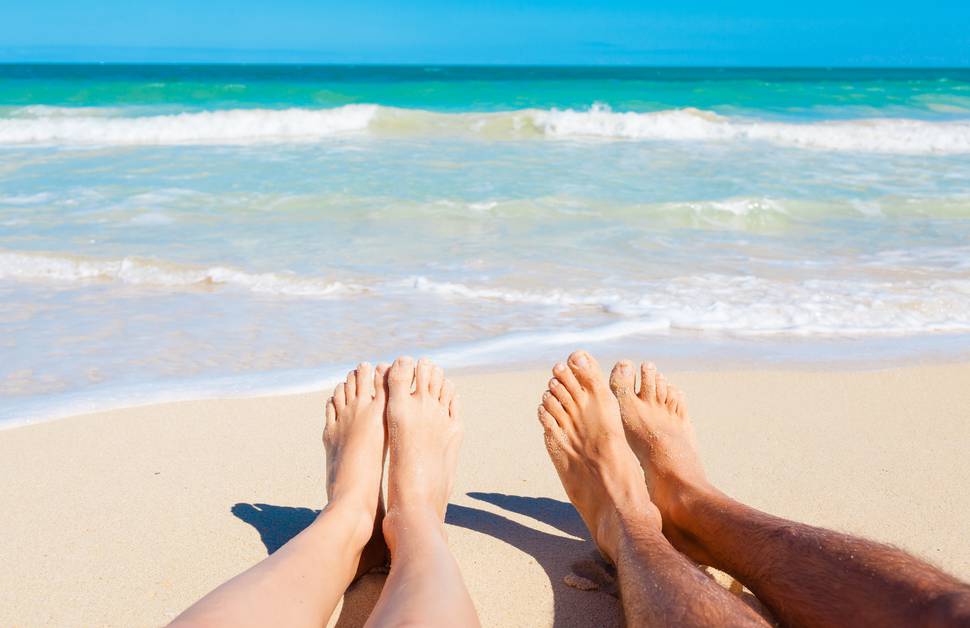 TONGA
Why go?
Tonga likes to do things its own way. Like having a king. And do things in its own time - Tonga time, which means there's nothing that can't wait until tomorrow. Unless tomorrow's Sunday; then everything will have to wait until Monday, because church comes first. You won't find upmarket resorts; rather, more modest digs in this slightly dusty rough diamond. You will find gorgeous beaches, snorkelling, diving, yachting, kayaking and ever-smiling locals who can't do enough for you. Probably not today, though.
Herald tip
"My friend and I feel like intrepid adventurers as we set out on a kayaking day trip. On our circumnavigation of Kapa Island, the natural beauty of 5ha of pure white coral takes me by surprise. We see countless species of tropical fish in all colours of the rainbow as well as nudibranchs, anemones, cephalopods and many species of coral."
- Paul Rush
Number one for
Kicking back.
Next month's weather:
25C, SEA 24C
Flight time: 2h 50m
Air fare: $237
Package: $5 NIGHTS
$828
VANUATU
Why go?
Not much good came out of World War II in the Pacific - unless you're a diver. When the US forces quit their Santo island base, they left behind an entire military museum, much of it underwater. The tanks, jeeps, trucks and the 30,000-tonne liner President Coolidge, which sank in 1942 after hitting a mine, are now considered among the world's best dive sites. But there's way more to this quaint nation: you can climb active volcanos, tramp or kayak remote and rugged islands, and be drawn into an ancient culture. Plus, your cash will help recovery from 2015's devastating Cyclone Pam.
Herald tip
"The Matevulu Blue Hole is magical. It's like something out of Avatar; tropical plants surround it and dragonflies of all colours flit above. Underwater a 'click click' is revealed to be fresh-water crabs burrowing deep below, and above a lengthy vine swings from a massive banyan tree for those brave enough to climb and drop."
- Carly Flynn
Number one for
Diving, natural wonders.
Next month's weather:
20-26C, SEA 25C
Flight time: 2h 55m
Air fare: $502
Package: 4 NIGHTS
$1032
NIUE
Why go?
The place you take your tramping boots, diving gear and sense of adventure. This may be the world's smallest independent nation but it's big on adrenalin opportunities. Be warned you'll need to rent a car or motorbike and then expect to walk, climb, swim, dive or kayak to discover the secrets of its caves, inlets, cliffs and rainforest. Don't expect flash. Alofi, the capital (population 1600 or thereabouts), has budget and mid-range accommodation and eateries.
Herald tip
"The independent traveller in me isn't really keen on anythingorganised when on holiday, but I heard Niue requires a bit of inside knowledge so we went on the Commodore's Orientation Tour early in our stay. Run by a New Zealand couple who have been on Niue for 10 years, it was incredibly informative and set us up for the 'must-visits'. We spent the next seven days with our jaws on the ground as we ventured from one stunning panorama to another."

- Alexia Santamaria
Number one for
Adventure holidays.
Next month's weather:
21-26C, SEA 25C
Flight time: 3h 25m
Air fare: $371
Package: 7 NIGHTS
$1378
NEW CALEDONIA
Why go?
We're not in Polynesia anymore, Toto. The French claimed these Melanesian islands in 1853; they brought their social and legal system, their architecture and cuisine, their convicts and a taste for selling the locals into slavery. Fortunately most of their bad habits have been eradicated but wining and dining in cafes on palm-lined beaches has survived. Best, the territory lies in the turquoise waters of the New Caledonia lagoon, a barrier reef like that other one but not as endangered. Kayak, dive or snorkel among coral, marine life, sea-caves, lounge on deserted islands, feast on fresh-caught seafood and lush vegetables.
Herald tip
"After busy Noumea, stepping off the plane at Lifou makes a laid-back change. The people wear flip-flops, the women have bright, floral neck-to-calf dresses and hens with chicks stroll in the carpark. Lifou is mostly flat, the roads often straight and an oncoming car rare enough to wave at. The old churches are stone, and with the women's dresses and a passion for cricket, form part of the imprint of missionaries who arrived in 1840 to spread the gospel."
- Liz Light
Number one for
Dining.
Next month's weather:
24C, SEA 23C
Flight time: 2h 50m
Air fare: $549
Package: 4 NIGHTS
$14
GOLDCOAST
Why go?
Sun, surf, sand and ... something else that escapes us. Some 52km of golden sand and 300 days of sun every year. And millions of visitors; high-rise apartments; restaurants great, okay and truly awful; bars and clubs ditto; and theme parks, the happiest kingdoms of them all. Don't imagine all of the GC is like the bits you've seen on TV: there's a lush sub-tropical hinterland of rainforest walks, spectacular waterfalls, artisan producers and private retreats.
Herald tip
"If you want an amazing overview of the coast head to the SkyPoint observation deck. From 77 levels up, the coast and hinterland are laid out. You can eat and drink, and do the sky climb if that appeals. I don't have much of a head for heights but surprised myself at how comfortable I felt."
- Donna McIntyre
Number one
For everything the other places haven't got, or don't want.
Next month's weather:
20-24C, SEA
22C
Flight time: 3h 35m
Air fare: $159
Weather: 20-24C, SEA 22C
Package: 5 NIGHTS $782
Flights : best deal found online at time of writing
Packages: per person, twin room, 3-4 star resort, flights ex Auckland, best deal found
online at time of writing. School holiday blackout periods apply in July.