Danielle Wright takes her daughter on a coach tour in Australia and discovers that even a winery tour can be adapted to suit a child.
The excitement began for my 7-year-old daughter Georgie the day our "travel documents" arrived in the mail complete with a bright red plastic baggage tag with the tagline: "Smile, You're on Holiday!"
I wasn't feeling quite as confident about a week-long confined coach trip from Melbourne to Adelaide and Kangaroo Island, thinking of the potential melt-downs in front of a busload of strangers without my husband and son for help. But, there's actually a lot about a coach tour that suits a primary-school-aged child very well.
For one thing, each day is planned. There was great excitement when Delma Coulson, our tour guide, called for us to "pull out the day-sheets" detailing the exact time to put the bags outside, to meet for breakfast and to get back on the coach.
Delma also went through exactly what the day would hold, where we were stopping and for exactly how long. Somehow, the micro-managed structure made for a very relaxing time with no "Are we there yet"s or "I'm bored"s throughout the whole week - from either my daughter or the older generation onboard.
We were able to adapt each stop to suit a child. For example, while the others visited art shops at the first stop in Lorne, a seaside village on the Great Ocean Rd between Melbourne and Adelaide, we played mini-golf, viewed Kenny the Koala asleep in a tree, had a turn on the outdoor trampolines, strolled along the beach and discovered a giant metal paper plane sculpture stuck in the grass.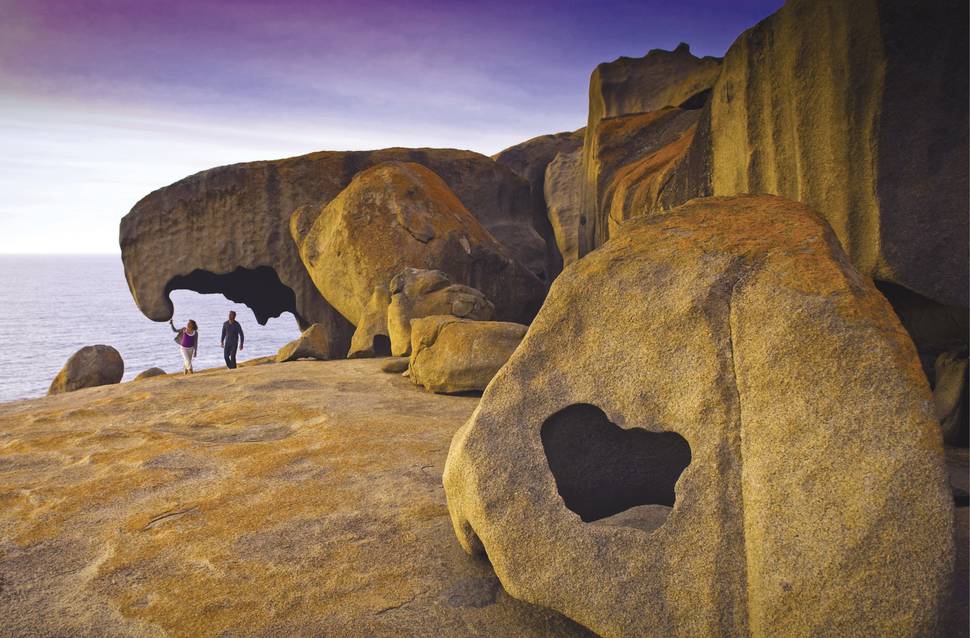 Even the trip to the Barossa Valley a few days later for wine-tasting (or grape-tasting for Georgie) went better than I had imagined. The tour talked about the history of the winery - interesting to me - but also had a cork tree stump - fascinating to Georgie.
She didn't taste the wine, but got to sample Jacob's Creek's 14 grape varieties straight off the vines. We heard all about how each grape was different - whether it had a thicker skin or a larger seed - and we tried pinot noir to chardonnay to viognier grapes. One day when she's old enough to take a sip, she might remember that wine doesn't just come in white or red.
At the beautiful beachside suburb of Glenelg in South Australia, while the others looked through tourist shops, we opted for icecreams, a funfair ride in the carnival atmosphere, a waterslide and a play at the coolest playground we'd visited in a long time, complete with in-ground trampolines, a cubby, tunnel and an extra-wide slide with mats to make the kids go faster.
The highlight for us, though, was Kangaroo Island, billed as "a zoo without the bars", because of its huge population of wild animals including kangaroos, koalas, sea-lions and hundreds of bird species living in the native bushland covering more than half the island.
The Flinders Chase National Park is home to two iconic sightseeing stops on the island. The first is The Remarkable Rocks, sculpted by the elements over 500 million years. They are absolutely as their name implies: remarkable. Some are covered in bright orange lichen - and with every selfie, there's the Southern Ocean as the backdrop.
Second stop is Admiral's Arch. It's here we watch honking New Zealand fur seals frolic in the huge washing machine swells.
The area is overlooked by the Cape du Couedic lighthouse which has a sandstone bottom and tomato red top; it's like a giant sandcastle.
The best part was the 5pm pelican feeding session by "Pelican Man", aka John Ayliffe, whose dry comedy routine goes hand in hand with his feedings.
You come expecting a couple of pelicans, but there are dozens and dozens of them all raising their beaks in the air at the same time, as if performing ballet. It's well worth the $5 fee.
The coach was a much more relaxing way to travel with children than driving, and there was never a panic to pull over for a toilet stop, because there was one on board.
It felt a safer, more contained way to travel with just one child and not only did Georgie get to see the sights and experience things she never had before, she also got to learn about living with a group of strangers for a week - with all the ups and downs that entails. (Sorry to the poor lady she refused to sit next to at dinner.)
And I needn't have worried about her misbehaving - sitting next to your child on the coach and letting them have your undivided attention works wonders on producing good behaviour.
Checklist
DETAILS
AAT Kings' 7-day Great Ocean Road & Kangaroo Island Escape guided holidays run from Melbourne to Adelaide year-round. Prices start from $3025pp, twin-share.
AAT Kings has also introduced a new range of "family shindig" holidays with many activities tailored for kids. aatkings.com.