Artists take centre stage in Sydney's 20th Biennale, finds Eli Orzessek.
It's a surreal sight to see an artist surrounded by a pack of photographers, desperate for a good shot. That's the scene at the Museum of Contemporary Art, where Daniel Boyd is attracting plenty of media attention as he poses by his paintings in the 20th Biennale of Sydney.
I'm watching the spectacle with my former art school tutor Joyce Campbell, also exhibiting in the Biennale. We agree this would never happen in New Zealand. The possibility of being an art star seems that much greater in Sydney.
Under the title "The Future Is Already Here - It's Just Not Evenly Distributed" (a quote from sci-fi author William Gibson), curator Stephanie Rosenthal has spread works by 83 Australian and international artists over 19 locations, many of which move beyond white walls.
Arranged throughout six main "Embassies of Thought" and a number of public spaces around Chippendale and Redfern, many of the works look at the futuristic pleasures we take for granted that aren't necessarily available to everyone yet.
Rosenthal introduces the Biennale on Cockatoo Island, also known as the Embassy of the Real, a fitting title for a location grounded firmly in history. Once a penal colony and a shipyard, there's also an element of unreality here - we're told the island houses film sets and what may look like a brick wall may in fact be wooden.
This temporary nature is echoed in Lee Bul's installation Willing to be Vulnerable. It has the daunting task of filling a massive industrial space in the Turbine Hall and does so with a deconstructed Big Top: swooping transparent curtains, tent panels, headless unicyclists and a big silver airship.
Meanwhile, the science-fiction elements pop up quite literally in Min Wong's Windows On The World (Part 1), 2014, where multiple screens display vintage clips from Chinese sci-fi films. Around the corner, visitors dance around German choreographer William Forsythe's large installation of hypnotic, swimming pendulums.
One of the most powerful of these distinct spaces is the Embassy of Non-Participation at Artspace. The works here by artist duo Karen Mirza and Brad Butler deal with activism. Their installation If I was Prime Minister disturbingly lays out a high-school exam setting, which asks students to employ the army against a riot and justify the decision.
At Carriageworks, renamed the Embassy of Disappearance, Taiwanese conceptual artist Chen Chieh-Jen looks at the effects of industrialisation in a massive installation of photographs and videos.
The most traditional venue, the Art Gallery of New South Wales, becomes the Embassy of Spirits and is home to the two New Zealand artists in the Biennale.
Joyce Campbell's series of photographs with Richard Niania, a tribal elder from her hometown of Wairoa, look at the legend of the Taniwha. It also speaks to her video work in the tunnels of Cockatoo Island, which explores a different watery monster, with eerie, swirling botanical images.
Dane Mitchell's Remedies for Remembering also works with water. Containers are filled with two homeopathic remedies, where an essence is diluted to make it stronger - one works to aid memory, the other erases.
As the liquid is sprayed on the windows of the gallery, it mingles with the air and the audience. Another key historic location is the Mortuary Station, or the Embassy of Transition. As its name suggests, the station was once used to transport coffins and, unsurprisingly, the works here deal with themes of life and death.
On the platform, Charwei Tsai's spirals of incense printed with the Tibetan Book of the Dead hang and burn slowly. In the waiting rooms, abstract looping videos describe the process of reincarnation.
We leave the station and follow a trail of scattered temporary works to Redfern, once home to a large Aboriginal population but rapidly gentrified in recent years.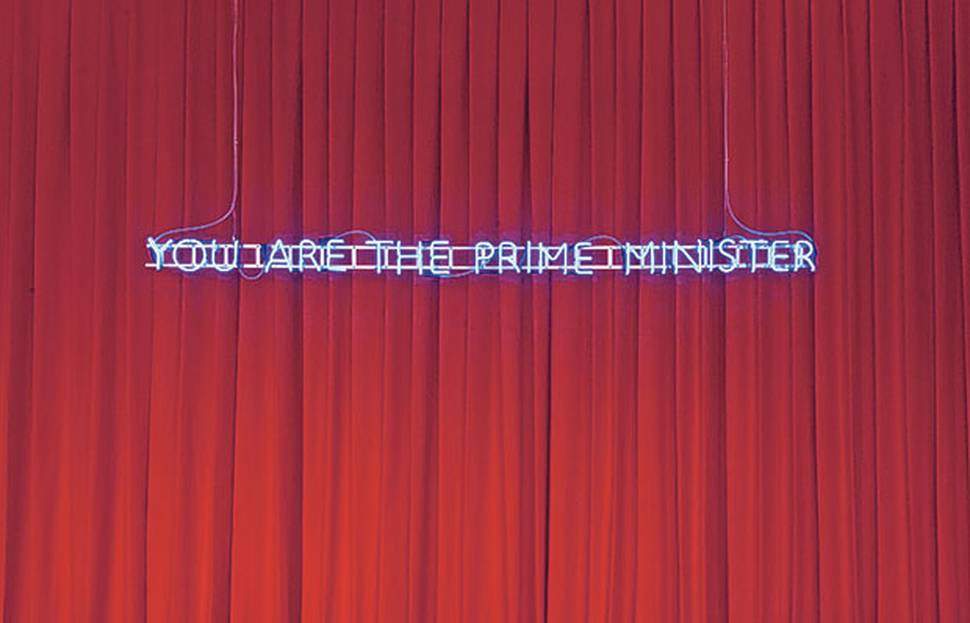 On the corner across from the famous Redfern Gym is Daniel Boyd's What Remains, a mural made up of 12,000 dotted mirrors that reflects the comings and goings of the community - or the art crowd viewing the work.
Nearby, Keg De Souza's We Built This City resides in a warehouse studio. At the entrance, we crawl through a small tent into a huge colourful dome made of many tents stitched together, with small tents bordering the structure.
Sitting on the large plastic bags stuffed as makeshift cushions, the work brings up images of refugee camps and tent towns. It houses the School of Displacement, which puts on tours and classes on the history of the area, addressing issues around gentrification and colonisation.
Art about gentrification in a gentrified suburb exists in an uneasy space, as artists are often complicit in the process. The Redfern works highlight an uneasy relationship for the art world that should be explored more.
The Biennale certainly offers plenty of contrast. After visiting the School of Displacement, I attend an opening function at the private residence of Judith Neilson, whose Neilson Foundation is a key sponsor of the Biennale. Her Chippendale home is extravagant and sculptural, sitting just down the road from her gallery, the White Rabbit. Like all houses that are also works of art, it has a name: Indigo Slam.
Must-see works
Korakrit Arunanondchai: Painting with History (Cockatoo Island)
An acid-wash demin runway leads to an oasis of large cushions in front of a large video work, featuring Thai hipsters in more denim, drone footage and a search for the river serpent god, Naga. The upper island has more great work, including Chiharu Shiota spiderwebbed beds and Bharti Kher's realistic sculpture of sex workers.
Richard Bell: Aboriginal Tent Embassy (Museum of Contemporary Art forecourt)
Featuring talks and film screenings, this tent embassy dates back to a protest in
1972 and Bell is often around for a chat.
The sign reading "White Invaders You Are Living on Stolen Land" is poignant with a large cruise ship looming in the background.
Yao Jui-Chung + Lost Society Document (Carriageworks)
Taiwanese artist and curator Yao Jui-Chung sent his students to take photos of abandoned public buildings. The result is a series of hundreds of images of wasted spaces, that have been compiled into a book.
Archie Moore: A Home Away From Home (Botanical Gardens)
Moore worked with an indigenous architect to reconstruct Bennelong's Hut, a structure built by Governor Arthur Phillip in 1790 for Woollarawarre Bennelong, a member of the Wangal clan. The hut originally stood where the Opera House is now, but the reconstruction has been placed on the nearby Bennelong Lawns. The inside of the hut is based on his grandmother's hut.
Taro Shinoda: Abstraction of Confusion (Art Gallery of NSW)
It was hard to get space to see this artwork during the media tour, but it's worth it for a moment of zen. Stairs lead to a raised platform in the middle of a room painted with cracked white clay. It's a great space for a moment of silence.
20th Biennale of Sydney
When: Until June 5
Where: Museum of Contemporary Art, Cockatoo Island, Artspace, Art Gallery of New South Wales, Carriageworks, Mortuary Station and more.
The festival of colour
Sydney's Vivid light festival returns for another season this May. The sails of the Opera House will be lit up by Songlines, a projection series featuring Indigenous art, as part of an expansion of the Vivid Light Walk.
Impressive installations will light up Chatswood, Central Park, Darling Harbour, the Australian National Maritime Museum and Martin Place.
New precincts include the Royal Botanic Gardens, the Galeries and Taronga Zoo.
This year's programme has performances by New Order, Bon Ivor and Bjork, as well as conversations with director and producer Spike Jonze, House of Cards creator Beau Willimon and Orange is the New Black creator Jenji Kohan.
When: May 27-June 18
Where: All over Sydney - visit VividSydney.com for more information.