Ewan McDonald sails (not cruises) on a yacht (not a ship) across the Mediterranean from Rome to points east and south.
It's very flat, the Med. Sailing on its waters you can understand why the ancients thought that if you got to the end, you'd fall off.
Except that - oh dear, it's a bit early in the piece to shoot down a myth - Pythagoras figured out our planet was spherical like a globe and not flat like a coin in the 6th century BC. Hold on to that theorem, for the great tormentor of high school maths will return in several paragraphs' time.
You're coming with me on a two-week cruise from Rome, past Sorrento and Positano, around Sicily and up Italy's eastern cast, across to Dubrovnik and through the Balkans and Greek islands to Turkey, dropping anchor in Athens.
Me and about 90 other passengers and an equal number of crew are on SeaDream I, which is rather smaller than a cruise liner, and technically described as a motor yacht.
The line consists of two ships - yes, SeaDream I and SeaDream II - owned by a Norwegian entrepreneur. For those not well versed in maritime law, a boat with a single owner is a yacht, not a ship.
It also gets to park - sorry, I mean berth - at little docks that other vessels can't reach.
There are other significant differences, obvious when we board at Rome's dusty and nondescript port, Citavecchia. Cruise liners are those immodestly garish floating hotel-casinos up and down the dock, several storeys high, with orange-tanned passengers wearing resort fashion.
The ships that our rather more dainty yacht breezes past.
COME morning, we are moored off Sorrento.
The sun is high and the temperature nudges 30 as we breakfast (fruit, juice, omelettes, coffee) on a shaded deck. Tenders whisk us from the yacht into the Riviera fantasyland of Clark Gable, Grace Kelly and - at this time of year - rather too many pot-bellied, lobster-skinned Brits.
My travelling companions take up my suggestion of getting out of town, on a local train, and smashing the sights of Pompeii, only half an hour away.
SeaDream won't raise anchor until 10pm. Dinner ashore then, in the piazza, a gobsmacking restaurant. If we were in France this would be nouvelle cuisine. Here, nuova cucina.
Next morning. Moored. Positano. Sophia Loren and Richard Burton and Elizabeth Taylor. The tender drops me and my yacht-buddy Caroline on the flattened-out rock that passes for a dock, and we explore the cliff-scrambling village.
We pretend we are looking for bargains in delis, galleries, potteries and clothes stores but we are really looking for lunch. In a really cool little trattoria that serves seasonal food, quickly and freshly cooked. This will become a theme.
Some hours, anchovies, wines, salads, pastas later, Caroline and I realise that we should really get back to the ship. I mean yacht. Our party has been invited to the captain's welcome-aboard cocktails and it really wouldn't do to miss the boat.
TWO days into the cruise and I have slipped into holiday zen. The rhythm of days. Which goes something like ...
Wake up in stateroom. Check out BBC news from kingsize bed. Give grave consideration to toddling up the passage to the gym and pedalling the bike machine while gazing across the water to some romantic Mediterranean port. Reject idea. Shower in the unreasonably spacious bathroom and dress. Go up to deck and choose breakfast.
Amble on to tender, wander around town, shop, look at sights, beach. Find restaurant for local seasonal lunch and inform Caroline where we're eating unless she's found a better menu.
Two or (more likely) three hours later, board the tender back to the yacht, snooze on bed with new Orhan Pamuk novel until cocktail hour, kick into the SeaDream hospitality of five-course formal dinner with travelling companions and newly minted on-board acquaintances.
Fall on to bed to be lulled asleep as yacht makes its way to the next port ... repeat as unnecessary.
One of the cool things about SeaDream is that, because the boat ... I mean yacht ... I mean vessel is so much smaller than cruise ships, it can sail much closer to land, and often tie up at ports while bigger vessels are moored miles out.
We berth at Taormina in Sicily, its ancient battlements and unreasonably idyllic pastry-shops high above the impossibly azure sea; then Crotone on Italy's east coast.
Cue Pythagoras. It's his home town. The main square is named after the pioneering mathematician. I was hoping there would be a street, or a river, running alongside it, called the Hypotenuse.
I could have devised, at dinner tonight, an elaborate pun involving the square on the side of the Hypotenuse. Unfortunately not. And Pythagoras Square is actually round. There's the whole basis of mathematics stuffed.
We leave Italy - sigh. Does one ever truly leave Italy? - for the Balkans. The rather too postcard-perfect Dubrovnik on a Saturday, its c laustrophobic alleys and grand battlements crammed with visitors. Wall-to-wall tourists, if you will. Puppy dog-lovable Kotor, in Montenegro. Next stops: the whole moussaka of Greek islands.
BETWEEN the lunches and the dinners, I chill - okay, desperately try to cool off in the high-summer heat - in the pool. It's a comfort zone to meet other guests, hear their stories.
They adore the informality, laid-back approach of the crew, the smaller vessel and - since many are returning guests - catching up with friends.
Fully laden there would be 112 guests and 96 crew. On our first week, there are 91 guests: 25 US, 24 Norwegian, 14 Brits, two Aussies and two Kiwis, according to the captain. Caroline and I look at one another: we know there are two other Kiwis aboard.
Turns out they are travelling on UK passports. Over beers, I meet a man who has just sold his IT company for US$400 million and is taking his 14-year-old daughter back to the towns where her grandparents were born.
A woman who is famous in her own coffee-break for her interior decor reality TV show in Atlanta, Georgia. A man picks my accent as Kiwi, not Australian, because he paid $130 million for one of Hamilton's better-known businesses.
An American couple celebrating their 50th wedding anniversary. They flew 17 of their nearest and dearest to Sorrento, then waved them goodbye as SeaDream pulled away; the couple aboard, the family left on the dock.
Everyone's favourite shipmate is Doc. He is variously reported as 90, 91 and 94 years old. Each morning, wearing his "US Veteran" cap, the former military medic goes ashore to walk around Mediterranean ports in searing heat.
Each morning, a member of the crew is assigned to surreptitiously shadow him. Each evening, a member of the crew will fortuitously arrive at his table to share dinner with him.
We're motoring into yet another idyllic Greek island one morning and I'm deciding whether I'll toast the wholemeal or the fruit-and nut loaf when a crew member appears at my shoulder.
"I'll do that," he says, "and I'll bring it over to your table", motioning me to sit down with my fourth cup of coffee. He does. He's the captain.
WHEN you look back over your life, there are those "I wish I'd done that" moments. And then there might be those "Did I really do that?" moments. The next few paragraphs are a mixture of each. Both.
Busting out of Sicily and tonight's movie, in the lounge, is The Godfather. The island has been trying to shed itself of this image for 30 years but, y'know, when judges are shot down in their Fiats, it's a difficult PR sell.
Tonight, it's wrong but it's so right. Tomorrow will be breakfast in Santorini so, Mamma Mia on the sundeck. I'm singing along with the recently married gay couple on the next sunloungers. I surprise myself by remembering so many of Abba's lyrics.
Another evening. It's supposed to be Dancing Under the Stars night. But the sky off Albania is lit up, the sound system overtaken by the most dramatic opera of thunder and lightning that lasts for hours. Poseidon, or is it Neptune in this part of the ocean, reminding us who's god.
I KNOW I'm hopping about from island to mainland and island, but the trip is a bit like that, and all the better for it. The best holidays are those where you can't remember exactly where you are. Or were yesterday.
There were ancient relics: and we clambered around the ruins of Delphi and Ephesus. There were Greek islands: Patmos. John wrote the Book of Revelation in a cave there and Caroline and I had a lunch of revelations there.
I remember imam bayildi and barbecued lamb. Hydra was so happy and sunny and optimistic that you couldn't imagine that Leonard Cohen has lived there, on and off, since the 60s.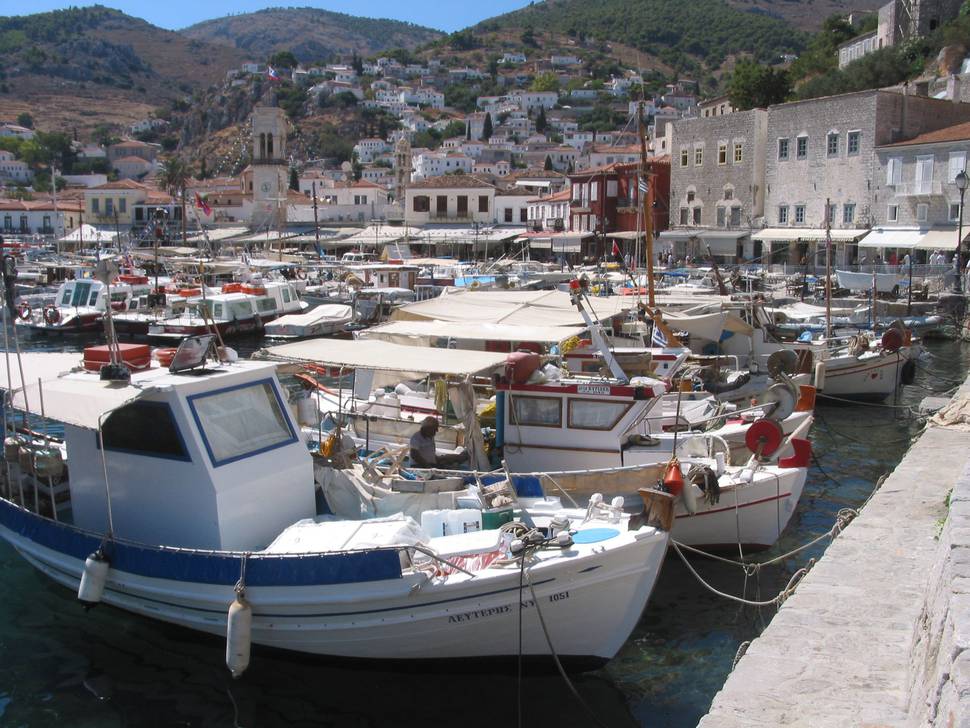 Santorini: four of us snacked on the most stunning lunch, calamari and olive oil and local wines and tomatoes, while donkeys clip-clopped past the restaurant.
They politely asked us to leave SeaDream in Piraeus, the port of Athens. We stood on the dock, surrounded by our suitcases, about to cast off our idyllic and indolent lifestyle and rejoin what less-fortunate folk call the real world.
Checklist - Sea Dream
• Getting there: All three of Emirates' daily A380 services from Auckland connect at Dubai with the airline's services to the Mediterranean. Bologna is their 38th and newest Europe destination, with fares starting from $1988 return (business class from $8388).
• Details: SeaDream Yacht Club's two vessels make around 40 seven-day voyages between Mediterranean ports from May-November each year. Fares begin at $7200.