Taupo is a great playground for thrillseekers, finds Shandelle Battersby
I'd already clocked that you had to remove your false teeth, hats and chewing gum before taking the plunge from Taupo's Cliffhanger extreme swing, but the fine print on the waiver form had me questioning just what the heck I'd got myself in for.
"I ... do hereby record that I am sound of mind and body and with large doses of common sense and factual assessment do consider swinging 44m above the Waikato River ... "
Blimey, that sounded high, not to mention foolhardy. And when I was perched on the platform in my full-body harness, and the lads from Cliffhanger swung me out over the clear, bright blue water and started counting me down, I was seriously questioning whether I was actually sound of mind at all.
The next few seconds went something like this: "Five ... four ... I think we'll just let you go, shall we?"
"Arggghhhhhh ... "
Yep, my new mates had let rip with the "go button" early, and my freefall towards the river below kicked in at speeds of up to 70km/h before the rope reached the end of its tether about 10m from the water. I was left swooping back and forth in a 180-degree arc and, once my heart stopped thumping and I relaxed a bit, I could lean back in the harness and enjoy the scenery of the river valley around me on what was a spectacular late-winter day. Great fun.
After a few minutes, the boys winched me back up the cliff-face, past scores of nesting birds and on to the platform where I found my knees were knocking. I skedaddled out of there before they could persuade me to do a bungy jump as well.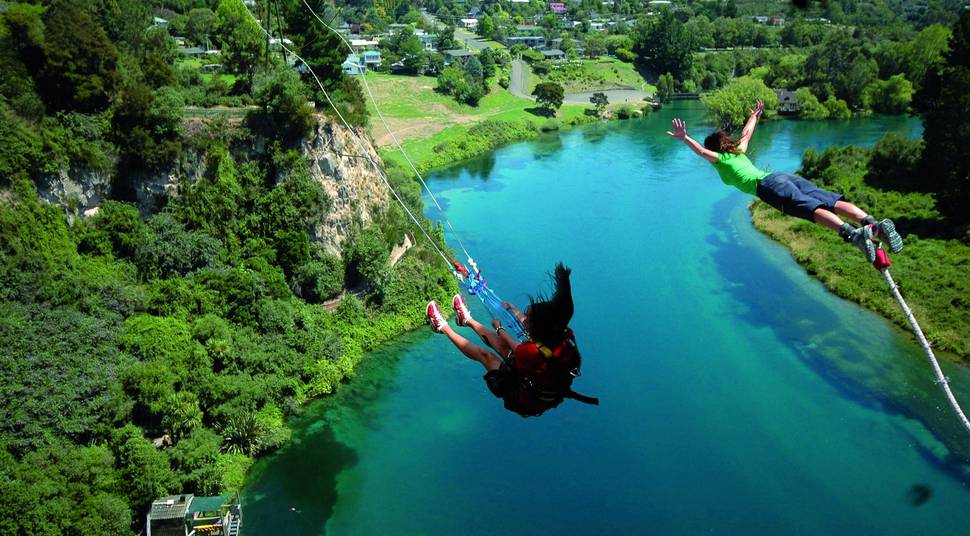 We'd arrived in Taupo the night before after an easy drive from Auckland in our borrowed BMW X3 xDrive 35d, for a night of luxury at the Hilton Lake Taupo (more on this next week). We had one day to experience the city's sights and thrills, and were determined to pack as much in as we could. But after that extreme swing, I needed a cup of tea and a lie-down.
Lucky, then, there was unlimited tea and coffee — not to mention delicious homemade muffins - on board our next appointment, a leisurely 90-minute scenic jaunt on the Chris Jolly Cruise Cat.
We motored slowly out of the Taupo Marina as geothermal steam rose along the shorelines and greedy ducks flew alongside to catch bits of bread being thrown from the top deck. The lake was glassy and calm, and the sun was shining. It was tops.
By the time we'd motored over to Mine Bay to see the Maori rock carvings made by members of the Tuwharetoa tribe in the 1980, we'd learned all about the history of the lake, its geology, its residents and more thanks to the informative commentary by Captain Pete.
Now that the old heart rate was back to normal, it was time to give it another charge with a blast up the Waikato River on the Hukafalls Jet. The throaty jet boats blat up and down the river in tandem for 30 minutes, performing exhilarating spins, skidding very close to obstacles like tree stumps and the river's banks, giving everyone on board an exhilarating ride. The drivers are great fun - think humorous blokey banter between the boats — and really know their stuff. The best part is the few minutes you spend at the base of the famous falls as they thunder down their narrow gap, hooning around and doing doughnuts. As far as thrills go, this is as good as it gets.
INSIDER'S TIP
Make sure you find time to stop in at Storehouse cafe — a super cool space in an industrial part of 14 Runanga St, which also stocks homewares, furniture and flowers. The go-getting young guys who run the joint make great coffee and food.
The writer travelled courtesy of Destination Great Lake Taupo, BMW New Zealand and Hilton Lake Taupo.