All his courage gathered, Nicholas Jones ventures underwater for an eye-opening scuba dive.
There's a point in the descent when I stop concentrating on my equipment and relax enough to take in my surrounds.
It's also when the appeal of scuba diving - long written-off as an unnecessary expense and danger when a more sedate spot of snorkelling is an option - becomes clear.
I'm on the side of a steep wall of coral that drops-off to seemingly endless deep blue water. About 8m above me is the ocean surface, pierced by hundreds of rays of sunshine - it's a view that no amount of duck-diving can deliver.
Swells mean we've stayed inside the reef in the Korolevu channel on Fiji's Coral Coast, in between Nadi and Suva.
Turtles and rays are commonly seen on this dive but today we settle for swarms of fish - damselfish, parrotfish, butterfly fish, and snapper are among those I can identify.
At one point we interrupt what seems to be a kind of reef council meeting - about 30 brightly coloured fish, all floating together above one rock.
But it is the experience of being deep underwater that stays in my memory. The building scream of lungs for air is gone, and a new world opens up.
South Pacific Adventure Divers is based out of the 300-plus room Warwick mega-resort, but also picks up customers from other resorts dotted along the coast.
Ours is the charming Mango Bay Resort, which has the same stunning outlook and white sand but is blessedly low-key, its handful of beachfront bures and other rooms attracting a younger clientele and fewer families (reasonable prices might also be a factor, a Fiji Bitter only FJ$5 ($3.25), or just over $3, in happy hour).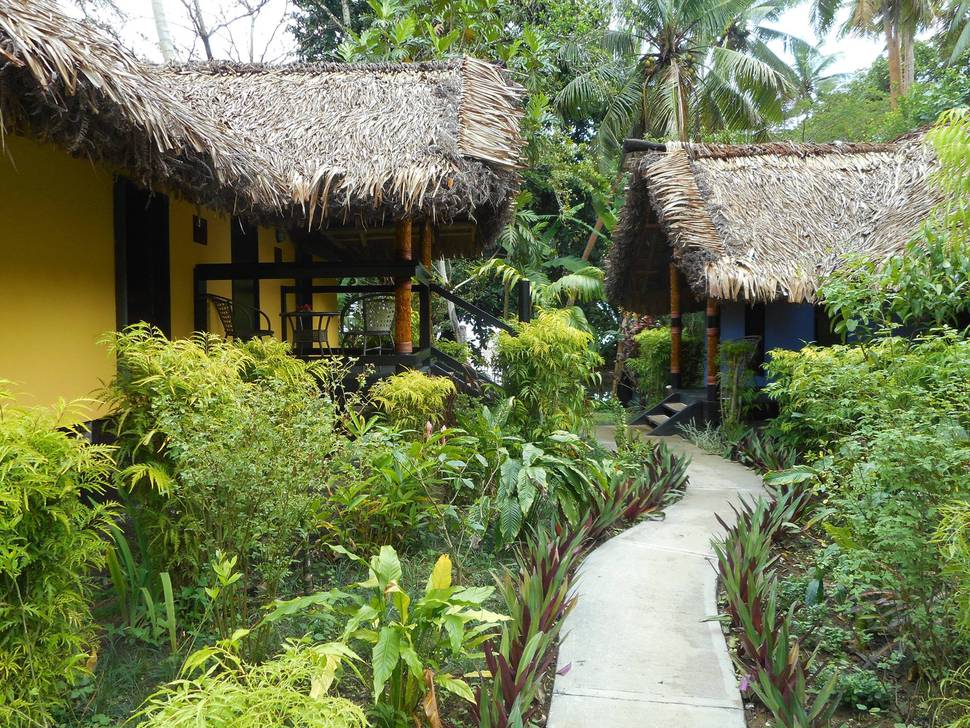 A pool separates the bar from the beach, and it's there where we are taught the basics of scuba diving by Alex, a Brit who now calls the coast home and bravely trips down to Suva to play golden oldies rugby against some former Fijian Sevens stars.
Even in a pool the first couple of breaths underwater causes panic, despite a thorough run-down on land.
But we're given plenty of time to get used to the sensation, as well as practise clearing our masks of water and putting the mouthpiece back in underwater (good to know but thankfully not needed during the actual dive).
A five-minute taxi ride down the coast takes us past stunning views of the reef below and eventually to the site of an abandoned hotel, its concrete bones still ringed by postcard coconut trees.
At the dive spot, it's an unnerving sensation stepping off the boat strapped down with a metal tank and a weight belt, but the air in my jacket keeps me afloat while I get my bearings and my breathing calms.
A button then slowly deflates the jacket and down we go.
Equalising by pinching and breathing out of my nose is basically the only task to keep on top of, and it's not long before it feels entirely comfortable to be slowly drifting 10m underwater.
As an extremely impractical and easily flustered person, my carrying out a beginner's dive is proof that nobody should be put off trying it.
The kind of commonsense needed to quickly unlatch a boot or change a tyre would be the end of me underwater.
Thankfully, all that is really required for an enjoyable scuba dive is to remember to breathe - and enjoy a perspective never before experienced.
CHECKLIST
Getting there: Air New Zealand flies daily from Auckland to Nadi.
Further information: See fiji.travel.
The writer travelled courtesy of Tourism Fiji.