Sue Baxalle returns from an Aussie health and fitness retreat bursting with energy and resolves to take life one nice, slow bite and chew at a time.
When a trawl of the website of the health retreat to be my next assignment yielded the information "We cook wheat-free, dairy-free and sugar-free. Alcohol and caffeine are not served at the retreat," the travel editor looked worried.
"I didn't realise I'd be sending you on such torture," he said.
But it sounded exactly what I had long wanted to experience - a week of activity and rejuvenation.
Cabarita is a five-star complex shaped like a fish, set on a 2.4ha beachside property on the Tweed Coast of northern New South Wales and is just a 20-minute drive from Gold Coast airport.
The accommodation is luxurious, with eight Signature suites on the first floor, each with two queen beds and themed according to a country or city, such as France, Chicago, Bali and the Caribbean. On the second floor is another Signature suite and the Pacific and Orchid Penthouse suites.
The gym is on the third level and outside are the heated pool, day spa and tennis court. Cabarita is also host to a raft of noisy birds - from black cockatoos that would greet us on our first morning stretching session to the rosellas, galahs, lorikeets, ibis, kookaburras and a nosy plover that apparently often pops into the yoga room, enjoying the "company" it finds in the wall-to-ceiling mirrors.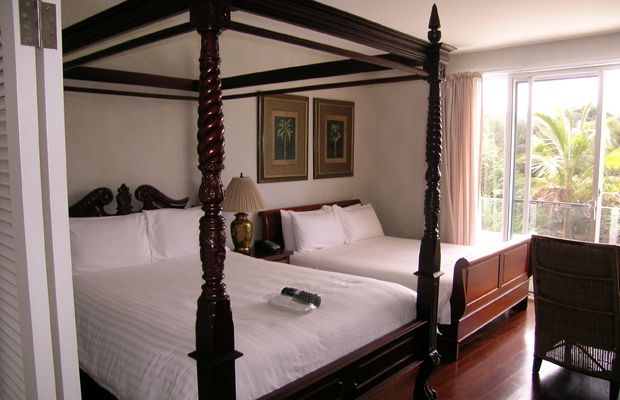 The Caribbean suite. Photo / Supplied
After settling in, I ventured down to the extensive open-plan ground floor where the reception, kitchen and dining room, yoga room and spa treatment rooms are. The gathering place for socialising is here, too, where we chat around the "coffee table". No coffee in sight, though, of course.
We were a small group: four Melburnians, one Sydneysider and me. We each had a differing focus for the week, with one underlying common factor - seeking a boost to our health and wellbeing.
Cabarita is not pitched as a boot camp although it can be as energetic as you want it to be. Another point of difference to many other health retreats is that it is not exclusively vegetarian, with meat, fish and eggs on the menu.
The centre typically offers three-, five- or seven-night programmes, although longer stays with special programmes can be accommodated, such as for Theo, in for a long-haul focus on weight loss.
Alasdair was aiming for increased fitness and to lose a few more kilos. We four women were on the five-night "Life Enrichment" programme. This is the recommended minimum duration, letting guests get over the withdrawal of detoxification that can kick in on days two and three. In preparation, Cabarita advises abstaining from coffee and alcohol in the days before your visit, to ease the transition. Although I had not abstained entirely, I had certainly reduced my coffee and wine intake.
Our first Cabarita meal was a trio of amazingly fresh salads, with more flavours jumping out than I had ever noticed in a salad. The philosophy of the food here is to use seasonal, locally grown, organic whole foods and meals are served family-style around a table, with all sharing the bowls of food in the centre of it.
After lunch was a tour of the property, then individual sessions with spa manager Isabelle, plus select treatments, a wellbeing consultation with Eva-Rose to discuss goals and set up a schedule for the week.
We also checked in with personal trainer Daniel for a health assessment in which weight and blood pressure are recorded, and so is your level of fitness. The Cabarita mantra on that first day is to get involved, have fun and challenge yourself to try something new.
A stay at the retreat can be as relaxed or as active as you want. As well as a wide range of pampering options in the spa, from massages and facials to holistic and naturopathic therapies, guests can choose personal training and gym sessions, if that is their focus, or to go solo on bicycle tours along the extensive oceanside path.
Each day begins at 6am with a wake-up call and a glass of apple cider vinegar diluted in water. Surprisingly easier to drink than we expected.
After a session of tai chi-style exercises in the garden, it's off for a brisk walk along the beach to Cabarita headland and back - a distance of about 5km, and, depending on how much time is spent at the headland searching for humpback whales and dolphins or watching surfers, the round trip takes about an hour.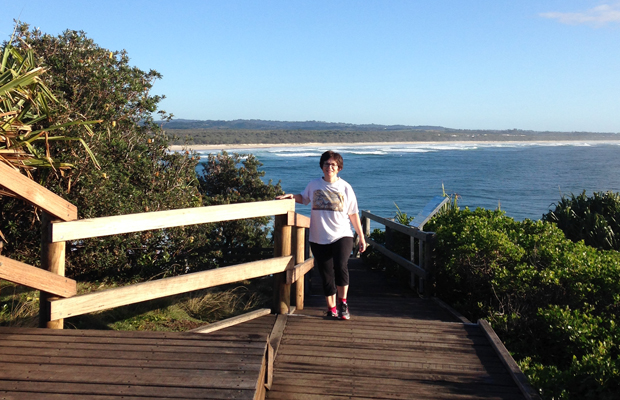 The walk to the headland tests legs. Photo / Supplied
Back at the retreat, we are invigorated and ready for the 8am breakfast. Each morning is focused on exercise, with cardio circuits, Pilates, yoga, boxercise, a gym circuit, Swiss ball (or fitball) exercises and aquacise spread through the week.
The exceptions were on the Tuesday morning, when we hopped on bicycles (there's also a tandem to share with the instructor for those less confident of pedalling solo) for the 40-minute ride to Cudgen Creek.
It is more like a river than a creek and is the location of Tim Adams' Watersports Guru operation. The day is a bit windy and the water choppy so, while Alasdair and Esmeralda bravely jump on stand-up paddleboards, Eleanore, Lynette and I team up in a three-person kayak. We end up working harder than the paddleboarders as our kayak seems determined to take us on a zig-zag route along the creek rather than obey our left and right oar-strokes.
Thursday morning is the other scheduled outing - to Byron Bay. After a walk around the farmers' market where Brook stocks up on supplies for Louise and Brendon in the kitchen and some of the Melburnians take the opportunity to buy locally made preserves, we head off to the township. While surfer Alasdair stays at the beach to catch waves, the rest of us tackle the Cape Byron walking track, a 4km loop that takes us up to the Cape Byron lighthouse and the easternmost point of mainland Australia, around the coast to Wategos Beach and back to Byron.
The day we visited the wind was raging and the sea churning around the rocks. Although therefore not conducive to sealife spotting, it was an impressive walk on an excellently maintained walkway. When we thought we could not possibly manage another step-climb, Brook assured us we were nearly back to the carpark. We were - but not before another couple of steep step and hill ascents. We certainly got a great workout that morning - and lots of fresh air.
On two mornings we also had education sessions. First up, natural therapist Peter Rule ran a detox seminar while we sipped the most delicious turmeric, ginger and lime tea, said to reduce Alzheimer's, some cancers and apparently effective as an antidepressant.
Peter stressed the importance of mindfulness - being present in the "now" and explained the three goals of detoxification are to eliminate toxins, chemicals and allergens; to optimise our nutritional status and to hydrate and flush blood through the body's tissues. He ran through useful herbs, spices and tea brews with health benefits such as dandelion root tea (good for the liver), explaining that herbs repair organ function while minerals and vitamins help their everyday function. Other digestion aids include chilli, which we find on the table with lunch and dinner each day.
Another Cabarita health rule is no drinking with meals or 10 minutes either side. The thinking behind this is to encourage the body to use its digestive enzymes. Water reduces the ability of these enzymes to function properly, Peter says. Between 70 per cent and 80 per cent of our immune system depends on gut health, he says, so it makes sense to watch what we eat.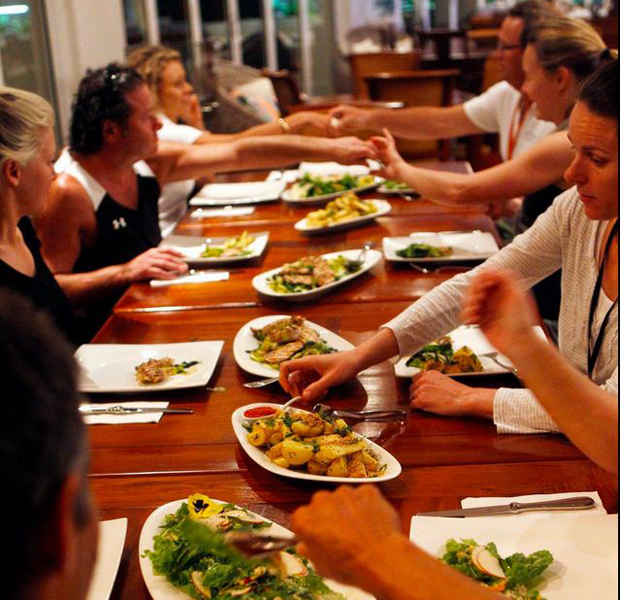 Meal times are a convivial affair. Photo / Supplied
Feeding into this theme of mindfulness and the healthy side of nutrition was head chef Louise Miller's talk: food as medicine.
Kicking off with a visit to her pride and joy, the raised garden beds where she oversees the cultivation of herbs, leafy vegetables, tomatoes, capsicums, chillis and edible flowers, Louise took us through her philosophy of eating intelligently, with seasonal, local and organic wholefoods.
This is how nature intended us to eat, she says.
There are no secret recipes at Cabarita. Both Louise and Brendon are open to sharing their cooking tips with guests, the whole philosophy being to help people take home the healthy eating principles they learn during their stay.
I tell Brendon he makes it sound easy.
"It is. It's not hard to cook well. The biggest thing is devoting time to it."
He also recommends chewing slowly.
"You need to relax and enjoy your food. We need to take more time over things - in eating and in life."
No snacking on fruit is recommended during our week, but we got little snack packs of activated nuts to ward off hunger pangs. Nuts are activated by soaking them in water and salt to increase their nutrient value and enhance digestibility, then dehydrated at a low temperature.
Though we all expected to need the extra comfort, I discovered the pack still on the table in my room at the end of the week. The three meals and two daily snacks prepared by Brendon and Louise were ample.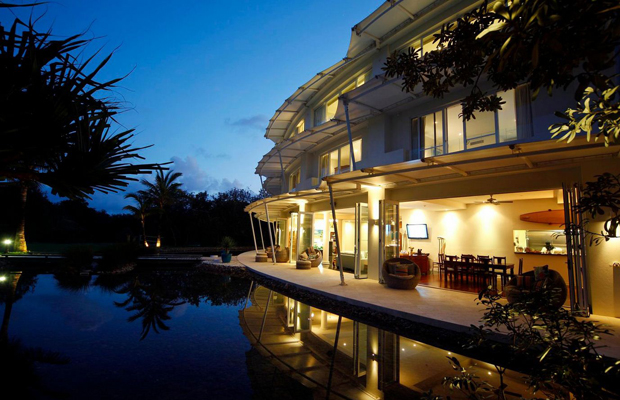 Swimming is encouraged and the reception area and the gardens beyond invite relaxation. Photo / Supplied
Afternoons at Cabarita are dedicated to individuals. This is when all the pampering massages and facials take place, or when the hardcore fitness-seekers can work out with a personal trainer.
Two spa treatments are included in the "Life Enrichment" package: a Swedish massage and the Cabarita facial.
These can be swapped for other treatments if desired, so I kept the massage but opted for a Sodashi pedicure. These were scheduled on the Tuesday and Thursday. Interlaced with these on the Monday and Wednesday were my full-on personal training sessions with Dan Nimmo.
Some of the more unusual spa sessions taken by members of our group included hot stone therapy (judging from the glowing, beatific look on Esmeralda's face afterwards, it was divine), and intuitive counselling, in which a therapist channels spiritual guidance. We were all keen to hear about this one and Eleanore said although she had been sceptical and careful to not reveal too much to the therapist, she had been told things that nobody could have known. Intriguing.
Also on the Thursday afternoon, guests can take an extra yoga session with Marie, which is open to community locals. Eager to participate in everything I could, I found myself stretching and flexing for 90 minutes - her style is vinyasa hatha, which, she explained, focuses on mindful breathing and movement through holding and transitioning from pose to pose. It was energising, although I admit to needing more practice to keep up with the flow of movement - this downward dog was ready for a cat-nap afterwards.
Every second evening there is an activity offered, starting with a lesson in meditation with the centre's operations manager Sandra (I think I may have become so relaxed I fell asleep); an art lesson with local artist Marijke, who had us make a mandala-style artwork.
This activity, along with the African-style drumming on our final evening, with Gareth, is another form of relaxation and meditation, and is a fun, natural way to feel free, getting rhythm back in our bodies.
During his introductory speech on the Sunday night, Brooke had said we would feel happier by the end of the week and that our brain chemistry would change with extra dopamine and serotonin brought on by our healthy diet and lifestyle. Esmeralda put our feelings into words after our Byron Bay walk: "I feel like I'm on drugs."
My trip to Cabarita was the first time I ever left for a holiday with the serious intention of coming back lighter. Though this was achieved, I also came back totally rejuvenated, feeling fitter and with good intentions of keeping the Cabarita buzz alive.
That includes drinking apple cider vinegar and taking a walk each morning before breakfast.
CHECKLIST
Getting there: Air New Zealand flies from Auckland to Gold Coast Airport, with prices starting from $209, one way. Cabarita can organise shuttle transfers.
Further information: See cabaritaoceanhealthretreat.com.au.
The writer was a guest of Cabarita Ocean Health Retreat.