The best travel experiences are often surprises and so it proved when I set out to reclaim the throne of Scotland. A little over 700 years ago, the Comyn clan was Scotland's most powerful noble family, loyal to the King, John of Balliol.
The Black Comyn, John II, was a serial builder of castles and the clan went unchallenged in the heartland of Scottish independence, the north. His son, the Red Comyn, was appointed one of the Guardians of Scotland.
But they found themselves on the wrong side of history, first when an English invasion under Edward I forced King John's abdication and later when that ambitious turncoat Robert the bloody Bruce stabbed and killed John Comyn III, his main rival for the throne, in a church at Dumfries.
It's been pretty much downhill for the Comyns of Badenoch ever since and, after centuries of persecution, the name, with subtle variations, endures in far-flung corners of the globe.
I'd visited Scotland only briefly in the early 1990s and memories of a mystical landscape may have been enhanced by a developing fascination with single Highland malts.
My return after 20 years was for an even briefer road trip and, with the referendum on Scottish independence imminent, I figured it best to let the dust settle before staking any claim. (Though our clan motto is "courage", 700 years of setbacks have instilled a kind of stoic caution that some mistake for cowardice).
Besides, while I'd quietly known about my noble lineage for some time, I'd only recently discovered that at least some descendants of the clan had made good.
In 1812, craggy Scottish farmer John Cumming and his feisty wife Helen began making whisky at a farm called Cardhu, in the heart of Speyside. This demanded further inquiry.
And so, from our west Highlands base of Fort William, on Loch Linnhe, we set out to inspect as many distilleries as we could in three days. And the occasional castle ruin.
Taking the long road to the Isle of Skye where Talisker, my hitherto favourite whisky, is made, we swung down the gravel lane to Old Inverlochy Castle with no particular expectations. Although on the outskirts of Fort William, the castle is not promoted in the tourism brochures nor recommended by the guides in the visitor centre. (They'll point you to the new Inverlochy Castle, a flash hotel).
But there, beside the River Lochy, threatened by encroaching industry, surrounded by what would have been a moat, we found an enduring example of Comyn greatness.
An information board by the entrance explained that Old Inverlochy was built by John Comyn II around 1260.
Geoff Cumming outside the walls of Old Inverlochy Castle, which was built by his ancestor John Comyn II. Photo / Geoff Cumming
Protected from the south by the Nevis range, its location entrenched the clan's command of the Great Glen - a fault line extending north-east of Loch Linnhe which basically cuts Scotland in two. With two other lochs in Loch Oich and Loch Ness it was a transport corridor of strategic importance. Inside the four walls, I felt the red mist rise - there was a powerful sense of connection.
There's even a picture of what Comyn looked like - uncanny, although the Greek-god looks and stature have arguably dissipated over time.
Some may find his four-square castle with towers in each corner a little unimaginative. It's certainly in need of a Grand Designs-style makeover - the towers have crumbled badly and grass has taken root on top of walls and in what would have been arrow slits. But the granite stone slabs have stood up remarkably well to the ravages of time and the countless battles that followed Robert the Bruce's naked lunge for power.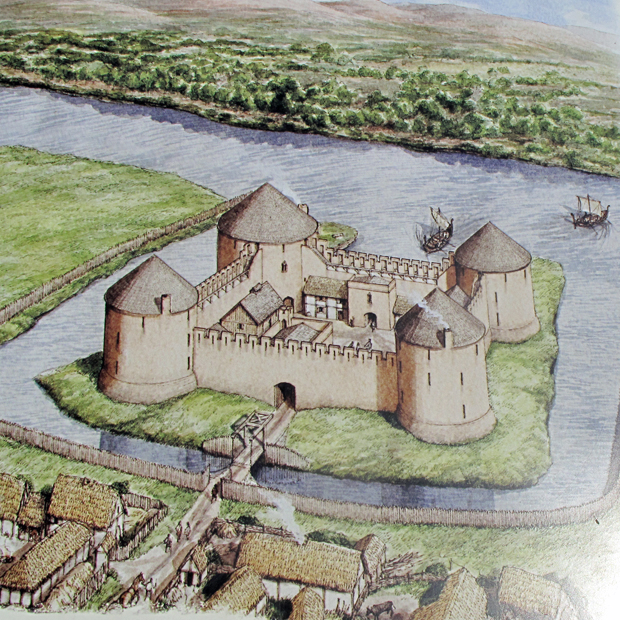 An information panel shows how Old Inverlochy Castle might once have appeared. Photo / Geoff Cumming
John Comyn's handiwork is also acknowledged at Loch Ness, at the far better known Urquhart Castle, which thousands of tourists pour over daily. In the late 1200s he added the Great Hall, where the Urquhart family would entertain distinguished visitors. Another Comyn castle, Balvenie, near Dufftown, is also on the tourist trail.
Long after the Comyns were banished, Inverlochy Castle was fought over by feuding clans - most bitterly in 1645 when the Campbells were vanquished by the royalist Marquis of Montrose and put to the sword.
But the worst damage seems to have been done by Montrose's allies, the McDonalds, who showed a typical lack of respect by moving in and ransacking the place. Who do these McDonalds think they are?
More articles on travelling to trace your ancestory
A family history, stitch by stitch
A family gathering in Dublin
In the footsteps of my ancestors
Dreams of kilted grandeur
The Shetland connection
Tale of Oma and Opa bridges generation gap
Return to the Eagles' nest
A picturesque beginning in Eling
CHECKLIST
Getting there: Cathay Pacific flies twice daily from Auckland to London, via Hong Kong. From there, a number of carriers connect to Scotland, or you can catch a train.
Further information: See visitscotland.com.