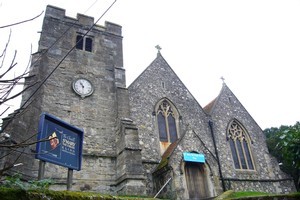 I know it sounds silly but I really, really, really wanted to find that my family came from somewhere ... historic ... beautiful ... or at least interesting.
As the culmination of several years of research into my English roots, I was driving through the outskirts of the port city of Southampton towards the original home of the first of my ancestors to come to New Zealand.
As we passed through a wasteland of terraced brick houses, which is modern Totton, I was a bit worried.
Oh no, I thought, please don't let Eling - which great-great-grandfather William Oliver left at the age of 20 to join the Navy - be like this (sorry, Totton, but that's what I felt). Then we came round the corner and saw in front of us the gateway to a glorious, picturesque, medieval world.
An ancient stone toll bridge led across Bartley Water, past an equally venerable tidal flour mill, to where a medieval church sat on a knoll, surrounded by dark trees, weatherbeaten graves and swirling mists.
I paid £1 to the amiable tollkeeper, who said if I hung on to the ticket I could use it for the return journey, and entered the magical realm of my ancestors.
Finding this place was the result of some genealogical detective work.
No one in my immediate family had any idea where William Oliver came from.
But we did know that he was on HMS Buffalo when it was wrecked in Mercury Bay in 1840. Governor William Hobson offered the crew grants of land - they never got it - if they stayed in New Zealand and helped establish his new capital at Auckland ... and here I am.
The records of all British naval ships are in the Royal Navy archives so I paid a retired naval commander to look up the Buffalo's papers. These showed that Oliver joined the Buffalo in Portsmouth on June 26, 1836, as a cooper and, according to the ship's muster book, was born at Hounsdown, Hampshire in 1815.
Next I hired a researcher at the Hampshire Record Office who found that he was baptised at St Mary's Church, Eling, on October 15, 1815, the son of William Oliver and Elizabeth Peckham.
And, by digging further, she also discovered that his parents were married in the same church five months later. Interesting.
So, here I was, several years later, walking up to the church where my great-great-grandfather was christened and looking across the fields to the adjacent village of Hounsdown, where I imagine he was born in a farm cottage.
It was perfect. If I'd been able to choose somewhere as a sort of ancestral home, this is just what I'd have opted for.
St Mary's is said to be one of the 10 oldest churches in England, probably founded around 850, when King Aethelwulf, father of Alfred the Great, gave land for a burial ground and church.
It's a fascinating place, made even more fascinating for me by the presence of Geoff Smith, recently retired after 30 years as churchwarden, and Terry Henry, the sacristan, who were delighted to share their vast knowledge of this amazing old church.
Most of the present structure, Henry explained, is actually Norman, and the bell tower with its warlike battlements is Tudor.
But at the back of the church, tucked away in a corner, he pointed out what is thought to be one of the original Saxon consecration stones, discovered during recent renovations.
Behind the altar, Smith drew attention to one of the church's great treasures, a painting of the last supper by Marco Marziale, a pupil of Leonardo da Vinci, brought back from Italy by Lord Sandys, a friend of King Henry VIII, who gave him the local church land when he dissolved the monasteries.
On another wall is a memorial to the sinking of the Titanic in 1912, in which many local men lost their lives, a reminder of Eling's long maritime tradition.
After exploring the church and the cemetery, we wandered back across the toll bridge, dating at least to 1418, and thought to be the only surviving medieval toll bridge in England.
Next to it is the amazing Eling Tide Mill - a beacon of hope in a world which needs to become carbon neutral - still harnessing the power of the tide to grind wheat into flour as it has done for hundreds of years.
In 1980, when the mill reopened after extensive restoration, it was the only operating tide mill in the world, and may still be the only one still performing its original function of grinding flour.
I thought possibly my ancestor might have learned his trade as a cooper at the mill or, better still, at a local brewery.
Unfortunately, the last brewery in the area closed a few years ago, though there are a couple of pubs that would have been around when William Oliver lived here.
But there was no time to explore them because I had to start on the next stage of my family pilgrimage, his journey to Portsmouth, to join the Navy and see the world.
CHECKLIST
Getting there: Emirates has three flights a day from Auckland and one from Christchurch to Dubai, and flies from Dubai to several British airports, including Gatwick in the south of England.
What to do: Visit The Eling Tide Mill and St Mary's church.
Further information: See visitbritain.com.
Jim Eagles visited Eling as guest of Visit Britain and Emirates.