Indian Ink Theatre's Jacob Rajan returns to Southern India and is thrilled by his company's historic first.
If ever you're in Thrissur, Kerala, and hungry, flag down a rickshaw and ask the driver to take you to the Bharat Hotel. It's not actually a hotel, that's just what they call restaurants in Southern India, possibly because when you find a good one, you practically live there.
And the Bharat is a good one. We went there breakfast, lunch and dinner for a week.
We went there so often that when we didn't go there our waiter, Mani, would ask us, with concern: "Where were you last night?"
To my shame, Mani's English was much better than my Malayalam, the language of Kerala, my ancestral home.
I was raised in New Zealand. In 44 years here my mother-tongue has withered away and my vowels flattened as much as the next Kiwi guy's.
But I'm proud to say that this visit to India resulted - unbeknownst to me at the time - in a world first. I was to become the first Indian theatre-maker, born outside of India, to perform his work on Indian soil.
On Tuesday, March 18, 2014, Indian Ink Theatre Company made history.
In sweltering 32C heat (possibly more under theatre lights), in the 600-seat, Kerala Sangeetha Nataka Academy Theatre in Thrissur we performed our play, Guru of Chai, to a delighted audience seeing, for the first time, a prodigal son telling them a story. We, in turn, were delighted (and a little bewildered) by them.
When a cellphone goes off in a theatre in New Zealand, you'll see some hapless individual apologetically flapping to turn the offending device off. In India, they answer the thing. They take photos. They walk in and out. They talk. But, at the end, they did something extraordinary.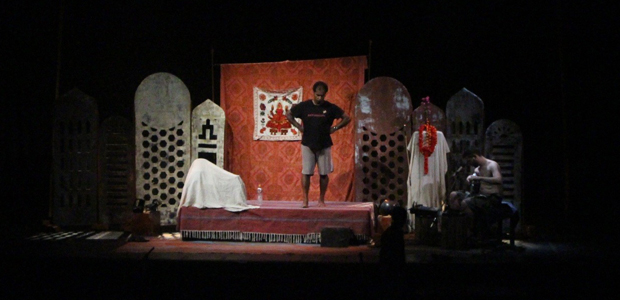 Indian Ink prepares to perform 'Guru of Chai' at the Kerala Sangeetha Nataka Academy Theatre in Thrissur.
David Ward, our composer, had written a song using an Indian raga and suddenly the audience recognised the rhythm and started swaying in their seats and clapping along. They erupted in the curtain call. We were all draped with ceremonial shawls and blessed by a silver-haired dignitary. It was strange, but wonderful.
Sitting in the audience that night was Professor CS Biju, director of the Centre for Performance Research and Cultural Studies in South Asia, and it is to him we owe the knowledge of the significance of that performance. We met this lovely man, in typical Indian fashion, as we were leaving Thrissur in a taxi bound for the airport. Literally, we met him in the taxi.
He had wanted to meet us after the show but had to dash away and the only other opportunity was as we were pulling away in our cab. So the enterprising gentleman jumped in.
In the hour it took to reach the airport our learned professor introduced himself and his life's work: the study of theatre from the Indian diaspora. Lovely word, diaspora. I wasn't familiar with it until quite recently - a scattered population with a common homeland. Think dandelion.