There's much more to do in Macau than gamble, writes Brendan Manning.
I went to Macau and didn't gamble. Surprisingly enough, for a country famed as Asia's mini-Vegas, I didn't contribute a cent to the casino's coffers.
The former Portuguese colony attracts millions of tourists annually from mainland China, where gambling is illegal. However, aside from a cursory glance, I didn't set foot into a casino. A little exploring in Macau will yield a far richer travelling experience.
A multitude of historic churches, sprawling back alleys and a range of Chinese and Portuguese cuisines can all be found on the dense 29sq km island.
Macau was administered by Portugal from the mid-16th century until the late 1990s, and the cultural influence is evident.
Street signs are displayed in traditional Chinese and Portuguese - the two official languages - and the cuisine has certainly benefited from the fusion of the two.
A trip to Coloane, one of Macau's two main islands and located directly south of the other main island Taipa, is recommended. This bastion of nature is stunning and a welcome reprieve from the constant expansion seen on Taipa.
Boasting clean beaches, hiking trails and even its own panda park, the island provides a scenically rewarding drive as the road snakes down to the endearing Coloane village. Once there, the village opens up into Eduardo Marques Square, where black, white and yellow pavestones are laid out in waves as if mimicking the sea.
The village is adorned with a peppering of colourful stores and temples, and is said to be home to the locally acclaimed Portuguese egg tart - small, flaky pastry shells filled with a sweetened, very eggy custard.
Coloane village is also home to one of Macau's best restaurants that specialises in Portuguese cuisine, Restaurante Espaco Lisboa. My dining experience there began with a warm welcome from the restaurant's charming owner, originally from Portugal, who boasted triumphantly that he did not speak Chinese before talking us through their range of signature dishes.
Bowls of fresh clams, flambeed Portuguese sausage and spicy Portuguese chicken with lashings of the house chilli sauce were washed down with bottles of the Portuguese Super Bock beer and Planalto Douro wine.
On exit, our charming restaurateur insisted we try a small glass of his Ginjinha - a Portuguese liqueur made by infusing ginja berries, similar to a sour cherry, with grappa, Grand Marnier, gin, sugar and cinnamon quills for 12 months.
Although our cup didn't taste as potent as one might expect, the year-long infusion process had harmonised the individual flavours and provided grins all round as we made our way back into the square.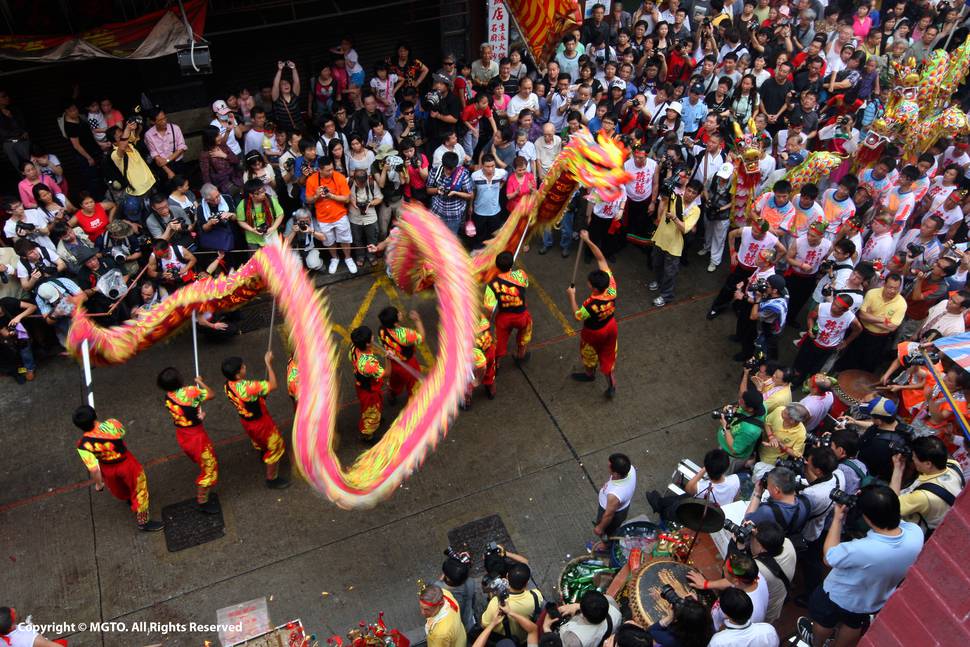 The drive back from Coloane to Taipa took us through Cotai (a portmanteau word of the main two islands' names) which sits on 5.2sq km of reclaimed land and is home to a mega-resort, City of Dreams.
The resort is the size of a small city and comprises three hotels, casinos and an entertainment venue that hosts the most extravagant show I could never have imagined existed. Called The House of Dancing Water, the performance takes place in a custom-made theatre centred around a pool the equivalent size of five Olympic swimming pools.
The plot revolves around a trapped princess who is rescued by a pirate with the help of his fisherman friend. However, the extravagance of the show is truly outstanding.
Between the numerous backflips and pirates perilously flying through the air, a life-size pirate ship emerges out of the depths of the water seemingly out of nowhere, and the stage is constantly transformed from wet to dry through a series of robotic platforms.
Just when I thought I'd seen it all, a set of ramps was wheeled out and a team of motocross riders took to the stage, flipping and flying through the air before landing on an obviously still very wet stage.
Their relevance to the plot was questionable, but the theatrics were certainly appreciated.
Macau is a curious place, constantly expanding beyond its means but never letting its physical constraints get in the way of development.
On a tour one day, when I was perplexed by a verdant range of hills with one seemingly missing its top half, I was dutifully told the earth taken from the top of the hill had been used for reclamation to create more land to build on.
Well, they're certainly ambitious.
CHECKLIST
Getting there: Air New Zealand, in conjunction with partner Cathay Pacific, operates a twice-daily service from Auckland to Hong Kong.
Brendan Manning travelled as a guest of Air New Zealand and Macau Government Tourism Office.