For some reason, whenever I get the urge for a midwinter break, I set my sights way beyond Auckland.
I suppose it's to be expected, given I live here year-round. But there's much to explore within the confines of the Super City, so when the opportunity arose to investigate a new day spa at the Castaways resort in Waiuku, I didn't think twice about changing the habit of a lifetime.
Rain clouds were threatening as Mum and I left central Auckland and headed southwest, but the brisk wind blowing in across the Tasman meant we were greeted with stunning views and blue sky as we crested the final hill leading to Castaways' prime spot, overlooking Karioitahi Beach.
We were staying in one of the lodge's 15 spacious, veranda-clad chalets. Thanks to some clever landscaping, each of the chalets is private but still has panoramic views of the beautiful black sand beachscape below. It would've been tempting to settle in on the couch with a hot toddy, but we had a spa appointment to get to.
Our haven for the afternoon, Bersantai Day Spa, is Castaways' latest addition — a labour of love for owners Raewyn and Gavin Shine.
"The restaurant was here when we arrived nine years ago," said Raewyn, "but that was it".
Well, that and the spectacularly rugged location. With chalets and studios — for up to 80 people — Castaways has adventure packages for everything from horse riding and blo-karting to clay target shooting. But we were taking the spa without earning the tired muscles after a hard day's adventuring.
Heading beyond its striking, shell-inlaid doors — made by Gavin — we were transported into an oasis of calm. The pre- and post-treatment area offered more of those awe-inspiring west coast views as we soaked our feet in warm, lavender-scented water.
I'd assumed the fact I was five months pregnant would rule out a massage, so had elected for a pedicure instead. I was delighted then, when head therapist Claire Russell contacted me a few days before our trip to inform me she could do pregnancy massage too. Just what the doctor ordered.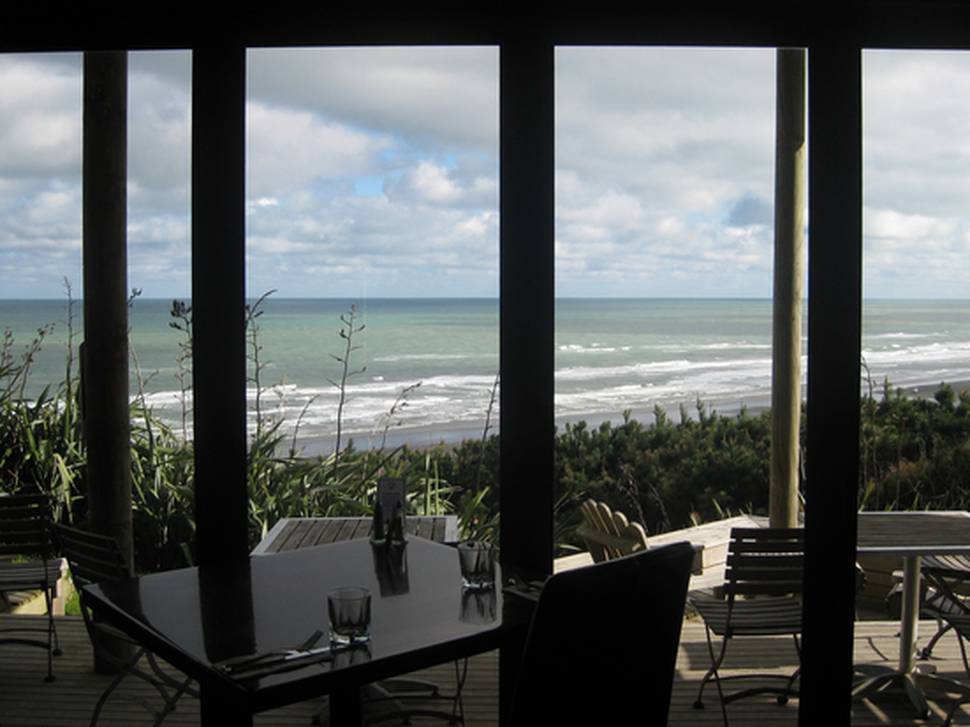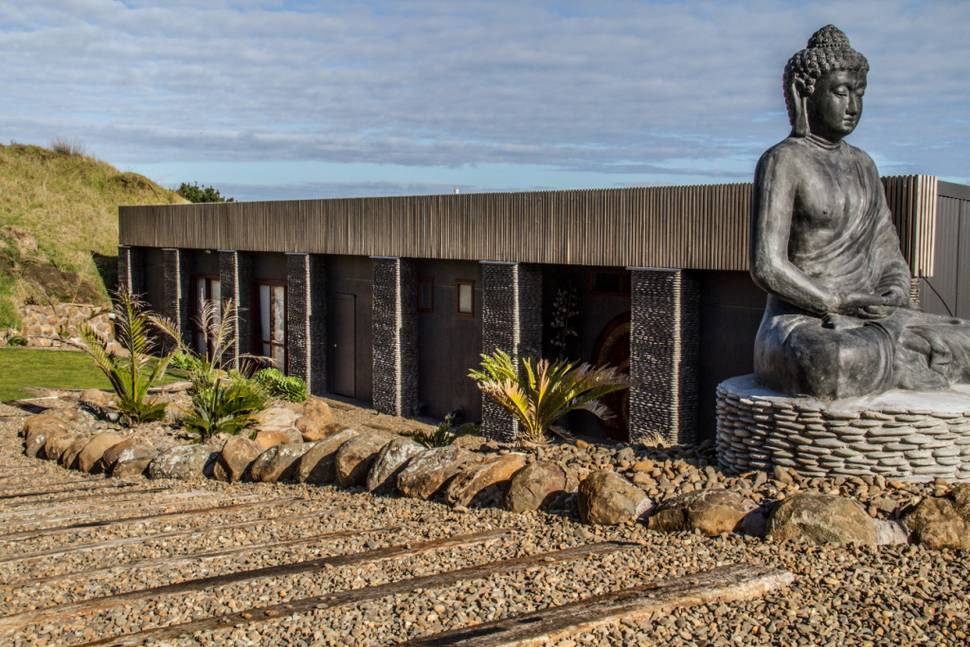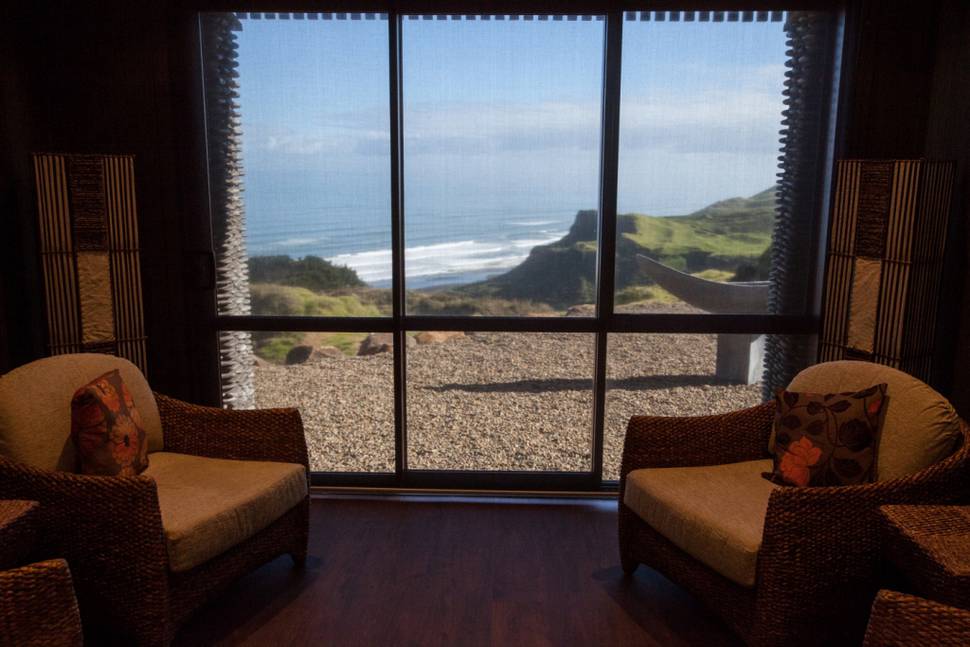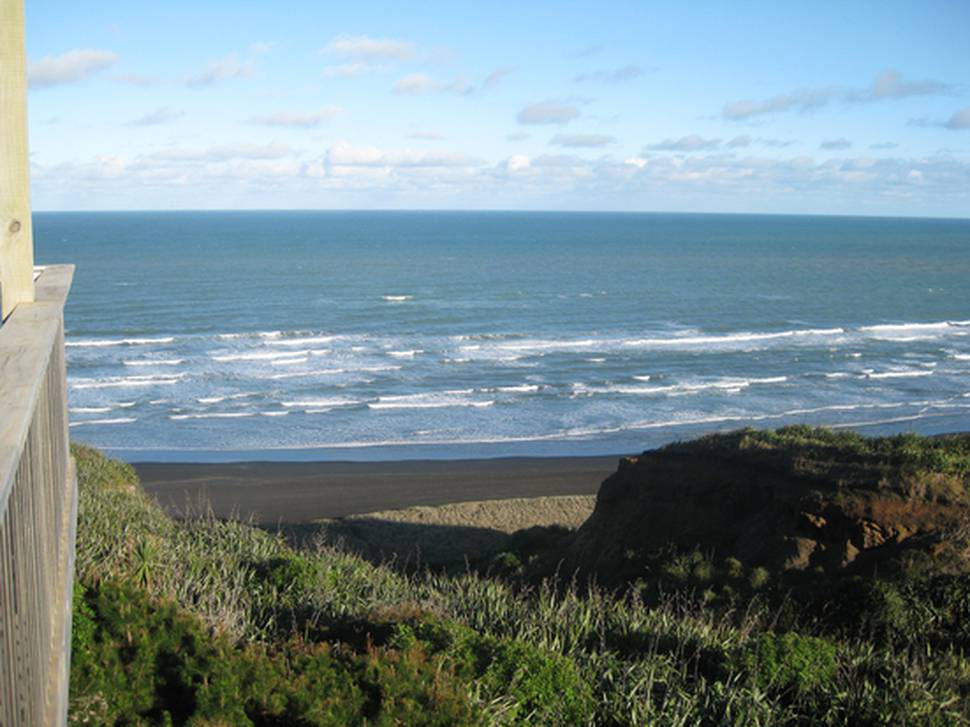 Muted brown tones and soft music made for an immediately soothing atmosphere as Mum and I were led to our respective pampering sessions. With extra propping with pillows to accommodate my burgeoning baby bump, I was close to falling asleep three times as Claire deftly kneaded away my aches and pains. By the time my hour was up, I'd completely forgotten the chill winter wind howling away outside.
Following a welcome and warming jasmine tea post-massage, Raewyn showed me around the rest of the spa's facilities.
It was one of the spa's works in progress that really grabbed my attention though: on a bank behind the main building, four large stone bathtubs have been installed. Next time I come, I'll be soaking in the hot water with a glass of bubbles and taking in the sea views before enjoying my treatment.
Feeling sufficiently relaxed and a million miles away from our usual Auckland lives, Mum and I headed back to our chalet to while away the rest of our leisurely afternoon.
Settling in with some cheese and crackers we watched the Tasman pounding relentlessly along the shoreline, the sun briefly turning the flax bushes that dot the hill silver as it dropped over the horizon.
As the last rays of light disappeared we agreed we'd have to come back and do it all again soon — only next time we'll watch the sunset from those enticing baths on the hill.
NEED TO KNOW
Bersantai Day Spa is at Castaways, 685 Karioitahi Road, Karioitahi Beach, Waiuku. Phone: 236 5041. Bookings essential.
The resort's Agavé Restaurant offers delicious hearty meals and is open daily from 9.30am until late.
ALSO IN THE AREA
Once you've had your cares massaged away at Bersantai, take your time getting back to the big smoke and check out some of these other local points of interest.
Waiuku Museum: 13 King Street, Waiuku. Adults $2, children 50c. Open 1.30-4pm on weekends or by arrangement. Phone 09 235 8698.
Hartmann House Handcrafts: 11 King St, Waiuku. Located on the Tamakae Reserve beside the Waiuku Estuary, this is one of the few remaining colonial cottages in the area and now houses a shop selling a wide variety of good quality and very competitively priced arts and crafts. Open daily — 10am to 4pm. Phone 09 235 8533.
The Kentish Hotel: 5 Queen St, Waiuku. Drop in for a drink at the establishment with the oldest continuous liquor licence in New Zealand — 159 years and counting. Open seven days from 10am until late. Phone 09 235 8367.
The Butcher's Shop Cafe: 4 Patumahoe Road, Patumahoe. Take a detour through Patumahoe on your way back to the motorway and grab a bite to eat at this charming wee eatery. Open from 6.30am on weekdays and from 8.30am on Saturdays. (Kitchen closes 2pm, cafe closes 3pm).
New To You Boutique: 5 Mauku Road, Patumahoe. Bag yourself a pre-loved bargain.
Patumahoe Wholesale Plants: 149 Patumahoe Road, Patumahoe. Bring something home for the garden. Phone 09 236 3277.
Eveline Harvey was a guest of Castaways and Bersantai Day Spa.