Rioting erupted on the Champs-Elysees as police fired tear gas and water cannons at thousands of demonstrators protesting against fuel tax increases and French President Emmanuel Macron's economic reforms.
The bottom of the Arc de Triomphe was obscured by clouds of tear gas while "yellow vest" demonstrators set fire to a trailer and barricades on Paris's most famous avenue. Demonstrators wielded placards reading "Death to Taxes" and upturned a large vehicle.
They chanted "Macron démission" (Macron resign) and some sang the U2 song Sunday Bloody Sunday, about the shooting of protesters in Northern Ireland in 1972. By nightfall the Champs-Elysees was smoldering and in the Place de la Madeleine, burned scooters lay on the sidewalk like blackened shells.
Macron tweeted: "Shame on those who attacked (police). Shame on those who were violent against other citizens ... No place for this violence in the Republic."
Macron justifies the tax increases, which have caused diesel prices to rise by 23 per cent over the past 12 months, as an anti-pollution measure.
He has so far held strong and insisted the fuel tax rises are a necessary pain to reduce France's dependence on fossil fuels and fund renewable energy investments.
"It's going to trigger a civil war and me, like most other citizens, we're all ready," said Benjamin Vrignaud, a 21-year-old protester from Chartres. "They take everything from us. They steal everything from us," said 21-year-old Laura Cordonnier.
Christophe Castaner, the Interior Minister, accused Marine Le Pen, the far-right leader, of encouraging her supporters to clash with police.
"The ultra-right is mobilised and is building barricades on the Champs-Elysées," he said. Le Pen, who has backed the protests, said: "I never called for any violence whatsoever." Castaner blamed the clashes on a minority of "casseurs" (troublemakers) who hurled rocks and bottles at police while most of the protesters demonstrated peacefully.
The authorities said about 8000 people took to the streets of Paris, 5000 of whom gathered on the Champs-Elysées. Some 3000 police were deployed in Paris and thousands more outside the capital.
The "yellow vests" - so-called because they wear high-visibility jackets - are part of a grassroots movement that began as a fuel tax revolt but now encompasses broader grievances over the high cost of living. Only about a third of Parisians own cars, but the hikes have provoked fury in rural areas and smaller towns less well served by public transport.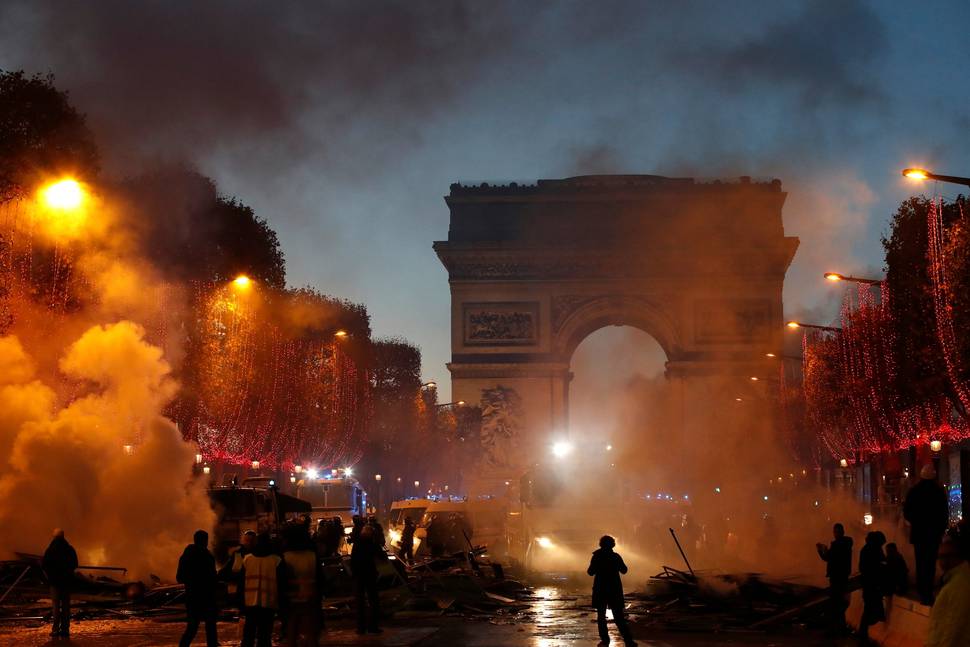 Across France, the demonstrations attracted less support than similar protests last weekend, when roads and motorways were blocked by more than a quarter of a million "yellow vests".
The Interior Ministry said more than 106,000 protesters took part in the demonstrations across France and 130 were arrested, including 42 in Paris. Twenty were injured, including four police officers. One protester received a serious hand injury. Several shops were vandalised during the protests on the famed boulevard. A journalist was reportedly assaulted by protesters in Saint-Etienne du Rouvray, northern France. Over the past week of protests, two people have been killed in accidents and more than 700 injured including 136 police officers.
The unrest represents a major challenge for the beleaguered centrist President, whose approval ratings have plummeted below 30 per cent. Opinion polls suggest that more than three-quarters of French people sympathise with the protests.
Patrick Perez, 42, a demonstrator from the south-west, said: "Macron has to understand that Paris is not France."
Sylvie Poireau, 46, from a small town outside Paris, said: "We're made to pay higher taxes while they've scrapped the wealth tax on the rich. My daughter's handicapped and I struggle at the end of every month to buy food."
Opposition parties are trying to tap into the discontent, but the "yellow vests" have no unified leadership or political orientation.
Jean-Luc Mélenchon, the far-left leader, said: "History shows that when taxes are not accepted, that starts revolutions in France."
- additional reporting AP