Head coach Stephen Kearney has defended the Warriors' culture after former halfback Shaun Johnson complained he was left out of the loop by management while raving about the inclusive leadership style at his new club Cronulla.
After gaining a release from the final year of his million dollar Warriors contract and joining the Sharks on a three-year deal, Johnson last week told Sydney media he had been kept in the dark regarding the playing roster at his former club.
The Kiwi international also spoke with excitement about the prospect of contributing to the Sharks collective leadership, after having been left out of the Warriors senior players group this season.
Speaking publicly today for the first time since Johnson's departure, Kearney was confident the vast majority of his squad felt comfortable with their level of input into team decisions and other matters that impact the wider club.
"Part of our review process at the end of the year, in which I and other senior management personnel sit down with the players and get feedback, 99.9 percent said that it was a very inclusive contract where every voice matters in the footy club," said Kearney.
"That's one person's perception I guess, but we're happy with our culture.
"We've taken some pretty significant changes over the course of the last 12-18 months in terms of our culture and that's part of it."
Johnson last week said he appreciated his new coach Shane Flanagan informing him about the contract status of Cronulla's players, when negotiations began for him to join the Sharks.
"You want to go somewhere and know what is going on with the squad and 'Flanno' was unreal in letting me know the exact status of every player," Johnson told the Daily Telegraph.
"I was a part of that discussion the first day I came over and that was really big for me.
"I hadn't had a conversation like that at the Warriors for the last few years. I'd been left out of those conversations.
"So to come here and be brought in and told 'you're going to be a in key position for us, you need to know what is going on around you', I was like 'ahh — thank you'."
The 162-game veteran was also enthusiastic about playing his part in helping to lead the Sharks, alongside co-captains Paul Gallen and Wade Graham, and the rest of his new teammates.
"I'm still in awe of the experience the Cronulla Sharks have within their playing group. I was thinking about the leadership group, and you're like, well who do you actually put in it? Johnson told the Daily Telegraph.
"You've got so many players that have played so many big games for their country, origins, grand finals, whatever it is, that it can be so important to a side.
"Talking to them over the last few days, everyone just contributes which is really exciting. I'll just be looking to do the same."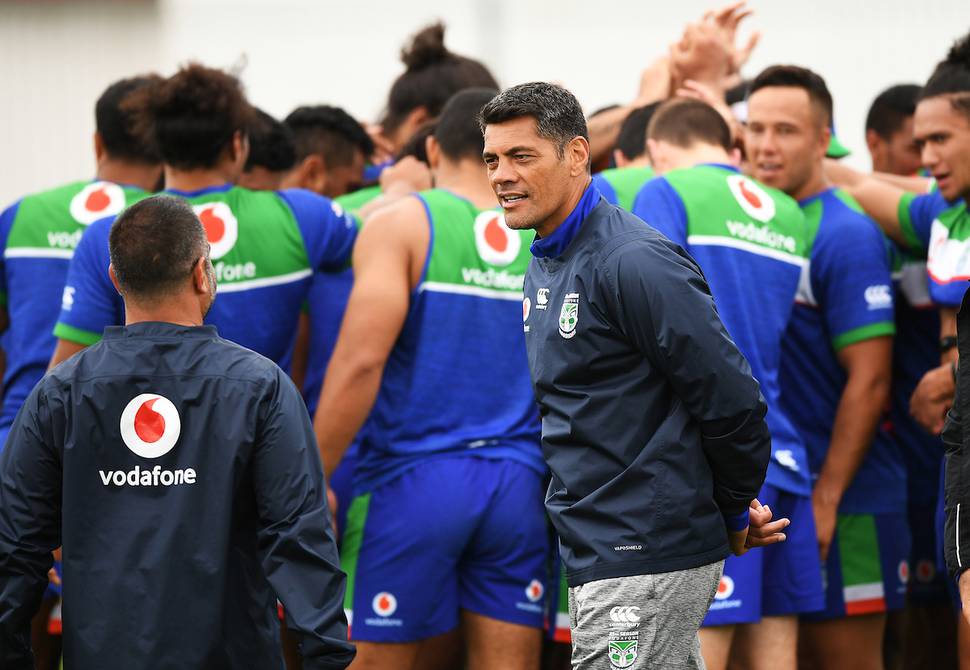 But while Johnson was not officially among Warriors captain Roger Tuivasa-Sheck's chief lieutenants, five-eighth Blake Green insists his good friend still had a major say in how the team played each week.
"Certainly. Particularly playing in the halves with me, we would come up with gameplans," said Green.
"We'd have conversations about how we wanted to play, how he wanted to receive the ball.
"I think as a spectator watching the game last year that you certainly saw that he was involved in how we were playing."
The 32-year-old playmaker was adamant Johnson's presence and voice was always highly valued and appreciated by his former teammates.
Green believed the decision to exclude him from the Warriors senior leadership group had merely relieved Johnson from any added burden and ultimately benefitted his play this season.
"Shaun was really well-liked by our whole footy club and by our team. He was really well respected and we enjoyed playing with him," he said.
"He certainly wasn't on the outer.
"If anything, I thought it allowed him to put all of his energy into his footy and just enjoy playing. He didn't have to worry about any extra responsibility.
"From my point of view I thought that he enjoyed it."
Green echoed Kearney's sentiments in paying tribute to Johnson's eight seasons at Mt Smart Stadium and the positive impact he has had on promoting rugby league in New Zealand.
"He's been a really big part of this club. He's obviously been a huge part in encouraging young kids in this country to put on a pair of footy boots.
"As a mate, I'm really proud of what he's done and the role he's played for our club and the game.
"People move clubs, that's what happens. I've moved them plenty of times. So I wish him all the best."
Despite their differences in opinion, Kearney too, remains open to clearing the air with Johnson at some point if the opportunity arises.
"We've been pretty busy here [training]," he said. "It may present itself."