Maybe the most fascinating element of the new waterfront stadium proposal is that it doesn't go quite far enough.
Okay, we finally have a realistic cost. I fell about laughing when previous iterations of the waterfront stadium came with only a $500m bill. That was about as likely as, gee, let me think… Jami-Lee Ross winning the Botany by-election or Sy-mon Brutches leading the National Party into the next general election, swept to power by a landslide vote from the Indian community and Maureen Pugh's extended whanau.
This time, $1.8 billion for a "sunken" stadium at Bledisloe Wharf seems a much more appropriate price tag though I still don't quite understand why it has to be sunken.
It is to be hoped we don't all drown when the bow wave breaks from one of those vast, horrible cruise ships which disgorge puzzled pensioners looking for plastic Maori dolls and wondering where the sheep shearing is held.
The consortium floating the idea maintain there will be no cost to ratepayers or taxpayers by selling off Eden Park and other parts of the wharf for housing. It has to be that way; global experience proves dedicated stadia don't make a buck.
Add in other attractions and it is often a different story. Like the Chase Centre, the new stadium being built for hot NBA basketball team, the Golden State Warriors, who are leaving Oakland for San Francisco's more gentrified surroundings across the bay.
I became interested in this project when covering the America's Cup there in 2013. The original site was a waterfront setting (actually the Emirates Team NZ base for that dramatic regatta) but was dropped after a political and community wrangle.
They settled on a site at Mission Bay (ironic, huh?), set back a bit but still within sight of the water. The new stadium is costing US$1 billion (about $1.5bn), paid for by the Warriors' billionaire owners. It is only an 18,000-seater, as opposed to the 50,000-65,000 seats mooted for Auckland in a potentially more difficult sunken engineering project.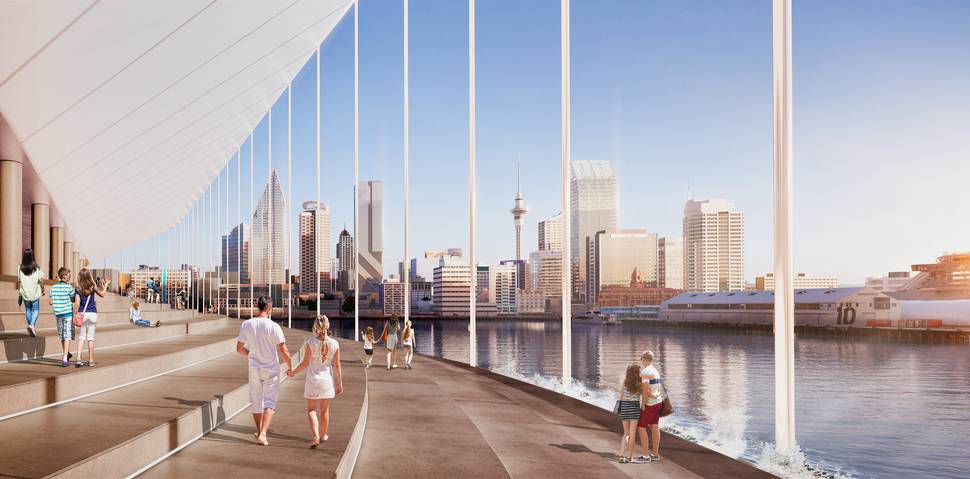 The Chase Centre is not just a stadium. It has 580,000 sq ft of office and laboratory space, 100,000 sq ft of retail space, and three acres of outdoor space, including a 35,000 sq ft public plaza. The money generated from that will be a huge part of the payback mechanism.
Yet if this proposal fails to get past the Eden Park Trust Board, iwi and any number of other potential roadblocks, this kind of revenue-generating, community-rewarding development could be the way to go rather than (or as well as) housing, particularly that likely to be too expensive for first home buyers.
Years ago I visited Stockholm and their kulturhuset (culture house), a dream community facility containing a library, a theatre, cinema, art gallery, exhibition halls and a whole floor given over to chess. What about something like that adjoining the stadium?
That's the loony thing about building an enclosed stadium on the waterfront. We should be looking out to sea. But in a stadium, we all look at each other. Once seated, we could be in Timbuktu. Far better to have an "always-on" development that embraces the seaside aspect and ensures life thrives there, independent of sports events and concerts.
It's impossible to estimate the return the Warriors will receive. However, the Brooklyn Nets' revenue climbed to US$190m from $84m when they built the Barclays Centre. The Sacramento Kings suddenly managed a large pre-tax profit after opening their similar arena.
The Warriors' stadium will host 200 non-NBA events a year apparently; it's hard to see 200 non-sport events in Auckland a year.
A report last month by Forbes estimated the Warriors will bring in an extra US$55m-$60m a year from naming rights, corporate suites and ticket sales (prices up from about US$500 per game to US$600). They also estimated about US$300m from Personal Seat Licences (PSLs), a one-off payment for season ticket holders, made to guarantee their ability to buy a season ticket, separate from the cost of the season ticket itself.
The average price of the PSLs will be about US$15,000. The Warriors are pledging to return the money to buyers after 30 years – so it is effectively a tax-free, interest-free loan by the fans. Interesting concept, even if it might be too pricey for little old Noo Zild.
But that revenue from offices, retail and laboratories will bring in a large slice of maintaining revenue – and that's where Auckland might be missing a trick, building a stadium used only sometimes.
However, we must ensure the public purse stays shut tight. San Francisco authorities decided to build a new Muni metro station to serve the new arena. The Warriors pledged US$19m towards the budgeted US$27m station and links in the agreement with the city.
But it has – surprise, surprise – run over budget and is now heading somewhere north of US$60m. Not our problem, say the Warriors.
So the taxpayers will pick up that little burden – and any agreement on an Auckland waterfront stadium should watch out for that stuff too.