Of all the notable aspects of this year's Warriors campaign, the almost 'instant' success of the Shaun Johnson-Blake Green partnership is one of the most striking.
Six months ago Johnson and Green had never played together, but they have quickly gelled into one of the most natural halves combinations in the NRL.
They are both fine players in isolation but, like bacon and eggs, or toast and hot soup, much better together.
It doesn't always happen that way.
Cooper Cronk took a while to fit in with the Roosters' style of play and there have been teething issues with the Broncos halves, but the Warriors pairing seem to complement each other perfectly.
They have had stellar seasons, with Johnson's game lifting significantly beside the steadying influence of the Australian, and both have provided plenty of match turning moments across the Warriors' impressive campaign.
"Things did click for us quite quickly," said Johnson. "Greenie is very experienced and part of my learning is being able to draw into that. We view the game and how it should be played pretty similar so that really helps.
"Pre-season was good for us as a combination but heading into the season there is always that uncertainty. But once you go through a few games together, and you know how everyone operates under pressure, when you are tired especially, you gain a lot of trust from that."
The attacking structure developed by assistant coach Andrew McFadden, which was different to previous years at Mt Smart, was key.
Instead of the halves playing either side of the ruck, or both having a roving comission, McFadden decided that Green would be stationed in the middle, with Johnson on the right edge and Roger Tuivasa-Sheck on the left.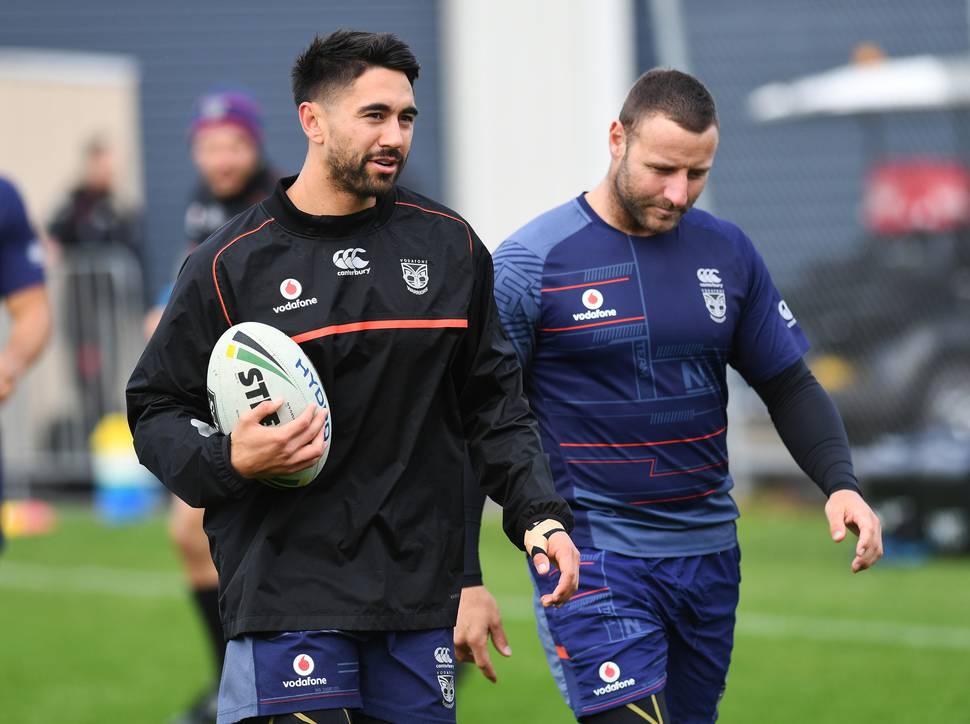 "Cappy (McFadden) came up with pretty good structure, which has worked well," said Johnson. "Blake is holding that middle, playing in, playing out, and I am injecting myself out the back. It's a natural structure, which works well. In the past we have played left, right, and the fullback swung. Now I'm right, Roger (Tuivasa-Sheck) is on the left, we have the ability to swing when we see that opportunity and Blake holds the middle."
McFadden, who played 100 NRL games in the halves for the Raiders, Eels and Storm in the late 1990s and early 2000s, aimed to develop a platform for both Johnson and Green to thrive.
"We wanted to get the best out of what they are both good at," said McFadden. "Blake's an organiser and really good at that. Shaun's an opportunist, a ball runner. So getting Shaun to focus just on the ball running, as opposed to having to manage the team was an important dynamic in getting the best out of him. Even Blake has a running game but his main job is to set up others.
"We have threats on both sides but they are not confined to either side; Blake is in the middle and that is the easiest place to control the game from, and Shaun and Roger have got their eyes up, looking for opportunities."
However, McFadden says the Warriors need to add some variation over the next three weeks, to finish the regular season strongly.
"We have a good base but we need to balance it out," said McFadden. "At times this year we have probably become a bit too structured ... we need to move away from that sometimes and be a bit more flexible.
"We need to find different ways to put pressure on the opposition and that will be with more of an ad lib, opportunistic style. There were glimpses against Newcastle and if we can find our momentum it will be pretty exciting."
Johnson, who is arguably still the best broken play runner in the sport, with Tuivasa-Sheck not far behind, agrees with McFadden's assessment.
"We know that instinctive footy is something that we can do well and it's hard to defend against," said Johnson. "We need to pick our moments, but it is certainly something that is important for us because everyone know your plays at this stage of the season." ​