Prospective Warriors buyer Richard Fale has met with the Auckland Rugby League in the hope of rekindling a partnership to take joint ownership of the NRL club.
Hawaiian politician Fale is the CEO of a Tongan-US consortium engaged in talks to buy the Warriors from current owner Eric Watson for a reported $24 million, but the Herald understands the ARL will enter their bid by the end of the week with a cash offer of $20m.
Earier today, Fale was confident talks had progressed to the point where he could return home to see family while his lawyers worked through details with Watson's representatives.
But late this evening he cancelled his seat on a midnight flight out of Auckland after deciding to stay on until at least Friday, as he continues to work through terms of sale and having reached out to the ARL.
Fale's group and the ARL previously discussed working together to form a joint proposal to purchase the Auckland franchise, before relations soured earlier this month, when Fale threatened the ARL with legal action after accusing them of stealing his group's ideas.
However, Fale has since had a change of heart and on Tuesday met with ARL general manager Greg Whaiapu, to discuss putting aside their differences and making a joint bid.
"He's a great guy," Fale said of Whaiapu.
"He understood everything that I was saying, believes that we're in the right place.
"He's not the one that makes that call [of entering a partnership], so it's all on [ARL chairman] Cameron McGregor's plate to make that decision.
"If Cameron could lay out a better [overall] plan we will jump on it immediately."
Fale believes his group's proposal would provide the Warriors with better commercial and economic opportunities than what the ARL could provide, however they would be caught short in the area of junior player development without the involvement of the ARL.
The ARL are confident their smaller offer will still hold significant weight, both with Watson and the NRL, due to straight-forward nature of their proposal and their established junior nursery and player development programmes.
McGregor insists he remains open to exploring the idea of a joint bid, but remains wary of Fale and the reasons for his change in attitude.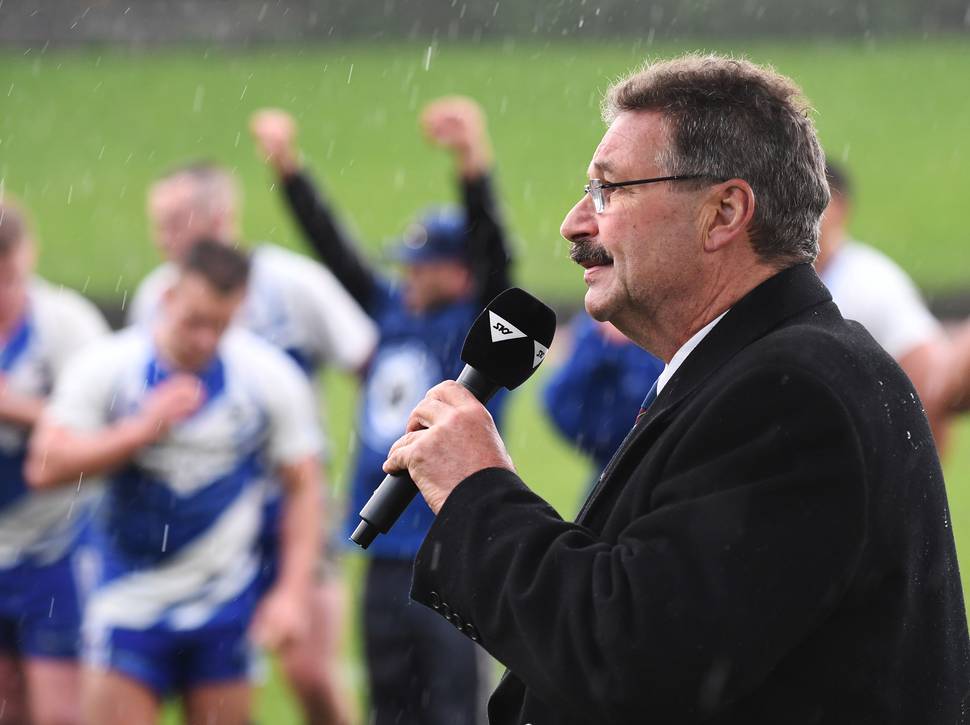 "We'll speak to anybody," McGregor said. "But what we can't understand is how one minute he's going to sue us and the next minute he's offering olive branches."
Both parties previously wanted a controlling share in any partnership deal, but Fale now says his group would accept a minority stake, while also offering to provide the ARL with the capital needed to run their junior programmes.
Interestingly, Fale's renewed warmth towards the ARL comes after he met secretly with NRL boss Todd Greenberg and NRL chief operating officer Nick Weeks in Auckland last Wednesday.
"They're Auckland Rugby League, they handle the grassroots in the city of Auckland, so it's a natural fit," Fale said.
"I don't know why they don't just partner with us. The commercial and economic opportunity and one of the biggest challenges and problems rugby league has in New Zealand is the financial part and we solve that for them and so it's purely an ego issue.
"We would make sure they are adequately resourced to do all of that stuff and we'd support them 110 per cent.
"But their lack of engagement in new media and having a strategy for what the Warriors are going to look like over the next five, 10, 15 years - they have zero plans for that.
"If they had all those things in place we'd say 'OK, we'll take the 49, you guys take the 51. You guys lead the way'."
Fale is due to return home to Hawaii on Friday, but will continue negotiations from afar and return to Auckland within the next fortnight in the hope of finalising a deal.
To get the day's top sports stories in your inbox, sign up to our newsletter here