Long days pay off with qualification for Karaka Million.
A Hamilton teenager believed to be the world's youngest registered horse trainer has had one of her horses qualify to compete in New Zealand's richest race meeting - the Karaka Million.
Bailey Rogerson, 16, grew up in the racing scene. She's the granddaughter of one of the country's most successful horse trainers, Graeme Rogerson, who has worked with more than 5000 winners, and is now forging a name of her own in the industry.
Her thoroughbred, Contessa Vanessa, will run in the New Zealand Bloodstock Karaka Million's 3-year-old Classic at 6.36pm tonight. That race, and the 2-year-old race which will run later at 7.51pm, boasts a $1 million purse.
"It's pretty amazing," Bailey said of the milestone.
"To have a genuine competitor in it is quite special. Hopefully all going well the best horse on the day wins and everybody gets their chance."
If Contessa Vanessa wins the race her teenage trainer will get a slice of the huge prize.
Bailey gained her registration on January 1. Most trainers have to be at least 18 years old before they can become registered. But because Bailey is in partnership with her grandfather and his wife Debbie, New Zealand Thoroughbred Racing (NZTR), which issues licences, made an exception for her.
She told the Weekend Herald being the world's youngest registered horse trainer was an "honour".
"I get a pretty big buzz hearing it."
Her peers were often surprised when Bailey told them what she did for a career, she said.
"It's not really your everyday average thing. I don't know whether half of them would actually believe it."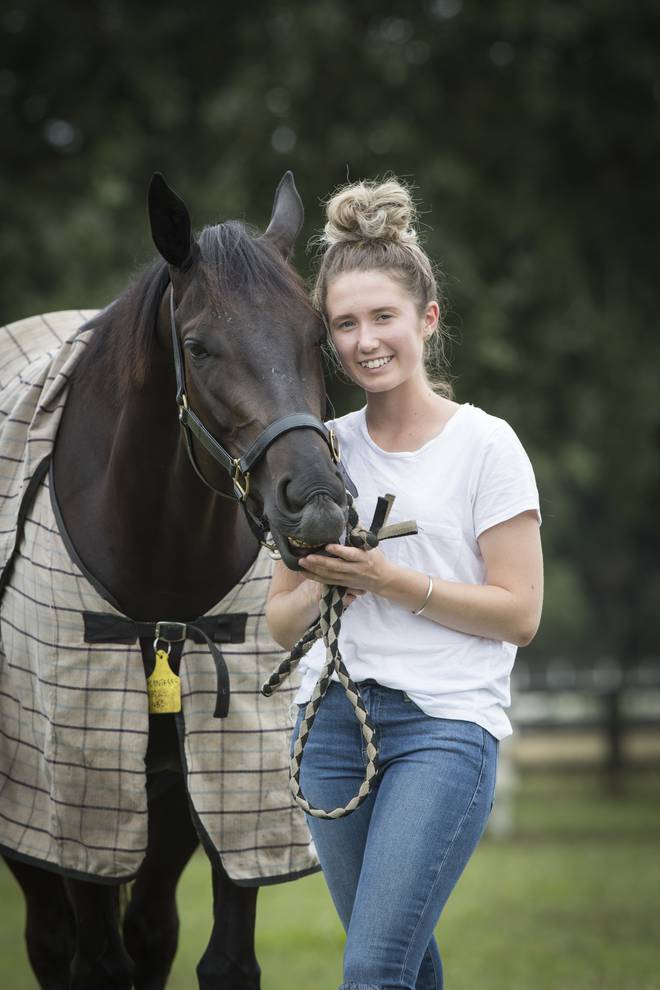 Training horses involves long hours. Bailey starts work at 4.15am six days a week on the property she lives at with her parents and grandparents.
First she rides the horses and feeds them. Then, about 10am, she takes a break for four hours. In the afternoon, she is back to work, giving the horses their various treatments.
"Every one is different. Some you may need to care for their feet and the next one may need care for their back, but not their feet - issues that need dealing with, injuries and things and prevention."
On Sundays, the horses don't "work", but still need to be fed and cared for.
Race meets - like today - are even longer. Bailey will get up early as usual to prepare the horses before hitting the road for Auckland. By the time she and her family return home and help the horses with post-race recovery, it could be as late as 11pm.
The teenager told the Weekend Herald her plans for the future included travelling and learning from other trainers.
"I can't really see myself doing anything else. I probably prefer animals more than people. I love working with [horses] and just getting to know them one-on-one. They have their individual needs and qualities. I think they're beautiful animals."
NZTR chief executive Bernard Saundry said of the 964 licensed thoroughbred trainers in New Zealand, Bailey was the only one under 18. It was also likely she was the youngest registered trainer in the world, NZTR said.
She was granted an exemption after the organisation's Integrity Committee carefully examined her application and was confident she met the criteria necessary to gain a licence, including being physically fit, financially sound, of good character and compotent to train horses.
"The partnership with Graeme and Debbie Rogerson was obviously a significant factor and we have attached specific conditions to her licence."
Although becoming the world's youngest registered trainer wasn't factored into the NZTR's decision to grant Bailey a licence, it showed the local racing industry had opportunities for talented young people, he said.