It was supposed to be a trip to New Zealand to celebrate his dad's 60th birthday, but Norwegian poker player Espen Myrmo had cause for a double toast tonight after winning the Waitangi Deepstack Championship main event at Sky City casino for $40,000.
Myrmo had a huge chip advantage when play was stopped last night with ten players remaining in the main event, then cleaned up the final table in under three hours today in a commanding performance of aggression and timing.
The 28-year old history student outlasted the field of 134 players who put up $1,100 each to enter the three-day tournament, generating a prizepool of $134,000.
It was Myrmo's first live win, though the former online professional has an impressive online-poker CV. In 2015 he won a SCOOP Main Event for $236,000 and came third in a Pot-Limit Omaha tournament for $78,000 on the same day.
The softly spoken Myrmo said he was only in New Zealand for a couple of weeks and the timing was perfect to enter the tournament in between visiting family.
Myrmo said there was one big hand late on day two that set the path for his win.
"There was a hand where I defended the big blind with 89 to a min raise from the button," Myrmo said. "The flop came down 6 7 T, so I flopped a straight and Jack (Efaraimo) had pocket Kings, so there wasn't much that either of us could do about it and he had a huge stack so I doubled up. That hand helped a lot to build some momentum and I didn't look back. Not many people wanted to play big pots against the chip leader from there."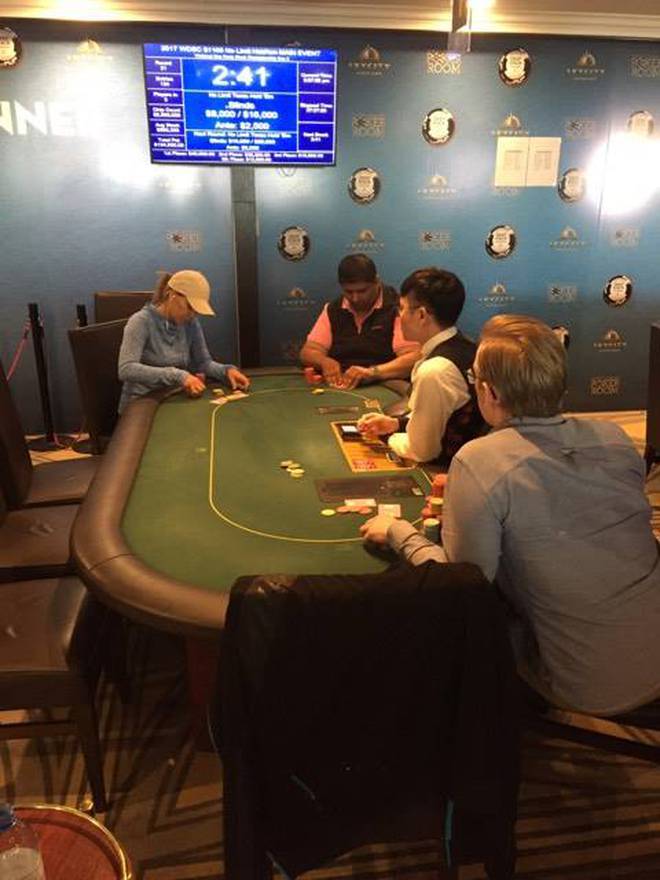 Myrmo thought the standard of New Zealand poker was good and was of a similar level to tournaments he had experienced around the world.
"In the early stages when the tournament is ten-handed I play a bit cautious and try to get a read on the other players and find out their weaknesses then later on I try to exploit those weaknesses. And of course when you have a big stack on the bubble you try to put the pressure on other players and make them play for their stack all the time."
The holidaying Norwegian had to overcome Auckland local Sarah Saifi heads-up, a quick learner who had been playing poker for three years and was playing her first Main Event. She took home $26,200.
"A lot of people think woman poker players are weak, and I let them think that. But we're not. I use that to my advantage," Saifi said. "I am so thrilled with how this tournament went."
Myrmo said he had a plan for Saifi heads up.
"I was trying to keep the aggression up but she was also playing aggressive and she wasn't afraid to put the money in," Myrmo said. "So I tried to limp in to see some flops sometimes and put the aggression on her at others. But she was very tough and in the end she pushed with a weak Ace, which was fine, and I had Ace Ten and it held up."
Myrmo shared a beer with his dad after his win, and talked about how he might spend his winnings.
"I still have a couple of weeks left in New Zealand so I will probable invest it back into the NZ economy."
Payouts:
Espen Myrmo: $40k
Sarah Saifi: $26,260
Rohin Rup: $25,800
Wally Lee: $12,660
Te Rangi Matenga: $10,180
Matthew Stark: $6,570
Jack Efaraimo: $5,360
John Parker $4,680
Te Ratana Mair $3,380
Dean Moore: $3,470
Jay Gilbert Walks - $2,670
Urupene Poona - $2,270