A new book by Eric Murray and Hamish Bond lifts the lid on a unique partnership that has built a legendary domination of world rowing. In this exclusive extract, written immediately after the Rio gold medal race, Murray opens up on the Olympics final and why their chalk and cheese relationship works.
There were just 10 days to go until the heats of the men's pair at the 2016 Olympic Games in Rio de Janeiro and I was sitting on the side of the road, a few kilometres from our training base in Lucerne, covered in blood, wondering what part of me was broken.
Earlier that day we had rowed one of the toughest training sessions of our life, racing the New Zealand double sculls crew of Robbie Manson and Chris Harris into a stiff headwind down the Lucerne course. It was our final session before heading to Brazil, and once we were off the water our boats were packed away, ready for shipping. Hamish and I had decided to keep our road bikes with us, although we were under strict instructions not to do any more training until we hit the Olympic course at Lagoa Rodrigo de Freitas in Rio.
So much for that idea. With our bodies stiff after the last session, we decided to loosen up with one last ride. We had two full days of travel ahead, during which there would be no time for any form of exercise. That would be, in Hamish's word, "sub-optimal". A casual pedal around the picturesque Swiss countryside couldn't do us any harm, surely. We both thought it was a way to stay ahead of our programme and the opposition.
It had been that sort of season for us, one in which we sought every possible advantage. Hamish had become obsessed with the set-up of the boat, making minute adjustments to the rigging in the search for every last scintilla of speed. Noel Donaldson and I would roll our eyes at every new measurement, but Hamish's theory was always the same: if it makes the boat feel better and makes it easier to work harder, then it couldn't hurt. We had to accept his rationale, and his hunches were invariably right.
It wasn't just the rigging of the boat that had concerned him, it was the boat itself. We had ordered a brand new shell from Empacher for the European season, but as soon as we had rowed our first session in it in Sursee, ahead of the Lucerne World Cup in May, we knew something wasn't quite right. Hamish had immediately felt his back tighten up, and every stroke seemed to require a massive effort. It wasn't that there was anything wrong with the boat, it just didn't feel like our boat.
We persisted for the rest of the week, trying to familiarise ourselves with the particular idiosyncrasies of the new shell, but we just couldn't seem to find a rhythm. Instead, Hamish's back became steadily worse, to the point where he didn't know whether he would be able to race in our first world cup of the season. He had already spent the first two months of the new season out of the boat with a back problem caused, in true Hamish fashion, by training the house down before Christmas. That had meant a slow return to training together in the pair. A part of us didn't mind the time to ourselves, but we knew we would have to catch up.
Unfortunately, once Hamish was fit to row and we had come back together, there had been no gradual easing back into work. We were told we would be racing the Cambridge Town Cup at Lake Karapiro in January, which doubled as a selection regatta for the national trials. There we would be up against the best of the lightweight pairs, which had been formed from the national lightweight four that had qualified for Rio and included Hamish's brother Alistair - and they were absolutely flying in training. We had already raced them over 500m pieces at Karapiro and they had smashed us.
We did not want to be at the regatta. Hamish risked re-injuring his back, and lurking in the recesses of our minds was our unbeaten record. How would we feel if we were dusted up by the lighties on home water? Not that what we thought mattered - we were doing the race.
Less than three weeks after getting back together for any kind of decent training, we lined up in the final of the Town Cup regatta and took the best part of 1600 metres to reel in James and Jamie.
Amazingly, given our lack of preparation, we posted a winning time of 6:16, which was almost as fast as we had ever gone at Karapiro.
From that point on we buried ourselves in training, not ever going back to the monotony of Dick's endless miles, but ensuring that every session had an intensity that tested us mentally as well as physically. By the time we left for Sursee in late April we knew we were on track. Until we got in our brand new boat.
After three days' training in our new shell and with Hamish's back becoming progressively worse, we had to make a decision. Hamish spoke to Noel and told him he felt he was only a 30 per cent chance of lining up in Lucerne. We racked our brains to think of a solution, and then it hit us: let's get the old boat and see how that goes. We called Empacher and asked them to deliver the boat we had used for the World Championships for the past three years, and by the next day it was ready for us at the team base. At least we thought it was.
It had the same lemon-yellow hull and was exactly the same dimensions, but both of us sensed something wasn't quite right.
We buried our doubts for the sake of getting out on the water, and within a couple of sessions Hamish was beginning to feel more like himself, and we were both feeling more comfortable on the oars. It was the rowing equivalent of taking your favourite golf club out of the bag - it seemed to respond when we needed it to, and flex to our particular rhythm. Forty-eight hours later we were on the start line in Lucerne and six minutes and 26 seconds after that we had won our heat. It wasn't pretty, but it was a start.
We were used to the first race of the European season being sloppy, so we weren't overly concerned. We just carried on with our normal preparation and vowed to be slow and steady out of the start, and to power through the middle as we always had. We duly won the final ahead of the Dutch and the British, but we still had some doubts about the boat. There was just something about it that made us think it may not be the boat we thought it was.
Seeking answers, we paid a quick visit to the Empacher team and after a few minutes the mystery was solved. We had not been delivered our World Championship-winning boat; we had been delivered one out of the very same mould that had previously been used by a Swiss crew. Our boat - the one we thought we had - had been given to the Czechs. They had even rowed it in the final Olympic qualifying regatta. And they had qualified.
Much to the Czechs' disappointment, we took it back off them for the rest of our time in Europe. Meanwhile, we had the former Swiss boat packed up and ready to deliver to Rio. That would be the boat we would row at the Olympic Games. We now had Old Faithful for the final World Cup in Poland and, I guess, New Faithful for the Olympics. The freshly minted shell we had originally ordered - sporting a silver fern that had been printed on specially for us - was put back on the rack. Hopefully it found a good home.
With the first world cup done, we headed to Italy for another block of training. It would prove to be the toughest 10 days of the year. We rowed good solid pieces for the first few days, followed by an atrocious session that left us wondering what had happened. That's why rowing is a sport of suffering. No matter how many kilometres or years you put into it, it always finds a way to kick your arse. Dan Plews, our physiologist, managed to calm us down by pointing out that our stress readings were the highest they had been all year.
We hadn't suddenly lost our form; we had just buried ourselves in training. A couple of days after that we found our pace again and headed to Poznan for the final world cup of the season.
The heat was the same old story - we were sloppy. We managed to win by a three-second margin, but we were sick of getting to regattas and then rowing badly. That night we had the longest debrief we had ever had as a pair. We had never debriefed with Dick, and hardly with Noel either, but we needed answers and we resolved to stay in the room till we found them. Hamish wanted to discuss how the boat was feeling, but eventually we settled on a much simpler solution - we just needed to get out on the water and be mongrels.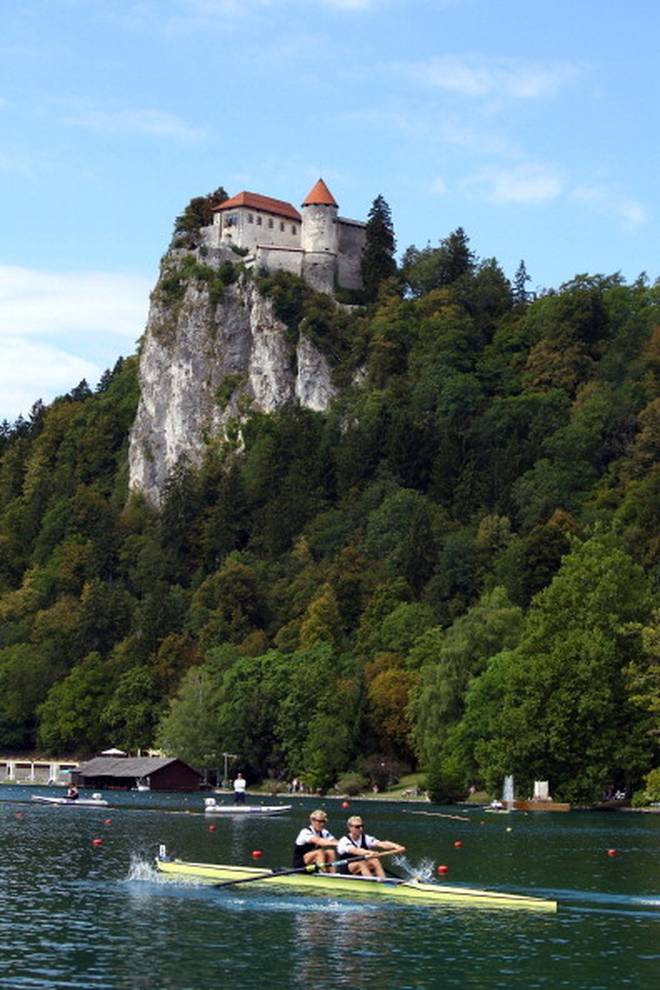 We knew our first 500 wasn't the best part of our race, so we looked at the GPS, saw that by the 200m mark we were settling into race rhythm, and decided we would get there faster, and hold it for longer. And while we were at it, we would absolutely destroy the morale of every other crew. In the semi-final we did exactly that, winning in a time of 6:16:800, seven-tenths of a second off our best-ever world cup time. We had figured out what had been missing: we had forgotten our killer instinct.
The final was as routine as we could make it, stretching out over the field and gaining clear water to watch the battle between the two British crews behind us. It was a win and it was one step closer to the Olympic regatta, with one last block of training to complete in Sursee, and one last bike ride around the Swiss countryside ...
'What the hell did you do?' Hamish asked me as he sat on his bike saddle and looked at me trying to figure out how many parts of my body were bleeding and which of them might be broken. I didn't know. All I could think about was the fact that I was 10 days from the Olympics and I had stacked myself in a heap on a Swiss road. It turned out I had simply hit the kerb, thinking it was a ramp on to the bike path. We took a few minutes to take stock of the damage, both of us fearing that I may have sustained a serious injury. Once we realised I was probably okay, we pedalled back to base and breathed a combined sigh of relief.
I was certainly sore. My hands and knuckles had been badly scraped, my chest ached, and my right shoulder, which had borne the brunt of the impact, felt as if it had been punched by a heavyweight contender. All we could think about was how much worse things could have been - a broken hand, a dislocated shoulder or a popped rib would have rendered the past four years completely wasted. As it was, I had simply lost a bit of skin and dented my pride. All things considered, I was happy to take that.
We flew out to Rio the following afternoon. "One more regatta to go" became our mantra. Hamish was quiet and nervous, but I knew he felt good in the boat, and when he was like that it gave me a lot of confidence. I watched him filling out his Brazilian arrival card and in the "purpose of visit" section he ticked the box next to "Business".
I loved that. It encapsulated everything we were there for; we were there to win.
Neither of us had ever been to Rio before, but landing at the airport and seeing the Olympic signage everywhere gave us an immediate sense of familiarity. The first thing I did was snap a selfie with Usain Bolt, at which point Hamish just shook his head at me.
But to me that was a cue that we were at the Games and this daily, grinding, endless campaign was reaching its denouement. We were at the biggest show on earth and it was time to go to work, to make sure we finished what we had started when we had committed to another Olympic cycle after London.
The next day we took the team bus to the Lagoa and saw the course for the first time. It was an incredible setting. To the east lay the oceanside neighbourhoods of Copacabana, Ipanema and Leblon, their famous promenades along the bleach-white beaches thronged with tourists and Cariocas alike, the small corner restaurants, known as botecos, heaving with drinkers and diners at all hours of the day. Above the start line, in the northwest, the sheer cliffs of the Corcovado rose 700m above the leafy streets and apartment towers, on top of which Rio's most famous landmark, Christ the Redeemer, surveyed the city and harbour below.
We had been given the opportunity to visit the course and the city at the conclusion of the World Championships in 2015, but we had turned it down. We had asked Noel Donaldson if the course was 2000m long. He had said it was. We decided that that was all we needed to know. I had wanted to get home to Jackie and Zach, and Hamish and Lizzie had an overdue honeymoon to take.
We understood it was a venue that could throw up some tricky and changeable conditions, but that was nothing new to us. Having each spent more than a decade rowing on Lake Karapiro, we were fairly confident we had experienced the worst conditions in rowing. We would soon learn that this wasn't the case.
We didn't even row on the first day of training. We spent the morning rigging the boat to the precise measurements we had taken in Europe, and by the time we finally picked up the shell to put it in the water, the course was closed. Undeterred, we headed out first thing the next day and immediately felt fast. The big kilometres had been done, the boat was dialled in and all that was left to do was put it all together. We trained on the water for the rest of the week, and during our last 1000m time trial, two days before the heats, we flew down the lake at a pace that would have eclipsed our own world best time. That was all I needed to know.
If there is one key difference between Hamish and me, it lies in our perception of situations. I was supremely confident that we could reproduce our speed on demand. Hamish, on the other hand, was not so optimistic. Of course he knew we were fast, but he remained on edge about the heats and about the regatta. It is just how he is put together - he is hard-wired for contingency. In the same way he insisted on making small adjustments to the rigging, he was always thinking about every possible thing that could go wrong.
After so long together, and with the end in sight, I realised that I had never given him enough credit for just how hard he thought about everything we did, and just how singular and all-consuming his will to win was.
On August 6, the first day of competition, we arrived at the Lagoa in time to see the start of Mahe Drysdale's single sculls heat. The surface of the course was glass, the early morning sun illuminating the cliff face of the Corcovado. We watched Mahe get under way and then headed straight to the team tent to go through our own preparations. By the time we emerged, less than an hour later, a vicious wind had whipped the surface of the lake into a frenzy of white caps.
We put the boat in the water and rowed out for the warm-up. Ten minutes into it, Hamish turned to me and said, 'There's no way we can race in this.' Yet as he spoke, we watched the Australian single sculler Kim Brennan heading down the course in her heat, her boat filled with water. If the organisers were still sending off the women's singles, there was no way they were going to call us back.
All we could do was warm up as normally as possible, while trying not to sink, and get to the start. We had never raced in anything like it. In fact, the only time we trained in anything close to it was when we were hightailing it back to the pontoon at Karapiro when a storm had blown in. It was an unbelievable scene, made even more so when the Serbian crew of Milos Vasic and Nenad Bedik capsized during the third 500m of our heat. The middle part of the course was the most treacherous, and also where we would usually drop the hammer.
All we could do was keep the strokes long and smooth and trust we had more speed and ability than anyone else.
We safely navigated the course and won the heat, but it was a strange feeling to have been more technically than physically challenged.
Hamish described the race to me as like walking down a flight of stairs and suddenly finding one of the steps missing. Anything could have happened - we were just glad it happened to the Serbs and not us. We were disappointed it had to happen to anyone. All the rowers were thinking the same thing: how can you turn the pinnacle event of our sport into a storm-tossed lottery?
The next day officials decided to postpone the regatta for the entire day, a decision that was made early and far too prematurely in our opinion, notwithstanding the fact that our men's lightweight four had ventured onto the Lagoa for a training run and had promptly sunk. It was a sign of things to come as FISA and the Olympic broadcasters spent the week weighing up the best interests of the rowers against the best interests of the God of Television.
Television was always going to win that battle.
The impact on us was negligible - we had made it safely through to the semi-final and knew we could deal with any unforeseen delays.
We spent the time working on the boat, training when we could, and resting at the team day-house, which was nestled under the outstretched hands of Christ the Redeemer, just five minutes from the boat park.
On August 9, with conditions vastly improved, we lined up in the semi-final. After our victory in the heats, we reminded ourselves of the attitude we had taken into the semi-final at Poznan. The heat had been about getting down the course safely, but now it was time to stamp our authority on the regatta. We had drawn the British and South Africans, the capsizing Serbs, who had come through the repechage, and the Hungarians and Czechs. We knew the Brits and South Africans would go out fast, so we followed them, hunted them, and pulled away before the first mark, setting up a lead that we would keep all the way.
We were satisfied but far from happy. We had massive expectations of ourselves. Expectations that we had fostered since our first victory together in 2009. With expectation came standards and we knew we could do better. We also didn't want to take anything for granted. Not long after our race, the women's and men's double sculls were knocked out of the medal races, both finishing fourth in their semi-finals. We watched on numbly as their Olympic dreams were shattered. It brought back memories of 2008 and our own Olympic nightmare in the four. We never wanted to feel like that again, and so far we hadn't, but the reminder of that agony was right there in the tears of our team-mates. It reinforced the cut-throat nature of semi-final racing at the Olympic Games.
There is very little you can say to someone in that situation.
Rather than offering words that would go unheard and hugs that would remain unfelt, we simply redoubled our determination and prepared for our final. We were motivated for that race by the expectation of success and the fear of losing.
Two days later, on August 11, 2016, Hamish and I won our second Olympic gold medal in the Rio sunshine. It was the third-slowest time of our pairs career (six minutes and 59 seconds). It was also our 69th consecutive victory in the pair. We had claimed six world championships and set the world best time in the coxless pair, and we had claimed a world championship title and set the world best time in the coxed pair. We rowed to the pontoon, climbed out of the boat and embraced. Hamish called it our "quadrennial man-love moment".
In our post-race interview we were asked about the impact of our first coaches, Charles Haggie at Mercer for me, and Peter Foster and the legendary Fred Strachan at Otago Boys' for Hamish. Right at that moment, I think we both thought about our 15-year-old selves. It is a bloody long time to have been rowing boats. And it has all been worth it.
It was a different feeling to winning at London. Yes, we were proud as Punch, but we were more relieved than anything else. We had come to Brazil for business and the job was done. Later that evening we sat at the New Zealand Club, looking back over the beach of Ipanema. We were asked what we thought of each other, and the truth is what we feel is enormous mutual respect. Australian triple Olympic gold medallist Drew Ginn said after the race that most crews have a commonality, but that the Kiwi Pair's strength lies in the differences between the two men. He may be right.
Hamish used to joke that I was able to pull big numbers in training because I was "no brain, no pain", but as we sat around the table sharing a beer or two, he talked about my self-belief, which can counteract his doubts, and my ability to dig deep, even when swimming in lactate [high intensity training]. I know there have been times when my life and his goals haven't aligned, but our two different lives have had to work together. I had to have in mind that Hamish was going to allow only so much. I had to give a little bit and he had to give a little bit.
Somewhere in the middle the magic happened.
We sat at that table long into the night, and I saw the stress and the strain start to leave his face. I have never met a man more committed, more determined or more singularly focused on a goal. For the past eight years every decision Hamish has made has prioritised rowing. There was not a day when I didn't think to myself that he could probably do all of this with someone else in the boat.
I'm glad he didn't exercise that option.
We spoke about that, too. He said that the one thing he knew was that no matter how hard he went, I would be able to follow, and we both knew that there was never a time when I would let him down in that boat.
That was quite enough mutual respect for one night, for what we always knew didn't need discussing. We were two very distinct personalities and we found the finest of intersecting lines upon which those personalities could bleed into one. It was on that line that we rowed a boat into history.
On that line we became the Kiwi Pair.
Extract reproduced with permission from The Kiwi Pair by Hamish Bond and Eric Murray. Published by Penguin NZ. RRP $40. Available nationwide.