Michael Burgess, David Skipwith and Dale Budge review the Warriors' season to date and predict what will happen from here.
1) How would you rate the Warriors' season so far (in terms of the expectations you had at the start of the season)?
Michael Burgess:
A pass mark
but not too much more than that. The team has done well to get themselves back into playoff contention, after looking almost dead and buried at the beginning of June. The recent revivial has been timely but has also underlined how inconsistent the Warriors were in the first three months of the season. They dropped too many games they should have won (Penrith in Christchurch, Canberra in Taranaki, Tigers in round one and Manly at Mt Smart) and those defeats may yet prove costly in September. But they also deserve credit for turning the situation around, in a scenario that Warriors teams in past years haven't managed.
David Skipwith: Six out of 10. A disappointing start to their campaign was at odds with the tremendous hype that had long-suffering fans so excited over the summer months. Despite the great expectations, it was always going to take time for hooker Issac Luke to find his feet alongside halves Shaun Johnson and Thomas Leuluai, who were both returning from season-ending leg injuries.
They were dealt a cruel blow when Roger Tuivasa-Sheck's year ended prematurely with his own ACL injury, just as he was warming into the fullback role, but have managed to overcome his absence through their traditional mid-season run.
Those factors considered, they are sitting roughly where they should be at this stage of the season, but the true gauge was always going to be how they fared through the closing two months of the competition.
Dale Budge: Probably failed to live up to expectations at the start of the season but have dug themselves out of a very big hole over the past six weeks. I had them in the back end of the playoffs but didn't see them as title contenders at the start of the season and it appears they'll go close at getting there if they close the season out in the manner they've played in recent times. I've been impressed by McFadden drawing a line in the sand and demanding players follow. There was serious scope for it all to fall over and turn into a train wreck after the loss to the Raiders in New Plymouth but they showed some character to turn it around.
2) Who has been the best player and who has disappointed?
Michael Burgess:
No one individual stands out at this point but
David Fusitua, Blake Ayshford, Simon Mannering and Albert Vete
have all impressed for different reasons. Fusitua has been brilliant at either winger or fullback, delivering on all the potential he has shown over the last two seasons and possessing an added physical edge to his game. Ayshford has been one of the value buys across the NRL - considering the expectations when he was signed - and should show more attacking spark in the final third of the season. Mannering, with the burden of captaincy lifted has been a powerhouse and Vete has built well on his rookie season.
It's not as easy to isolate who has been poor - the Warriors have tended to suffer from a team wide malaise when they have played badly - but at various times Shaun Johnson, Ben Matulino, Issac Luke and Ryan Hoffman haven't played up to their renowned abilities. However that quartet, to their credit, have been much better over the last five rounds. Among others, Jeff Robson couldn't replicate his Sharks form and Johnathan Wright hasn't justified his numerous opportunities.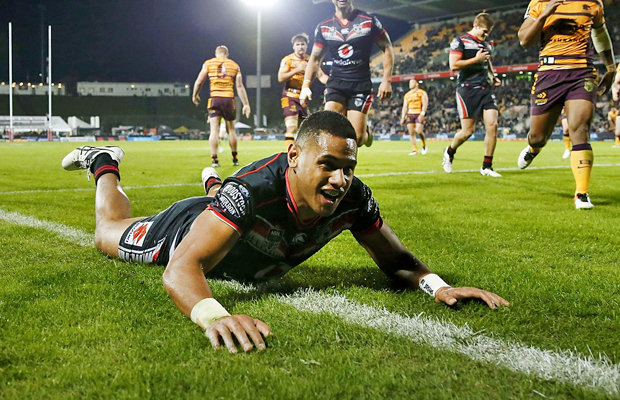 David Fusitu'a. Photo / Getty Images
David Skipwith: Versatile fullback David Fusitu'a has been a stand-out performer in a side that battled for consistency and cohesion throughout the first half of the year. The 21-year-old missed the first six rounds with an ankle injury that kept him out of the Auckland Nines, but has returned to find his best form since debuting in 2014 as the Warriors made their climb into the top eight.
He was a try-scoring force on the wing for the Warriors, snaring a double against the Broncos and four more the week after at Newcastle, before form saw him overtake Tui Lolohea in the pecking order for the No1 jersey.
An injury-affected off-season contributed to marquee signing Issac Luke starting the season overweight and several early off-key outings hampered the Warriors early on and cost him his Kiwis test jersey.
But like the team's form his individual game has improved out of sight as the year progressed and coincided with the team's rise up the premiership ladder.
The much maligned Jonathan Wright and off-season recruit Jeff Robson are easy targets, but both produced costly error-strewn performances that belied their years and experience in the game.
Wright has committed critical mistakes in important matches, which together with his limited attacking arsenal, have dwarfed any positive contribution he is able to offer.
Now at Parramatta, Robson struggled as a newcomer at Mt Smart Stadium, but was not afforded the same kind of leeway granted to the likes of Luke and Tuivasa-Sheck. The veteran playmaker had trouble developing a rapport with halves partner Johnson, who was also below his best throughout the first three months of the season.
Dale Budge: It is hard to go past Simon Mannering as the team's best player this year but we basically have come to expect that over the years. David Fusitua has established himself as the first choice player in the back three so I'd probably give him the nod. The big body at fullback just seems to work better than Tui Lolohea and he looks set to stay in the role for the rest of the season. I also want to mention Thomas Leuluai here too. He might not be the kind of half that could lead the Warriors to a title but unlike Shaun Johnson or Issac Luke - Leuluai can adapt and play solid footy behind a team that is struggling. He has been very important for the Warriors this season and it will be interesting to see how the club plans to replace him next year.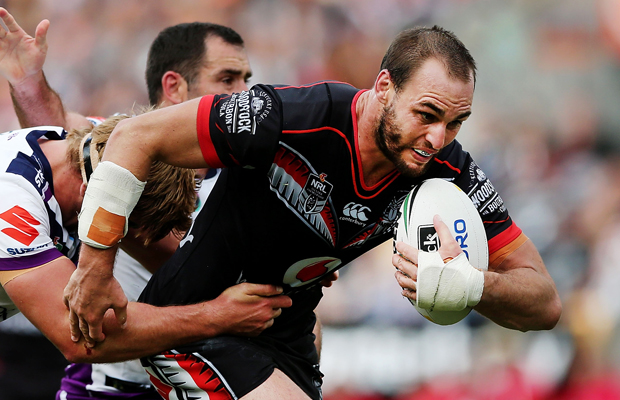 Simon Mannering. Photo / Getty Images
In terms of disappointments - Ben Matulino was struggling early on. At his best he is one of the best front rowers in the game but he didn't play like that early on. He has started to hit his straps of late and it is no coincidence that the side is playing well off the back of it. Much was made of Issac Luke turning up overweight and he played poorly in the first month but he's been very good since then.
3. Will they make the playoffs and what do they need to do to get there?
Michael Burgess:
Yes, but
they need to aim higher than that. Sure, it is imperative that the Warriors taste finals football after such a long drought. But the focus should be on a top six position - and a home final - instead of scraping into the final playoff spot. Finishing eighth means an away game against the fifth placed team, which will be a tall order.
In terms of making the playoffs, the home games against the Rabbitohs, Eels and Tigers are absolute non-negotiables and they should also back themselves to beat the Panthers in round 21 at Mt Smart, though it looks the toughest of their four games left on this side of the Tasman.
Aside from that, the Warriors will need to win at least one - and preferably two - of their remaining four matches in Australia against the Sea Eagles (in Perth), Raiders, Titans and Cowboys to finish comfortably inside the top eight.
David Skipwith: Yes, but they have some work to do. Returning from this week's bye they face a difficult test with back-to-back away games in Perth (against Manly) and Canberra but enjoy four home matches throughout the last six rounds.
The Cowboys in Townsville may prove a bridge too far but if they can claim at least one away victory against either the Titans or Sea Eagles, and manage to secure all four home results, they will be sitting pretty with 30 points.
Dale Budge:I think the Warriors will squeak into the playoffs but I don't see them going very far beyond that. Overall the club and fans expected a top six finish and for them to contend this season so most will be disappointed. If they do make the top eight I would argue they've done OK given the loss of their biggest off-season signing Roger Tuivasa-Sheck and the horrible situation they found themselves in after a couple of months of the season.