Boxing promoter Dean Lonergan has spoken for the first time since he labelled illegal streamers of the Joseph Parker vs Carlos Takam fight "complete lowlife s***heads" yesterday.
The bout between Parker and Takam on Saturday night was viewed over 100,000 times on Facebook as the fight was live-streamed on social media and re-broadcast unlawfully by filming Sky TV's $49.99 coverage of the match.
Lonergan was fuming yesterday, saying he would be looking to find those who illegally streamed the event and would be looking to bill them up to tens of thousands of dollars.
"If we can find who those people are we'll be looking to bill them, probably in the tens of thousands of dollars," Lonergan said yesterday.
"There will be two choices when we find out who they are, we'll send them an invoice for tens of thousands of dollars and they can pay that or they'll find themselves in court. It's theft and they're lowlifes."
Speaking this morning to Andrew Mulligan on the Crowd Goes Wild Breakfast, Lonergan said that the media had blown his comments out of proportion, but was still adamant in tracking down and charging illegal streamers of the fight.
"What's fascinating is that the media just seem to have a fascination with this [Lonergan's comments surrounding illegal streaming], the media have blown this to be something bigger than what it is," Lonergan said.
"At the end of the day, we'll be chasing the people who did the re-streaming, they're not hard to identify with screenshots of everyone who [did] it, and some of them might be liable of up to $1 million if they had 21,000 streamers.
"They're not the smartest people on the planet, it's a blatant breach of our copyright, we will be perusing it.
"
I challenge Mr Lonergan to try to sue me - like anything that goes before court, evidence must be obtained. It will be impossible to prove who has been streaming it.

SHARE THIS QUOTE:
"
"There's a wonderful thing called digital footprints and screenshots. It's not as if we can't find these people, and it's not as if we won't, and we're going to.
"They've stolen something, they're re-streaming it, they can pay the price and I'm looking forward to it."
James Bryant posted a stream of the event on Facebook and wasn't worried by the threats by Duco and Sky. He thought the pay-per-view price was "ridiculous".
"I challenge Mr Lonergan to try to sue me - like anything that goes before court, evidence must be obtained. It will be impossible to prove who has been streaming it."
Duco chief executive Martin Snedden's taking a more conciliatory approach to the controversy. Snedden said it's more about addressing the situation next time.
"We're going to have to find a bit about this," he told Radio Sport's Martin Devlin on the DRS.
"Dean and I are a little bit old and we don't come from the younger school that knows about this sort of stuff.
"We and Sky will start working on it and I think probably what we'll do is target the guys that were doing the large facilitation of the streaming. "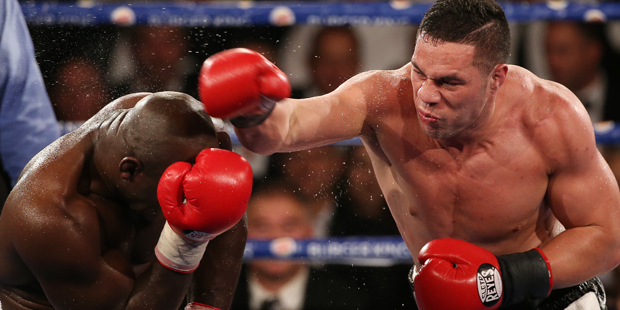 Photo / Photosport.co.nz
"In the end if you don't like it, don't buy it but that doesn't give you any excuse to steal it. And that's exactly what these people have done."
Internet piracy law expert Rick Shera said people who live-streamed were easy legal targets. "It's a pretty blatant, obvious copyright breach. The breach is in copying it from the TV screen and then as a separate breach in communicating it again."
Mr Shera said the losses suffered by the copyright holder would be the basis of any damages claim and this could be 100,000 times $49.99 - nearly $5 million.
But it was unclear what level of proof of loss was required.
"Had it not been for the infringement, would 100,000 people have paid $50 to view it? The answer is probably no. The court would hear evidence on what the likely viewership would there have been and how would that have played out."
Read more:
Parker set to fight Solomon Haumono - Report
London's calling Parker
The Big Read: Inside Joseph Parker v Carlos Takam - the ring masters
It is believed part of the reason that the match was watched illegally by so many viewers is that the fee of $49.99 that Sky TV was charging its viewers for the pay-per-view match was too much for many, meaning they reverted to illegal streaming of the bout, which was free of cost.
When questioned by Mulligan about why the fight cost $49.99 to view on Sky TV, Lonergan explained that customers needed to be charged that highly in order for Parker to be paid appropriately for his fights, or else he would have to host fights outside of New Zealand.
"When we put on a fight in New Zealand, it costs $2 million to make, e have to somehow make that money back, " Lonergan stated.
"Now we do that through sales of corporate sponsorship, and we have to sell pay-per-view, and if we sell it for any less, the chances are we aren't going to break even.
"So that's the business we're in. This is a market where the fight has the most value, but most interestingly, this is a market where the fight costs the most to put on.
"So surely as a business, we're entitled to at least get to break even and make some profit so we can continue to pay Joseph Parker in the manner that he should be paid, and we can keep him fighting here in New Zealand, because what will happen is if we can't monetize the deal, we'll have to go overseas and New Zealanders will miss out.
"You've got to pay, simple as that."
Sky - If you are not paying for something you are stealing it
Sky spokesperson Kirsty Way told Mulligan the company "takes piracy very seriously because it is theft".
"If you are not paying for something you are stealing it," she said.
"This is a high profile case but we are always looking for illegal streams and yes, we can track it down and we will track it down.
"I don't think it is a grey area...it is definitely wrong. If you don't like the price of something, you can't just take it for free."
"I don't know if a different price point would have made a difference."
Meanwhile, Way said Sky was still "hopeful" of getting rights to the English Premier League, which will no longer be carried by online provider Coliseum.
"The pricing was rich, very expensive, and very hard to justify and look at how we might even be close to breaking even," she said.
"There is still dialogue going on."
How people stream sport on Facebook
Advances in technology mean anyone can produce a live stream, and all they need is a smartphone with the Facebook app.
Savvy Kiwis have been using Facebook to live stream some of our top sporting events including the Parker fight to their Facebook friends who don't have Sky.
They put their phone on a tripod while they're watching the sporting event and film their TV screen. This video is broadcast live on Facebook, and anyone from around the world can hook into the stream.
During the stream fans can comment and interact while watching it, offering a whole new level of interactivity for fans watching live sport that has never been available before.
Certain Facebook groups and pages have gained a strong following because of these bootleg streams and many fans have started relying on their coverage to watch live sport. - Cameron Carpenter