Dateline, South Auckland, Saturday, sometime after 7pm.
A faint odour of hype and Heineken wafts through the halls of the arena.
The corporates are dining, the men togged up like Bond, the women like Bond-girls. The Mongrel Mob have even pulled out all stops for the occasion, with waistcoats, buttoned-up red shirts and black ties. Business is booming.
Everyone looks a million bucks, which is, as it happens, is about what these dining rooms are worth to Duco Events tonight.
There are All Blacks past and present, there are captains of industry, there are gangsters.
There is Clint Brown telling the audience a joke, the quality you can ascertain upon the strength of the punchline: "We could be sitting on $3 million but the reality is we're living with two whores and a homo."
There is some laughter; a small part of me dies.
The ubiquitous Colonel Bob Sheridan warms up the audience with boxing tales of yore.
There is snappy footage of him providing, as the blurb says, "A soundtrack under history."
It seems like a reach, but boxing really was less a sport and more a sociological phenomenon. Once upon a time.
Boxing provided hope of upward mobility for the poor and disenfranchised. It was inextricably linked to the American civil rights movement. Literary giants like Norman Mailer would piggyback on Muhammad Ali's charisma in The Fight; AJ Liebling would watch Archie Moore's fight with Rocky Marciano and see Ahab on the hunt for the white whale.
By comparison, modern boxing lacks context. It still has its belts, its championships and, at the elite level, its corpulent prize purses, but it lacks meaning.
To illustrate how far the heavyweight championship of the world has sagged, Tyson Fury, notorious for his misogynistic and anti-Semitic remarks, has been credited with breathing new life back into the division.
On stage, Sheridan shifts gear, reminding the audience of his unstinting admiration for boxers, who engage in the only sport in the world where the aim is to inflict a "concussive injury" on their opponent.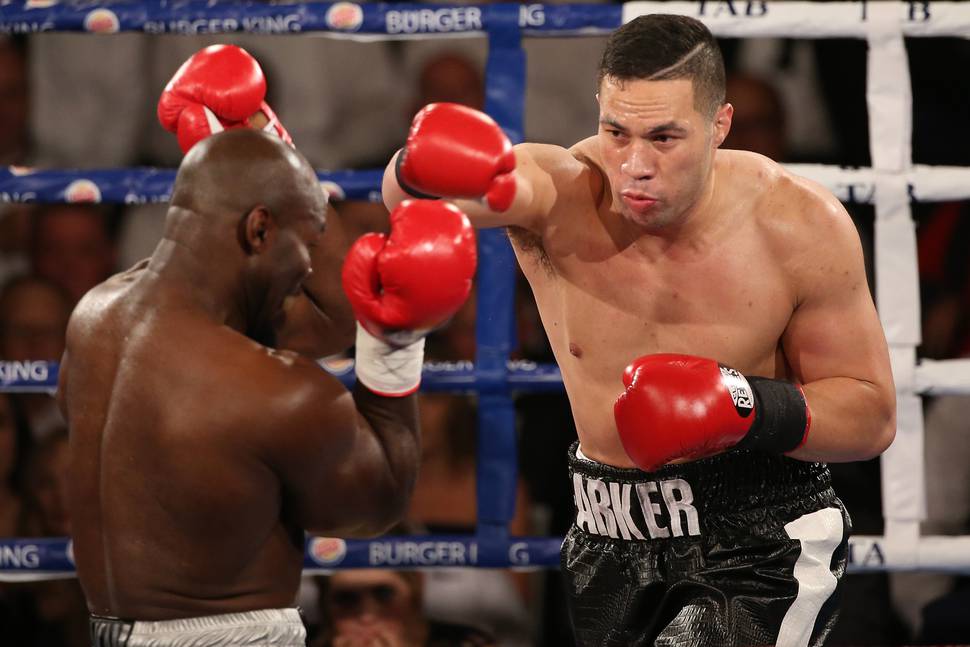 In this respect, modern boxing is no different to its past: grievious bodily harm is integral. Physical pain is endured and dispensed, and it can be grotesque.
In the last fight on the undercard, super middleweight Joe Blackbourn, a genial Wellingtonian, was knocked to the canvas three times by Jordan Tai (who provided the night's comedy moment when he misplayed a celebratory leap on to the ropes and went flopping out of the ring).
On the final occasion time stood still as Blackbourn was punched flush on the side of the head, his eyes rolling back in his head as his body paused upright for a second, before flopping piteously to the floor.
This is what people pay to see; that moment when the messages and impulses from the brain to the rest of the body that are the key to our being, are temporarily shut down.
Modern boxing is no different to its past: grievous bodily harm is integral. Physical pain is endured and dispensed, and it can be grotesque.

SHARE THIS QUOTE:
"You little beauty," yells someone in a dinner suit to my left as a ringside medic cradles Backbourn's head while encouraging him to stay awake.

Duco are good at what they do.
They've changed the perception of what and how we can host events in New Zealand.
Created by former Kiwis forward Dean Lonergan and David Higgins, they're slick, engaging, defiantly over-the-top and, as far as one can tell, thoroughly successful.
They're in the business of selling pay-per-view television packages - this fight was sold at an eye-watering $49.99, encouraging many to source it illegally to Lonergan's consternation - corporate packages and, to a lesser extent, tickets. They'll go the extra mile to do that.
You don't have to like what they do. Sometimes it even seems like they challenge you not to - type Duco together with Millie Holmes or dwarf fighting or, most cynically, Teina Pora in Google if you require proof - but they're working in an industry not renowned for restraint.
They know who butters their bread, or sauces their buns perhaps, so the choice of venue for the midweek press conference was a dreary fast food outlet along the Great South Rd's boulevard of burgers, a calorific stretch of blocked arteries from Rainbow's End to Papatoetoe.
It didn't scream out "future heavyweight champion of the world" quite as much as it did "obesity crisis".
"I've never been to a press conference in a Burger King before," Anson Wainwright of boxing bible Ring magazine deadpanned.
It was a strange morning.
Carlos Takam and his entourage arrived, looking nonplussed.
Duco CEO Martin Snedden took the mic. He's good company with a Kalahari-dry sense of humour, but he's no Don King. He is, however, a magician of sorts, making the word "excitement" sound like "funeral" when it left his mouth.
Joseph Parker appeared on the scene with trainer and confidante Kevin Barry. They both wore suits. It was a classy touch wasted on a place that sells frozen sour blueberry floats for $1.
Parker weaved his way around an attempted injection of humour from the floor and spoke of his "excitement" in a slightly more excited way.
Craig Stanaway, once a breathless television journalist and now director of talent relations at Duco, moves from compere to interviewer in an effort to keep everything on message but Takam is refusing to play his game.
There are a few more awkward moments, not least when there is a mini-conference to decide which Super Rugby team Takam supports. There will be no revelation this miserable morning, no insight - just the smell of cheap cooking oil, the sound of rain pelting on the roof and the uncomfortable sense that Parker has been turned into a product.
The weigh-in that follows two days later at the fight venue, the Vodafone Events Centre, is a step up in class. If you can excuse the contrived pageantry of the stare-down and the ring girls - yes, there's still such a thing - you can take a few gleanings.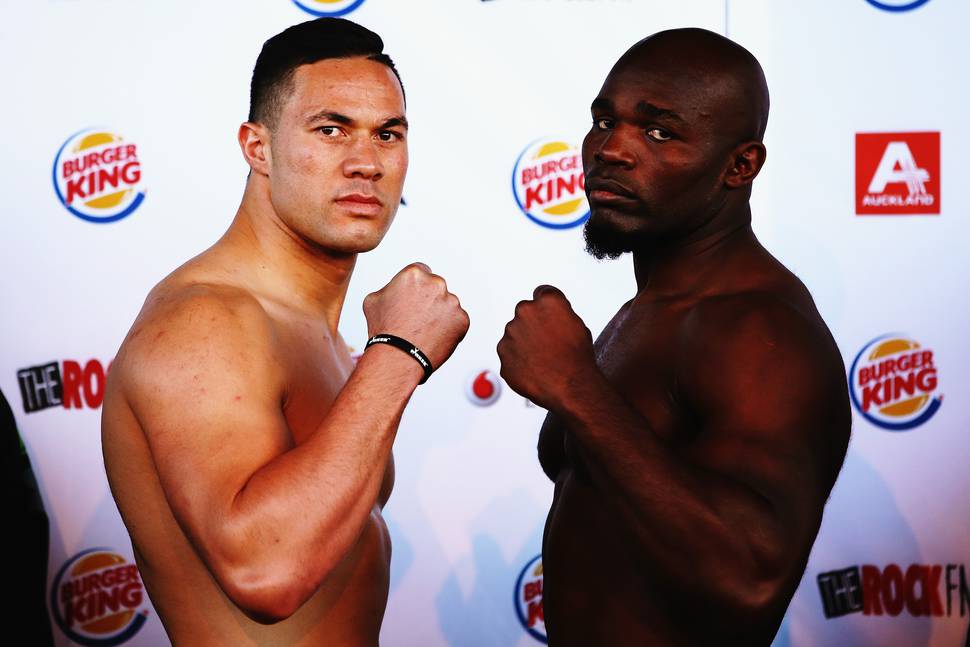 Takam, the 35-year-old Cameroonian who will carry a 33 win, two loss, one draw record into the fight, weighs in at 109.4kg. He looks awesome, with two porterhouse steaks seemingly grafted on to his shoulders and neck.
He won't talk to us, though.
"Don't read too much into that," says Stanaway, "or read into that what you will."
Parker pushes the scales out to 106.4kg. From a distance, he doesn't look as physically imposing as Takam, but don't be fooled.
"It's an excellent weight," Barry says. "Best I've seen him in three years."
Joseph Parker and Carlos Takam weigh in ahead of their fight Saturday night. Parker: 106.4kg Takam: 109.4
What Barry says later, as Parker graciously moves around the room talking to friends and family, posing for photos and shaking hands, resonates more.
"This is a career-defining fight," he says.

Ah yes, the fight. What can I tell you without betraying my ignorance?
Well, the good guy won. Not only that, Parker was taken to places he'd never been before, namely an 11th and 12th round.