Getting trashed after a thrashing wasn't good. Today, the Warriors have to prove themselves, writes Michael Donaldson.
Spare a thought for the 90 or so school kids whose holiday programme last week featured a day with the Warriors at their Mt Smart base in Penrose.
About 30 children came on each of three days to "live like a Warrior". They spent the day "training like the Warriors, eating like the Warriors." Let's hope it stopped at that.
The prospect of these innocents being subjected to a real week as a Warrior is enough to have CYFs sending counsellors to deal with the trauma of social media malice, sleepless nights, and the public soul-baring that comes with having to explain your ineptness in front of two dozen media, many of whom may as well have been wearing "been there, done that" T-shirts as they contemplated writing -another piece about the most-pilloried team in New Zealand sport.
In their first and only public appearance since the fallout from a 42-0 Anzac Day thrashing at the hands of Melbourne, the pain was obvious.
The Warriors have always been a team of peaks and troughs, but this trough is more like the one you'd find in a pigsty - full of swill and wallowing in it seemed to be the only answer for this success-starved team.
New Zealanders don't mind applying the blowtorch to teams they love - just think of the New Zealand cricket side of a decade ago. It got so bad you had to laugh rather than cry.
And while there have been other moments more diabolical than the Warriors' bad Monday - Team New Zealand sinking in the Waitemata, the All Blacks losing in the quarterfinals of the 2007 Rugby World Cup, the entire short and sad history of the New Zealand Knights football team - no sporting organisation in this country has consistently delivered two decades of dashed hopes quite like the Warriors.
If there was a keyword to associate with this team it would be erratic. But it now feels like the bungee cord of hope and despair has finally frayed. It wasn't so much that the team lost, it's the pitiful nature of the performance on an Anzac Day rich with inspiration and emotion. If they were soldiers, they'd have faced a court martial for abandoning their posts.
Not content with an on-field disgrace, it now turns out half a dozen players - Ben Matulino, Manu -Vatuvei, Bodene Thompson, Konrad Hurrell, Sam Lisone and Albert Vete - reacted to the loss by going out for a big night in town in Auckland. All six have been dropped to reserve grade instead of playing against the Dragons today.
Even owner Eric Watson, it seems, has had enough. "Last Monday's game is something I hope none of us ever have to witness again," he told the Herald on Sunday. "That's not the Warriors we know and love. The fans deserve better and the most frustrating thing of all is I know we are capable of more. When the Warriors are on form they are the most exciting team in the NRL.
"Ultimately it comes down to their on-field performance each week - that is where they are judged by media, by sponsors, by the board and management and, most importantly, by fans."
It seems the message from the commander-in-chief has trickled down to the troops, if the mid-week media session was anything to go by. You couldn't hope to find a more humbled bunch. And everyone wanted to take the blame.
Hooker Isaac Luke, bought by the Warriors from premiership winners South Sydney for a king's ransom but playing more like a second-hand rake you find at Avondale market, was the most wounded.
He proceeded to tell the world he was playing so badly he deserved to be dropped - and would happily take that punishment - before practically surrendering his place in the Kiwis side for next week's test against Australia.
"To be perfectly honest if I was [Kiwis coach] Steve Kearney I'd probably leave me out - I'm not happy with my performance and I've been up and down all season. This year I don't think I've matched requirements for the Kiwi jersey."
And if Warriors coach Andrew McFadden wanted to relegate him to reserve grade or the bench, it's nothing more than cold-hand Luke deserved.
He was probably spared demotion thanks to his six team-mates who went out on the town.
Fellow international Thomas Leuluai, his feet as bare as his soul, admitted sleepless nights as he sought to understand the loss.
Head down, shoulders shrugging, his brooding eyebrows almost pleading for understanding, Leuluai looked tortured.
On one hand he understood the ire of the fans, on the other he found it ¬spirit-crushing to live with critiques.
"It's been a tough couple of days ... not much sleep," he said.
As for the criticism levelled at the team for their can't do-attitude? "We all deserve it after the weekend. Me personally, I wasn't happy with my game, either.
"But it does affect us, too," he said of the angry reaction. "It's all over media and social media. You get affected.
"It's been a tough couple of days trying to work out what went wrong - if we knew we'd fix it -because we don't like going through this either."
Warriors coach Andrew McFadden one-on-one with David Skipwith
Leuluai was left scratching his head for answers and had no words of solace for long-suffering fans or the radio station that ran a poll to determine if this was the worst Warriors team in their 20-year history.
"The fans and supporters are sick of us saying the same old stuff every week - we need to start delivering. I feel for them. It must be hard. They're supporting a club and then on such a big occasion for us to perform like that.
"I feel sorry for them but I'm pretty sure they don't want to hear me talk too much. The best way to answer them and pay them back is to perform against the Dragons."
How will the team find motivation for today's match?
"Pretty easy, turn the news on, you get motivation.
"Go on Instagram, you get motivation. It's tough but we've got to respond."
Luke and Leuluai were sombre and introspective but captain Ryan Hoffman was combative and feisty. The big Aussie faced the cameras in a pair of Jandals and had his hands crossed defensively in front of his waist.
One reporter raised the prospect of a siege mentality in camp. "I wouldn't say it's a siege mentality."
Another asked if the team might be over-motivated to redress the loss. "Is that a thing? Being over-motivated?"
What about St George Illawarra's good record against the Warriors? "What's the record?"
"They beat you a lot."
"Do they? That's the first I've heard about that, actually..."
But after the cut and thrust, Hoffman, like his team-mates, eventually fell on the sword of accountability.
"It's not good enough to be a professional rugby league player and not do your job well. It starts with me. I have to make sure my house is in order before I can start making demands on other players."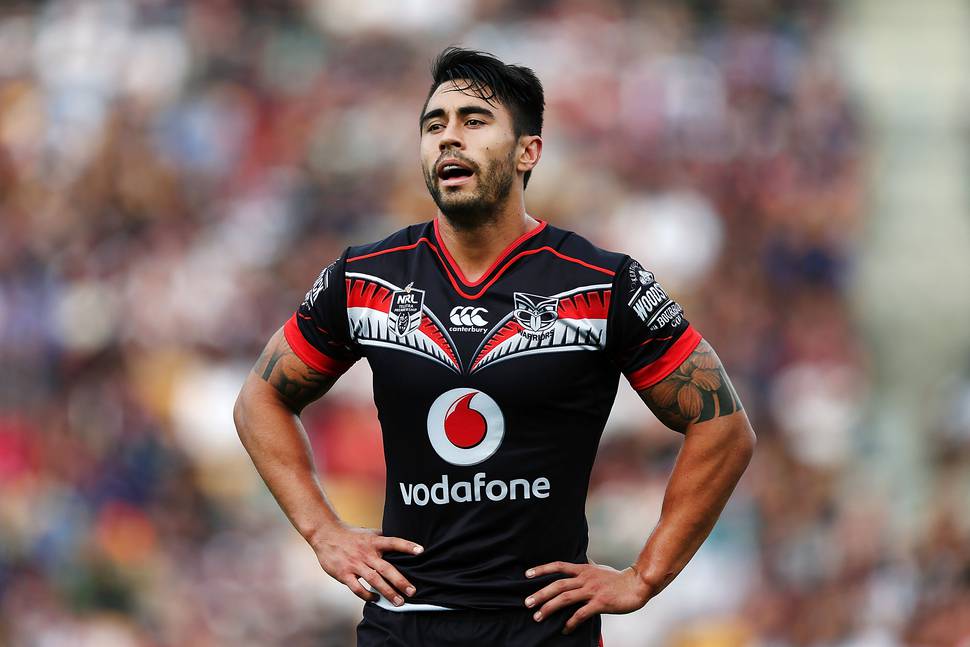 And then: "Obviously the messages aren't getting through. That comes from me. I've got a lot of -accountability on myself as captain of the team and I need to make sure I do everything I can to make sure the team prepares well."
Through a prism of a crisis, though, can come clarity. And coach McFadden presented as a man who had seen the light.
There was a sharpness to his pale-blue eyes and a set-ness to his jaw. It was a look that suggested he -either knows he's getting the axe and will soon join the queue of failed Warriors coaches, or he's -finally decided on a path to redemption.
McFadden doesn't say much. His sentences come as quick jabs. His guard stays up. He's not about to bare his soul to the wolf pack with microphones.
Is this the worst week he's endured in his career? "No, I don't think so but it's not a nice feeling. I was pretty angry after the game.
"But when you have these moments you get a bit of clarity around certain situations," he says, hands burrowed deep into pockets and black cap pulled down over his eyes.
"I think deeply and try to take the emotion out of it. I was emotional after the game but when you step back for a second you get that clearer picture."
The sense is that he has had enough of certain players, those who have failed to "aim up".
Or as Hoffman described it: "We're starting to see trends. You can't have too many bad performances and say, 'I've admitted I had a bad performance and I'll be all right'."
So changes then? "I've got to make people accountable, don't I?"
The reckoning started on Friday with the axing of six players but it's what happens today that matters more.